Business Series
Why Startups Fail
Why Startups Fail is a must-read for everyone at any stage of their professional career. Get professional analysis and various learning points to help you grow your business!
Package

3 Events Playbacks
2 Full Case Studies
2 Articles
Takeaways

Industry Experts Insights
Specially Designed Program
Real-life Applications

Course Materials

Why Startups Fail Newsletter
90% of startups fail – that's a significant number.
When it's all too easy to get carried away by startup success stories, nothing is more problematic than hoping to outdo the odds and failing to do so.


Why Startups Fail is a bi-weekly newsletter where curated insights on startup failures and what you can learn from them are delivered straight from Southeast Asia's boutique Business Scalers to your inbox.
01. Business Consulting Case Studies: Why Startups and Entrepreneurs Fail
Understand the leading reasons why so many in the startup space fail and learn about what you can do them overcome them. During this event, join Shelby Tee, managing partner of BlackStorm Consulting with nine years of project management experience and business consultant to businesses who will dissect why startups fail.
02. Premium Case Study 01: Honestbee
🐝 Honestbee aspired to be Asia's largest online on-demand concierge grocery delivery service and the world's most convenient services marketplace ever! What led to its downfall?
03. How To Grow Your Startup
The first phase of running a new business can be challenging. It requires an extra amount of commitment, passion, and faith. It may take you some time before seeing significant growth, but it doesn't mean that you should let time do everything to facilitate your business's growth.
04. Common Business Mistakes: How Can Entrepreneurs Avoid Them
The best insight given to any new business owner is the mistakes that other experienced entrepreneurs have committed. Join us in this discussion where you will find out why so many new businesses fold prematurely, failing to grow beyond their "startup" stage and what you can do to avoid all these pitfalls.
05. Premium Case Study 02: Pirate3D
Pirate3D aspired to be the world's leading provider of consumer 3D printing solutions by creating a 3D printer that was simple to use and affordable! So what led to its downfall?
06. What To Do Before Asking for Funds
When setting up a business for financial success, there are many things to think about. We'll go over important things to think about when it comes to startup fundraising in this short free article. So, what should you do before asking for funds?
07. Why Startups Fail: East & West Edition
​Join Jeslin, Shelby, and Nancy in this discussion on why many startups fail. Based on the in-depth analysis and case studies of various failed startups from the newly launched Why Startups Fail Newsletter and the vast experience of Nancy dealing with startups and soon investing in some, you'll be able to:
The Reviews
awesome - have not read this yet but this will be something to look forward to.
Honestbee failed for all sorts of reasons. You just had to attend their launch event from the very begining - like i did - and you would have seen why.
Allowing this eventho there is a free subscription needed. The full case study is quite good.
Thank you for sharing this. Very informative case study.
Read and subscribed! Very comprehension!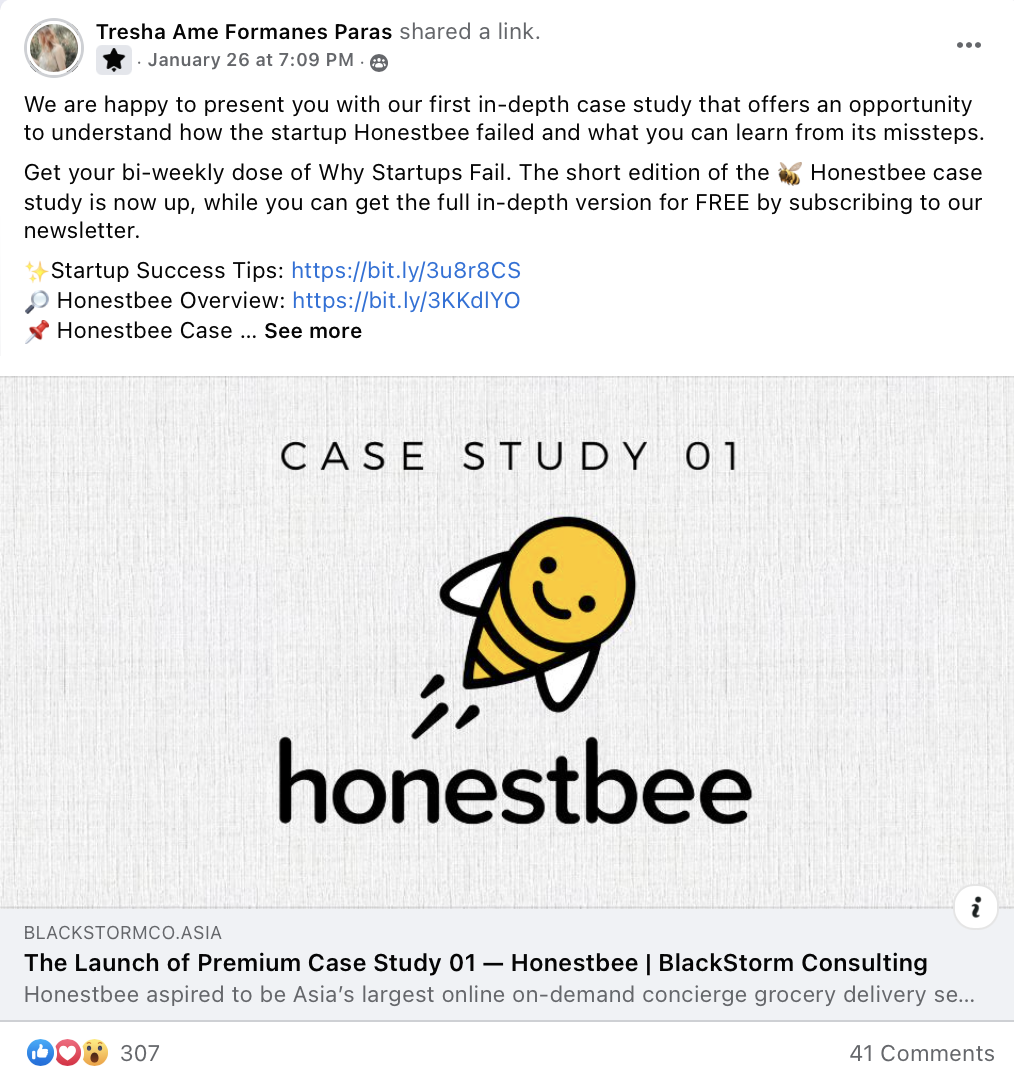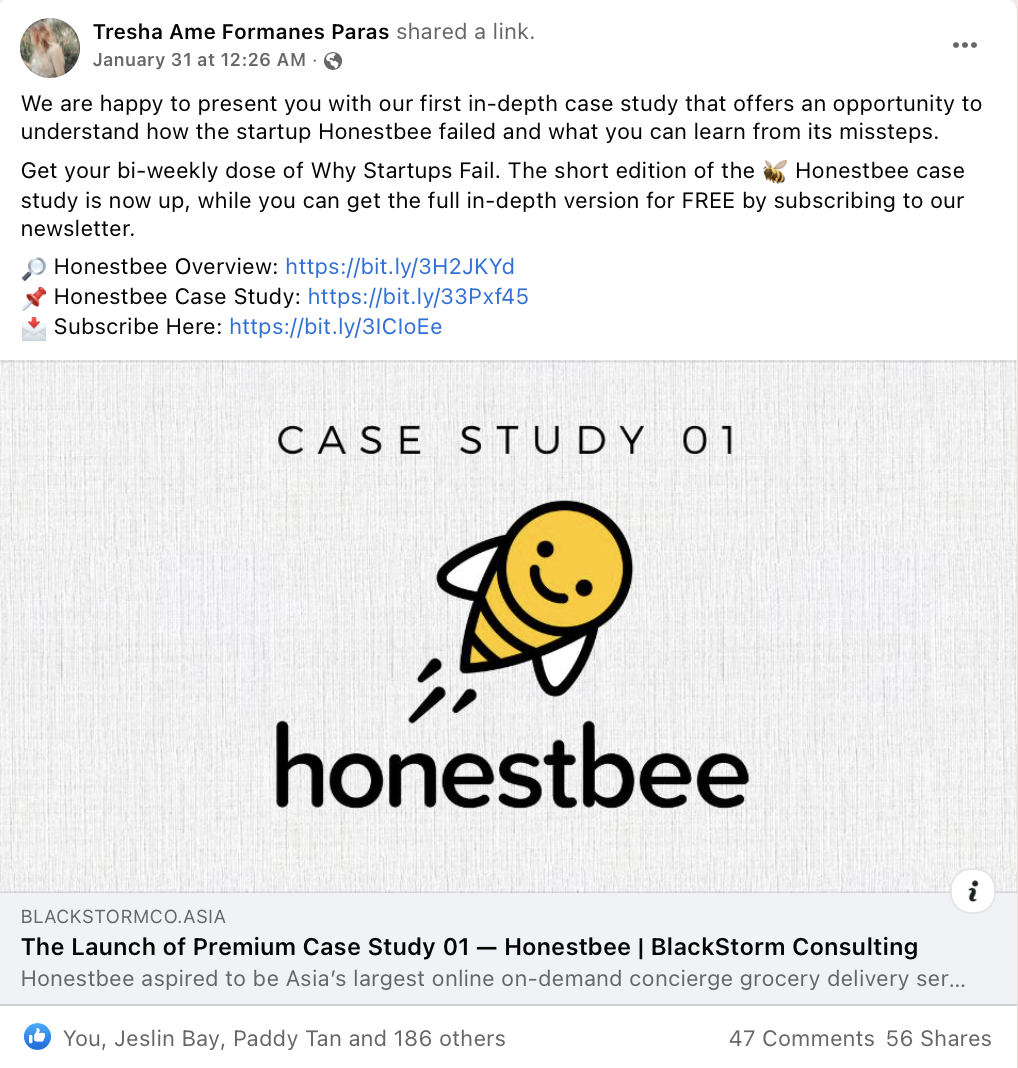 Meet the Instructor
BlackStorm Consulting
BlackStorm Consulting is a Singapore-based business consultancy firm specialises in corporate strategy and market entry in Southeast Asia. We scale businesses through closing strategic gaps that hinder companies from reaching their potential. Our clients and connections are internationally present and range from small and medium sized businesses, MNCs, to government agencies.
"Consulting-As-A-Hybrid Service (CAAHS)" is the term coined by our team, where we strive to provide our clients a whole new level of experience in engaging consultants. We put our clients in control of the hiring of consultancy services, in hybrid manners. Benefitting from the beauty of virtual services and physical execution and creating both tangible and intangible results that fast grow your business.

We build solid foundation for our clients across multiple layers and areas of business in an undisruptive way.
Get your 14-day trial today!
After the free trial, you may:
Pay as low as 27 cents a day to access unlimited content

Watch events playback at your own pace and join the discussion

Unlimited access to ready-to-use templates

Access to exclusive events for premium members

Receive digital certifications upon completion of courses

Cancel the subscription any time
Free
Free access to the complimentary content

Purchase additional individual premium content separately

Access to limited free events for a limited time
Monthly
Unlimited access to premium courses, podcasts, events and webinars


Unlimited access to business templates

Access to exclusive events for premium members
Annual
USD 99.90/yr USD 118.8
Unlimited access to premium courses, podcasts, events and webinars

Unlimited access to business templates

Access to exclusive events for premium members
Join our newsletter
Get weekly updates on live streams, news and more right in your mailbox.
Subscribe to our newsletter now!
Get weekly updates on live streams, news and more right in your mailbox.