Why Startups Fail Series
Premium Case Study 04: Sorabel
Overview
Sorabel shut down its operations after struggling to stay afloat amid the COVID-19 pandemic. You might think that this pandemic was the only reason it failed. But there was more to it than that! 😱
Featured Content
Why Startups Fail
Your one-stop-shop for exclusive startup case studies and contents!
COVID-19 is a global pandemic and a force majeure: by definition, it is difficult to predict, and so are its effects. Even larger companies with deep cash reserves had to lay off 40-60 per cent of their headcount, but in this is probably the real commercial lesson.
Jeffrey Yuwono, CEO of Sorabel
What is this about?
Do you love to read about company failures? Failure is an underrated metric for measuring success. A popular quote says, "success is 99% failure." Many agree with this quote, as it also applies to business—most businesses fail.

Too often, we focus on the success stories of startups, but there's a lot to be learned from their failures as well.

Sorabel is a fashion e-commerce store that quickly became a success due to its innovative idea of a try-before-you-buy service. It sold affordable clothing, mainly women's, through mobile applications and raised over USD 49 million in funding.

However, it failed. You might think the pandemic was the only reason for Sorabel's failure. But there was a lot more to it. In this case study, we'll look at the other factors that contributed to their failure.
The Podcast
Be it in your pocket, your hand, or enjoying the audio version of the case study during commutes or lunch breaks - there's no better feeling than immersing yourself in our startup playlist that is simply hard to miss.
The Premium Article
We are delighted to provide you with the case study that offers an opportunity to understand how the startup Sorabel failed and what you can learn from its mistakes.
Unlock to view the premium article

Sorabel
, a fashion e-commerce store, was one of the first Southeast Asian platforms to offer a try-before-you-buy service.
Description: Fashion e-commerce platform with 'try-first-pay-later' feature.
Category: Fashion eCommerce
Country: Indonesia
Period: 2014 – 2020 (Acquired by GROW Commerce, who owns eCommerce Berrybenka)
Size of the company: 501 – 1,000
Number of funding rounds: 5
Number of investors: 12
Total amount raised: More than USD 49 million (USD 20 million from Series A, USD 27 million from Series B, and USD 2 million from debt financing)* *Actual amount raised would amount to more than USD 49 million, as the amount from the two other funding rounds was unspecified
Sorabel sold affordable clothing, mainly women's, through mobile applications Facebook Messenger, WhatsApp, LINE, Instagram Direct Message, and the Blackberry Messenger (BBM) chat application and raised over USD 49 million in funding.


However, in 2020, it was liquidated after six years in operation. Its assets were acquired by GROW Commerce, which owns eCommerce competitor, Berrybenka, in 2022. What happened?
Sorabel started as
Sale Stock
in 2014, founded by Lingga Madu and his wife, Ariza Novianti, to provide affordable fashion to Indonesians. While studying in Yogyakarta, Indonesia, they realised that keeping up with the fashion trends happening in Jakarta was challenging. So they sought to change this by offering affordable quality fashion products to the mass consumer in Indonesia.
The company was born out of their garage, with the couple travelling to Thailand and China to source their products. In 2016, Jeffrey Yuwono was invited by Lingga to join the company as its President.

In January 2019, they rebranded the company to Sorabel. According to Jeffrey, the company rebranded because it explored and entered new verticals such as cosmetics and private labels and changed its brand image, previously associated with selling cheap items.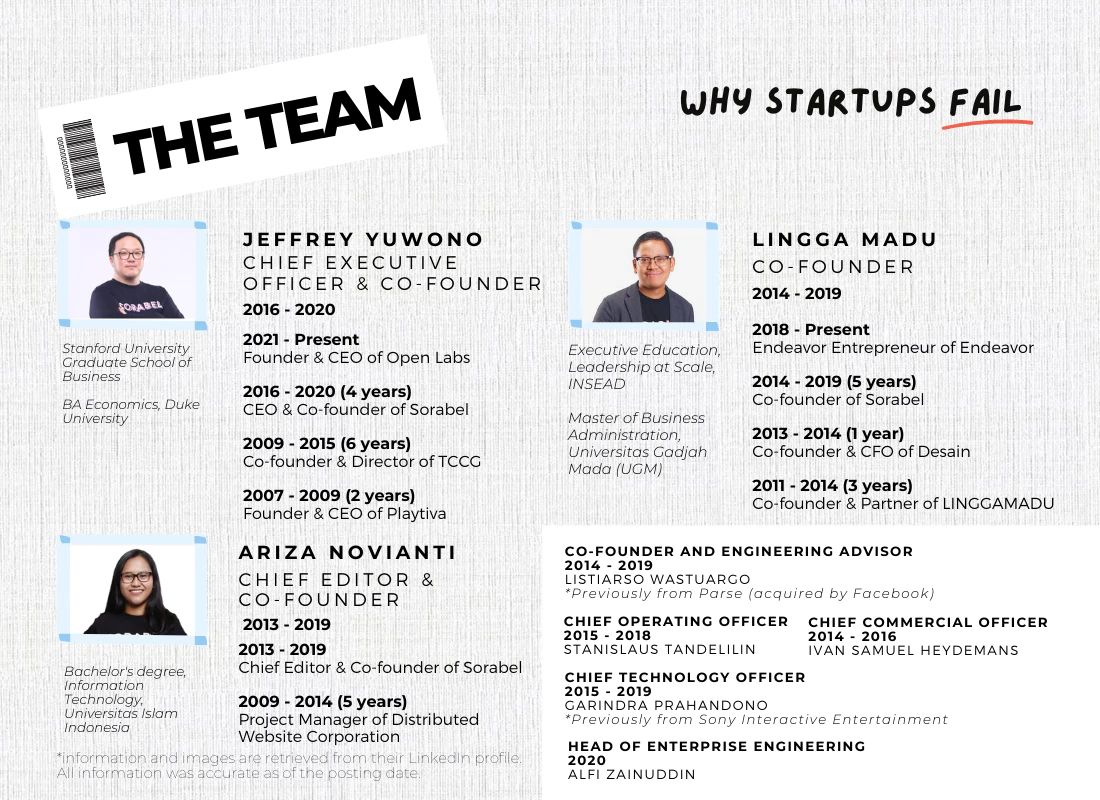 Sorabel was founded as Sale Stock by Lingga Madu and his wife, Ariza Novianti in 2014. Jeffrey Yuwono joined the Company as its President in 2016 and was appointed to be CEO in 2018.
Prior to joining Sorabel, below are some of Jeffrey's appointments:


Co-Founder & Director of TCCG: a technology lab in the mobile, gaming, and advertising industry
Founder & CEO of Playtiva: a story-based social game developer
Product Manager at Microsoft
Ivan Samuel Heydemans joined in 2014 as a Chief Commercial Officer, Stanislaus Tandelilin as Chief Operating Officer in 2015, Garindra Prahadono as Chief Technology Officer in 2016, and Alfi Zainuddin became its Head of Enterprise Engineering in January 2020. Listiarso Wastuargo was the engineering advisor to Sorabel from October 2014 to November 2019.
There was a change in the management team between 2018 and 2019. You can find more details on the team's evolution in
The Sequence of Events.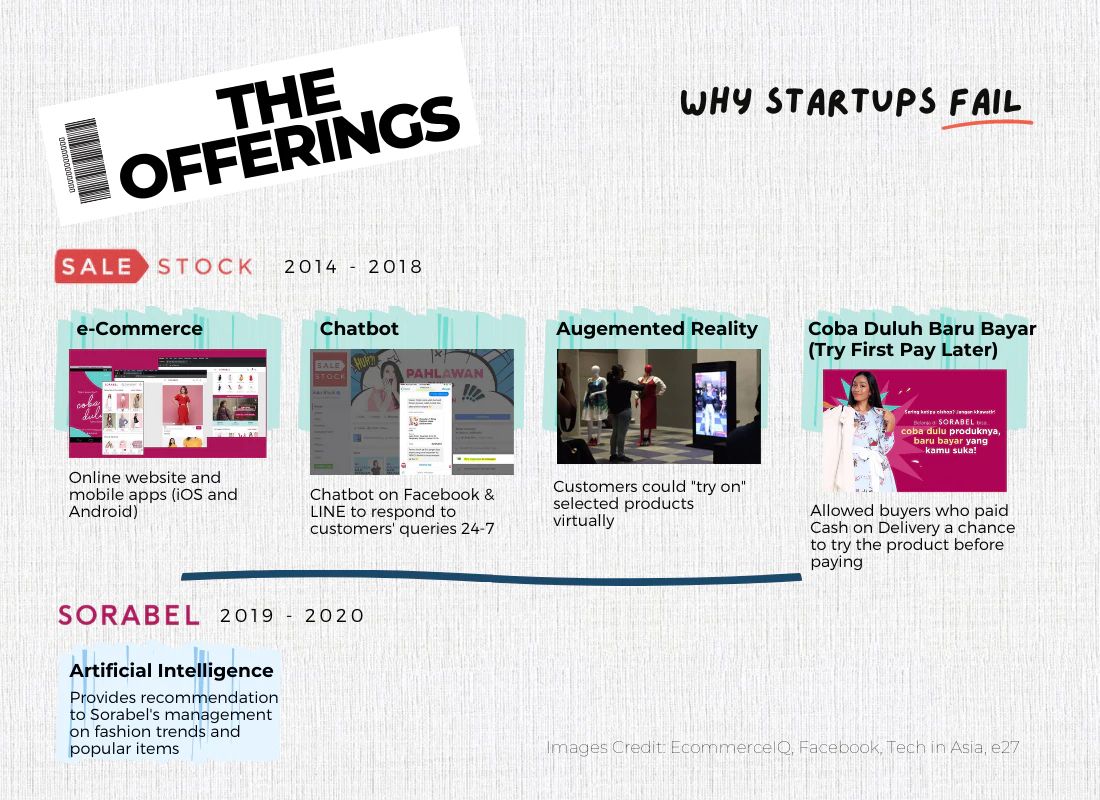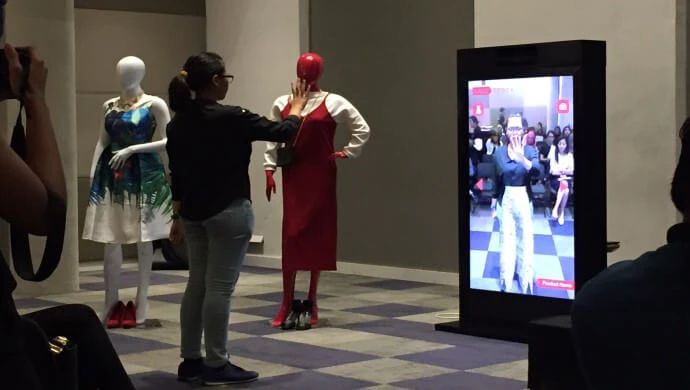 According to
Yahoo
, by 2018, Sale Stock had more than 400,000 users on its platform across Indonesia, had a total SKU of 150,000, and had fulfilled more than 4 million orders. It also had six offices in Jakarta, Bandung, and Jogjakarta, and 700 employees. Its android mobile app had more than 5 million downloads, and the company was
rated
as the best tech startup to work for in Indonesia by Jobplanet.
In 2019, CEO Jeffrey announced plans for Sorabel to expand to the Philippines under the brand "Yabel". According to Jeffrey, they chose the Philippines as the first market for Sorabel to expand, as its fashion retail scene focused on its capital region, similar to Indonesia.
According to its management team, Sorabel was the largest women's fashion eCommerce vertical in Indonesia, with 14 million app downloads and 11 internal brands that spanned men's, kids', and women's apparel, shoes, bags, and accessories, such as Aluna, Hala, Stilo, and Dejavu.
It had a 9% market share in the women's fashion eCommerce vertical in 2018, a Gross Market Value (GMV) run rate of USD 60 million in October 2019 and USD 5 million in monthly revenue by the end of 2019.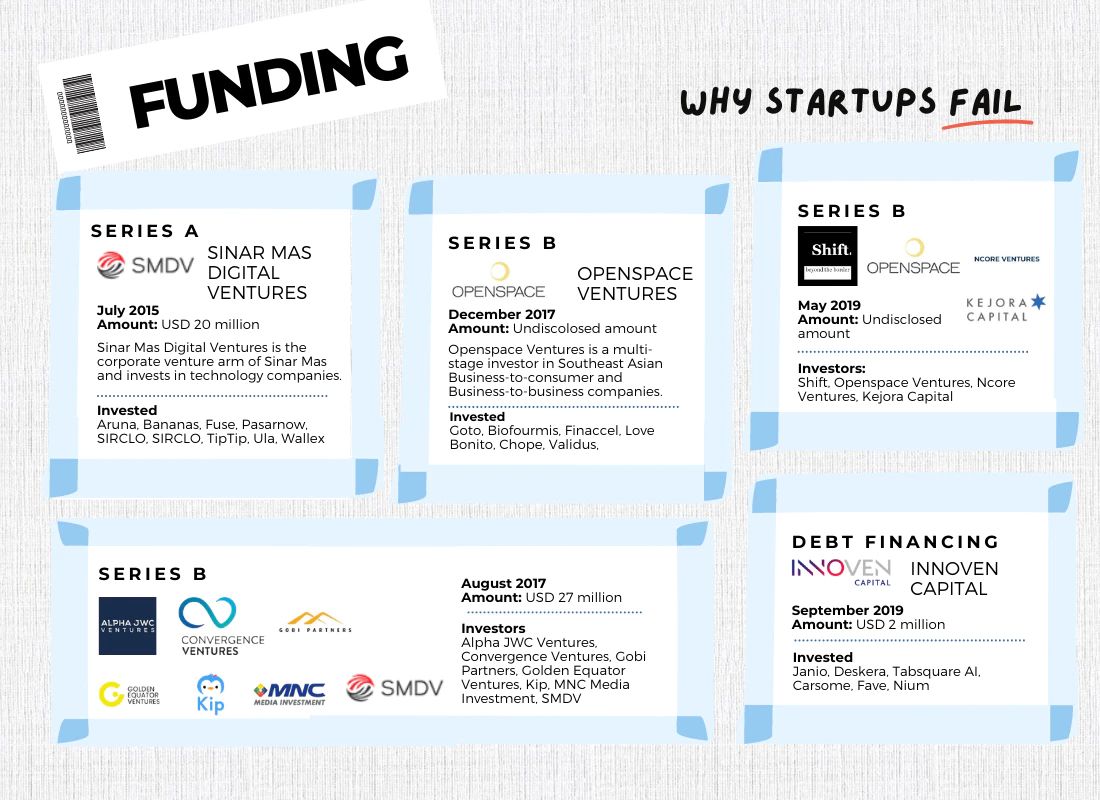 Sorabel had five rounds of funding, a
Series A funding
of USD 20 million in July 2015, a Series B funding of USD 27 million in August 2017, a Venture Round funding by
OpenSpace Ventures
(a Venture Capital Fund based in Singapore) in December 2017 for an undisclosed amount, a Pre-series C funding round in May 2019 (undisclosed amount), and debt financing by
InnoVen Capital
, a joint venture between United Overseas Bank Group and Temasek Holdings, of USD 2 million in September 2019. As the amount from 3 of the funding rounds was unspecified, the total amount that Sorabel fundraised would be more than USD 49 million.
The table below covers the funding, the management team, product launches, and the partnerships with Sorabel from 2014 to 2020. Sorabel was started in 2014 as Sale Stock by Lingga and his wife, Ariza, to provide affordable, trendy clothing to Indonesians outside the Greater Jakarta area.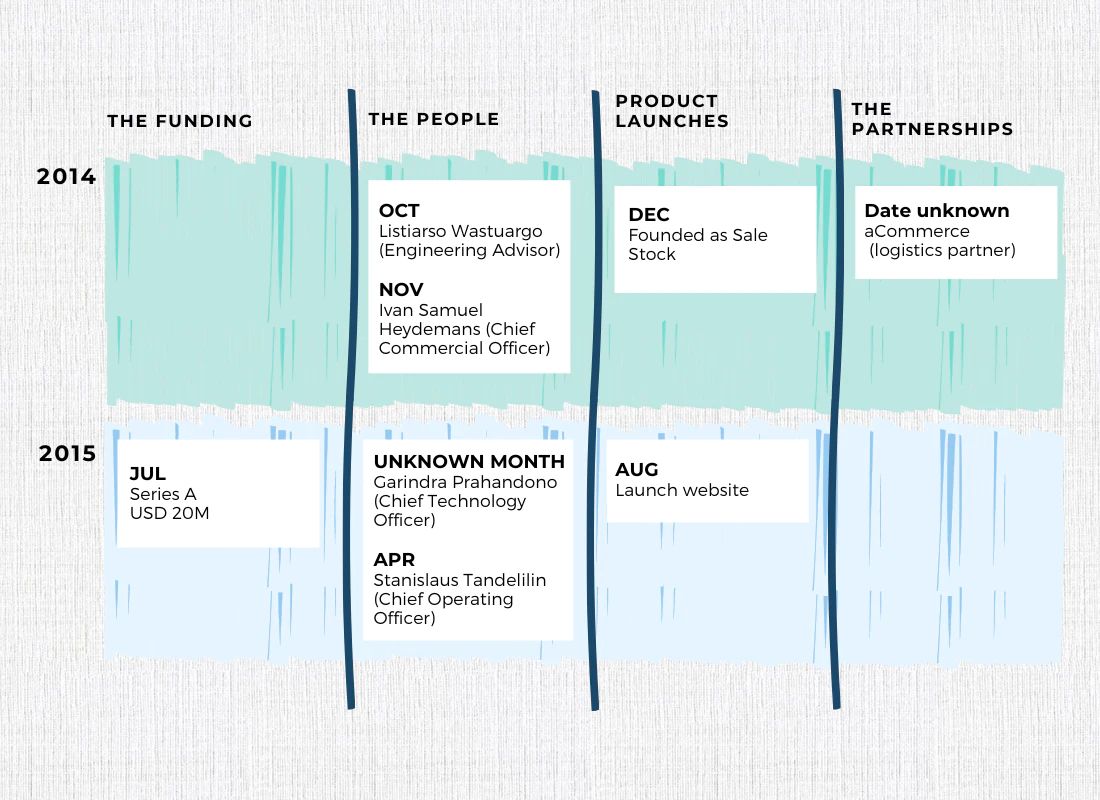 Sorabel's management team was formed in 2014 and 2015, and the company launched its eCommerce website with its Series A funding. That was their startup phase. According to
Nikkei Asia
, Sorabel secured USD 20 million in Series A funding in July 2015, and also partnered with
aCommerce
in 2014 for its logistics and distribution.
2016 and 2017 were its growth phase, launching various partnerships and products and services, such as its chatbot, Try-first-pay-later service and Augmented Reality changing room. However, the company did experience a decline in September 2016 when it had restructured its business and laid off 220 staff during that period.
According to
Lingga Madu
(CEO at the time), the company wanted to make the business more sustainable. The company also
piloted
its CDBB service in September 2017 for the Greater Jakarta area. It also secured USD 27 million in Series B funding in August 2017. Lingga Madu mentioned in a
press statement
that the funds were to "further strengthen our position as the market leader in Indonesia, and to be profitable in the near term."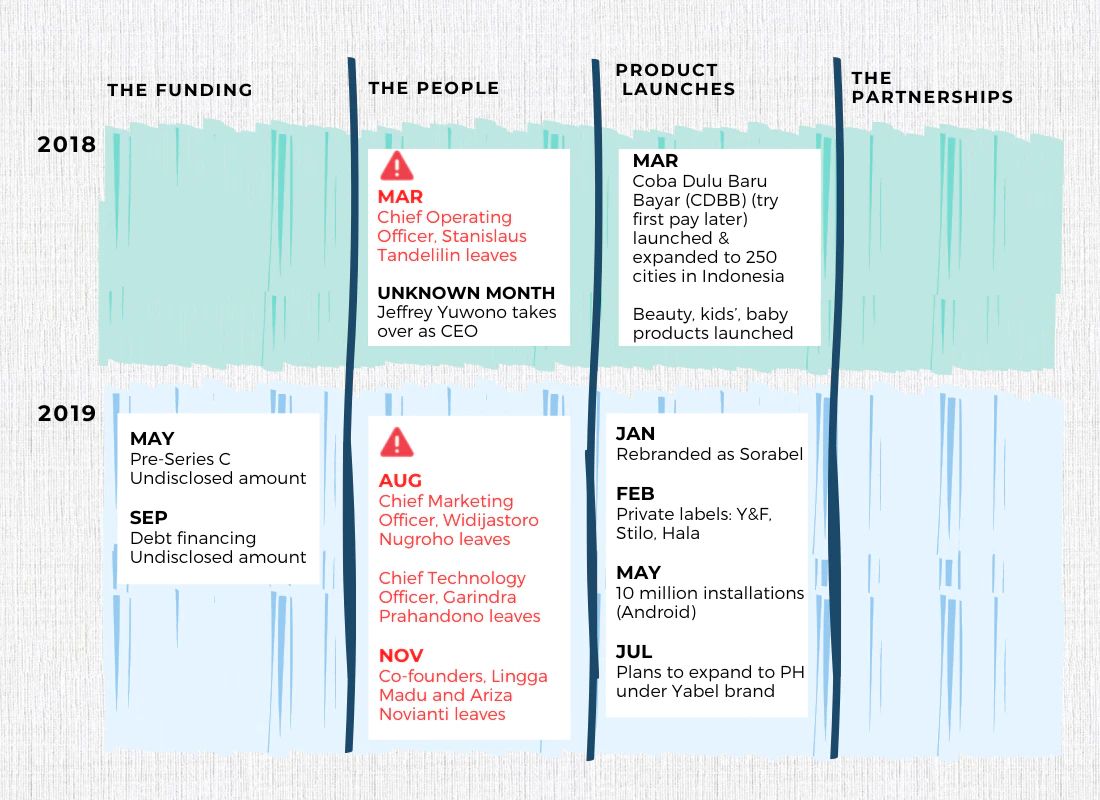 Sorabel launched and expanded its CDBB service to 250 cities throughout Indonesia in
March 2018
.
Sorabel had major milestones, funding, and product launches in 2018 and 2019, yet these two years might also be considered the start of the decline phase due to changes in its management team.

In 2018, Jeffrey took over as Chief Executive Officer from Lingga, who continued as co-founder. Chief Operating Officer, Stanislaus Tandelilin, left Sorabel in March 2018. However, from our research, the Chief Operating Officer position was not filled after Stanislaus Tandelilin left.

Chief Marketing Officer Widijastoro Nugroho, and Chief Technology Officer Garindra Prahandono left in August 2019, and Co-founders Lingga Madu and Ariza Novianti left three months later.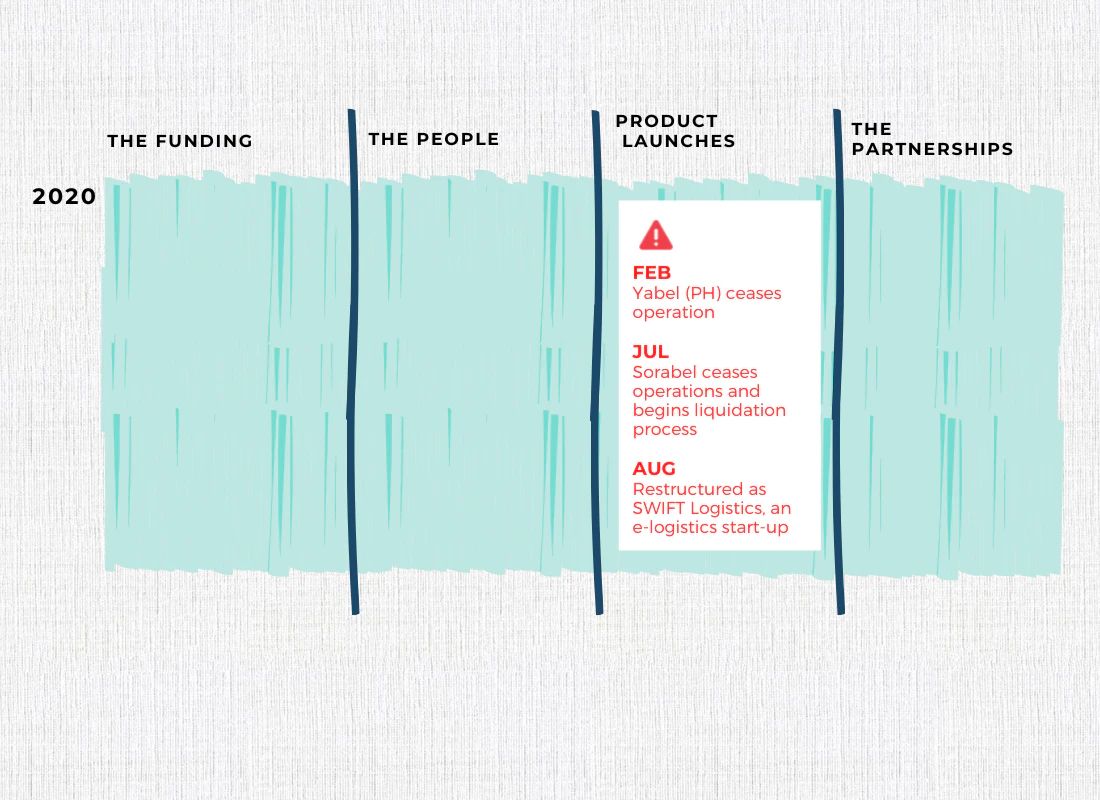 In 2020, Sorabel ceased operations and began liquidation. Its assets were acquired by GROW Commerce, which owns competitor Berrybenka, and it restructured its business to e-logistics.
So, what went wrong with Sorabel?

Before its rebranding in 2019, Sale Stock had created its Product Value Chain with a level of demand among its customers and brand. In 2018, Sale Stock already had more than 400,000 users on its platform across Indonesia and had fulfilled more than 4 million orders. It has also created a network of suppliers and partners with factories and warehouses to support the demand.

Sorabel's Upstream Value Chain would have included its raw materials, suppliers, eCommerce sales channels, and product offerings. In addition, its Downstream Value Chain included its "Try-first-pay-later", logistics distribution channels and partners, and its customers.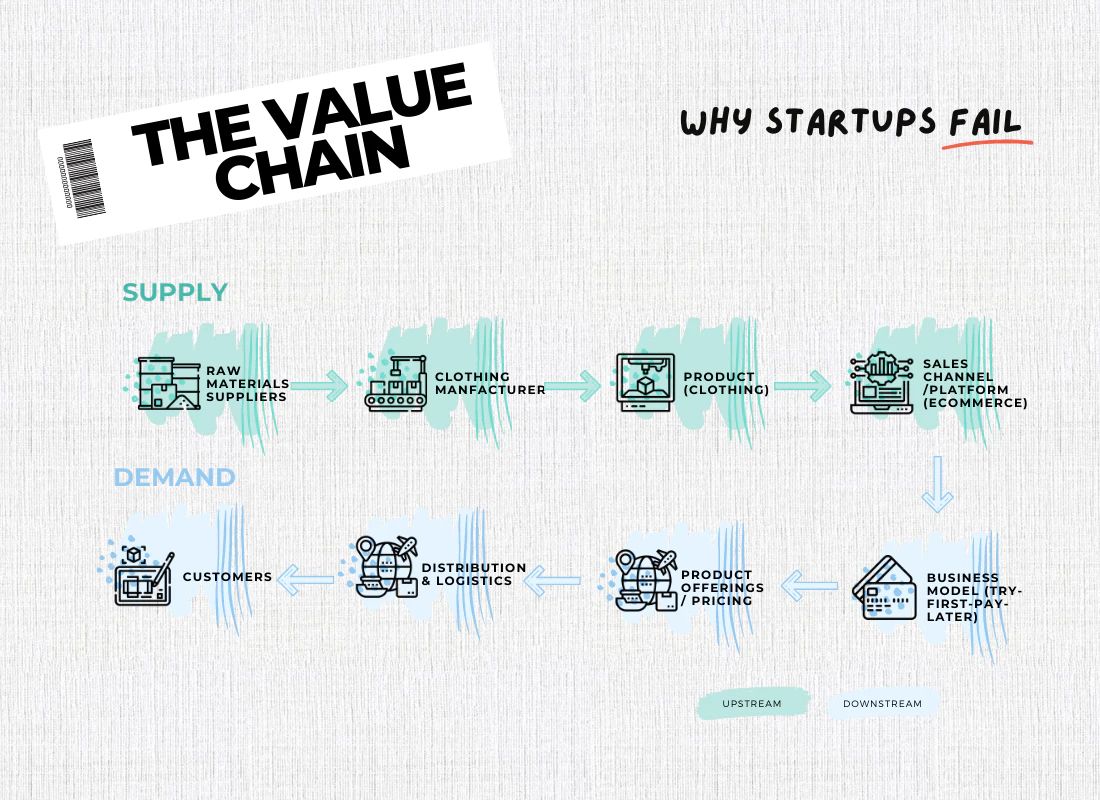 Rebranding would have meant that Sorabel had to rebuild its entire Product Value Chain, from its upstream value chain (sourcing for higher grade raw materials, perhaps from a different supplier, and increasing the product quality from its manufacturing partner) to its downstream value chain (changing the type of products and services it offered and its target audience).

Companies need to consider the impact on their Product Value Chain when they undergo rebranding. We will discuss the failure points using Sorabel's Product Value Chain below.
01. Loss Of Original Customer Base And Inability to Attract New Customers
Sorabel rebranded in 2019 from Sale Stock to position its brand away from clothing sold at heavily discounted prices. It wanted to cater to a wider target audience with multiple brands under them having different price points.

With this rebrand, Sorabel have launched 11 private brands to reach different target audience. However, this strategy would cause Sorabel to lose its original customer base as it shifted its business from an eCommerce (Sale Stock) to a marketplace (Sorabel) which has 11 brands under it. With Sorabel reaching out to a broader target audience, they are using the same resources to reach out to the target audience that was not captured by Sale Stock.

By rebranding and targeting a wider audience, Sorabel would have had to split its resources and marketing strategy towards its new target audience, which would result in inefficiencies in its processes, which caused the loss of its original customer base and the inability to attract new customers.

An alternative approach would be to retain the Sale Stock brand and launch Sorabel as a marketplace which carries items from Sale Stock and its new premium brands. This would allow Sorabel to retain its existing customer base while launching premium products through the private brands targeting its new audience.
02. Business Model
Try-first-pay-later (CDBB)
One of Sorabel's key product offerings was its Try-first-pay-later service, where customers could try on and return items within 15 minutes of an item's delivery. This was intended to provide more assurance to customers uncertain about purchasing products from Sorabel by allowing them to return purchases after trying them on with little effort.

While CDBB may have been a way to encourage customers to purchase and try Sorabel's products, it only provided them 15 minutes to try them on and decide if they wanted to keep their purchase. Customers may have needed more time to think about and consider their purchase, especially if the items were priced at a higher price. Hence, customers who were undecided about products may have preferred to return the items instead.

Despite the convenience that CDBB provided, customers who were paying a premium for products may have enjoyed the experience of going to the store because it allowed them to browse and take their time making decisions rather than being restricted to a 15-minute time limit.

Increased Capital expenditure
With little effort involved in returning items and without limited-time discounts to create a sense that repurchasing the item in future would be more expensive, customers had little incentive to reduce over-purchasing and returning items they disliked. As a result, this strategy may have increased Sorabel's sales, but it would also have increased capital expenditure such as delivery and packaging costs and impacted Sorabel's profits.
03. Upstream Product Value Chain
With its rebranding to Sorabel, the company would have shifted to a new product value chain and would have had to manage its upstream or the supply side of its Product Value Chain carefully.
Customers would be willing to pay a higher price if the item's production quality had improved. Sorabel would have needed to source higher quality products to satisfy the demands of items at a higher price point because it offered products under internal brands. Were Sorabel's processes able to match its customers' expectations for a higher-end product?

Increasing the product quality would likely have reduced the sales volume and orders with its manufacturing partners. With a smaller order quantity, the Minimum Order Quantity (MOQ) would have changed, and the average unit cost of its products may have increased, resulting in higher prices for its products.


However, if Sorabel raised its prices, would its customers be willing to purchase their products at a higher price point? Is the new pricing attractive to its customers? Hence, in rebranding to sell premium products, Sorabel needed to assess both the capacity of its manufacturing partners to produce premium products and the commercial viability of its new business model.
04. The Management & Business Strategy
When a business undergoes a rebranding process, it must align its product, marketing, operations, and finance. However, from the timeline, we can observe that several key personnel within the management team left the company before or during its rebranding process in 2019.

This included its Chief Operating Officer in 2018, its Chief Marketing Officer and its Chief Technology Officer in 2019. From our research, the Chief Operating Officer position was not filled after Stanislaus Tandelilin left.

The project would have been difficult without a competent and dedicated management team to align and support Sorabel's rebranding strategy. Sorabel's personnel would have had to adjust the way operations were managed if it decided to rebrand itself to a more premium audience.

Service standards, for example, would have needed to meet the criteria for its premium audience, as customers would have expected a more personalised service when paying for a higher-priced product. So, could Sorabel and its staff provide such personalised services to its new premium target audience?
The Startups Failure Checklist
What could Sorabel have done differently?

01. Estimate your costing before rebranding your business
When businesses rebrand, there is a possibility that they would lose their original customer base. As such, companies should consider the following questions when rebranding:
What proportion of customers you would be able to retain, and the customers you would lose due to rebranding?
How would this change your upstream product value chain, the unit costs, and the appeal of your product if you increase the price?
How would this affect your profits?
Can the loss in profit be offset by an increase in the profit margin of its products or by the ability of the business to attract new customers?
02. Cost Accounting
Business owners should consider the operating costs when launching a product or service and how to limit or reduce such costs. To reduce such costs, you can consider the following:
(A) Limit the product or service to a select group of customers
For example, Sorabel could limit its CDBB service to a select group of customers, VIP customers or customers who purchase above a specific volume. This reduces the risk of customers returning products as these customers are already buying large items from the company.

A membership programme could also be considered, where customers could use this service as often as they like for a small monthly fee. This membership fee would help offset some of the costs involved in the logistics and delivery of items for the business.

(B) Pilot it to test the viability of such a service
In Sorabel's case, limiting the CDBB service to a select group of customers would also allow Sorabel to pilot and test the viability of such a service. Piloting a product or service would also enable business owners to assess these questions:
Can the company retain its profit margin with the additional costs involved with the service?
If the company decides that such a service is not viable for its business or that product prices need to be adjusted, making changes to the service or cancelling it will be easier if it is done on a smaller scale.
Would the service add more costs to the business?
Sorabel could have altered the CDBB service where customers have to book a slot and travel to a nearby location to try on or return the items. This would allow customers more time to try on products as time would not need to be taken away from delivery staff to wait while customers try on products. This increased effort on the part of customers also reduces the chance that the customers would impulsively purchase items and return them afterwards.

While this might reduce sales for the company, it would also reduce the number of product returns and associated costs. The introduction of limited-time sales with the CDBB service would also increase the "cost" to customers returning products as returned items may need to be purchased at a higher price should the customer change their mind and create the "fear of missing out" on a deal.
03. Use the Rebranding Process as an opportunity to change the logistics and operations
If you're planning to rebrand your company, consider the following:
Can you use this rebranding as an opportunity to change your internal processes, logistics and operations?

Processes
Should you introduce new product categories or change existing ones?
For example, Sorabel could have used the rebranding process to introduce new product categories for its CDBB service.

Products
How would the product categories affect your products and services?
In Sorabel's case, while some product categories, such as handbags and accessories, are simple to try since customers just need to evaluate if they like the design, others, such as shoes and clothing, are more complicated because buyers must also consider whether the item fits. As such, the costs and customer experience of providing the CDBB service would differ depending on the product type.


Should you pilot products and services using certain product categories?
For example, Sorabel could have limited the CDBB service to product categories where customers could easily try on products with fewer sizes variations, such as handbags or accessories that could be more commercially viable for the company. This would enable delivery and logistics to be more efficient and reduce the chance of product returns due to sizing issues.
04. Consider the capability of your Upstream Product Value Chain
When business owners rebrand, they should consider the following:
How would the rebrand affect your existing Upstream Product Value Chain, including your suppliers and manufacturers?
Do your current suppliers and manufacturers have the capacity and capability to produce a higher quality product?
Does the business have to change or source additional suppliers and manufacturers?

If changes to the supply chain are required, businesses should consider their business plan according to the following scenarios:

A. Creating a new product value chain
Adding an additional Product Value Chain
This scenario generates less risk for the business as this business still has its existing Product Value Chain, but is expanding to include a new Product Value Chain
Replacing the existing Product Value Chain
This scenario generates high business risk, as the business would be establishing a new Product Value Chain from scratch

B. Retaining the existing Product Value Chain
The ideal scenario is one in which the company can retain its existing suppliers and manufacturers. Keeping the existing network would speed up the new Product Value Chain, reducing the need for large adjustments, such as renegotiating business agreements. However, businesses would have to relook at the cost of their products or services to price their products or services appropriately.
In February 2022, the
Business Times
reported that Sorabel's assets had been acquired by GROW Commerce, a brand aggregator that owns Berrybenka. Berrybenka is an Indonesian fashion eCommerce firm.
Logistics services




Goods fulfilment




Marketplace platform order integration




Delivery of partnership results with last-mile logistics services




Its services have been used by Tokopedia, Lemonilo, Lodi, Base, Easy Shopping, and Biopedia.
Disclaimers
*All information extracted from external sources was correct at the date the article was posted and the dates on the sources.
The information contained in this article represents the authors' views, and opinions that are based on public data available online and do not necessarily reflect the position of the organisations mentioned in the article.
Hyperlinks for the information obtained from external sources are provided in the article. Please click on the links for updates on the information provided in the respective articles.
Please email [email protected] for any enquiries or clarifications on information contained within the article.
Get your 14-day trial today!
No debit/credit card is required.
After the free trial, you may:
Pay as low as 27 cents a day to access unlimited content

Watch events playback at your own pace and join the discussion

Unlimited access to ready-to-use templates

Access to exclusive events for premium members

Receive digital certifications upon completion of courses

Cancel the subscription any time
Choose Your Plan
Free
Free access to the complimentary content

Purchase additional individual premium content separately

Access to limited free events for a limited time
Monthly
Unlimited access to premium courses, podcasts, events and webinars


Unlimited access to business templates

Access to exclusive events for premium members
Annual
USD 99.90/yr USD 118.8
Unlimited access to premium courses, podcasts, events and webinars

Unlimited access to business templates

Access to exclusive events for premium members
Join our newsletter
Get weekly updates on live streams, news and more right in your mailbox.