Why Startups Fail Series
Premium Case Study 03: Reebonz
Overview
👜 Reebonz aspired to create the best luxury experience in Asia. Once seen as a success startup story for homegrown Singapore businesses, it failed. Why and how?
Featured Content
Why Startups Fail
Your one-stop-shop for exclusive startup case studies and contents!
You test the market, and the market decides. The market decides what you're offering. Be practical and ride that wave.
Samuel Lim, CEO of Reebonz
What is this about?
Everyone makes mistakes, right? Well, not everyone learns from their mistakes. We bring you the story of the biggest mistake in Reebonz's history!

Reebonz is a failure case in the startup realm. Reebonz aspired to create the best luxury experience in Asia by offering customer-centricity, fashion curation, great offers, and services. Once seen as a successful startup story for homegrown Singapore businesses, this Singapore e-commerce retailer failed.

You've definitely heard about major failures involving some of history's most well-known startups. Add this to your list! Listen and find out how the startup Reebonz could have prevented its loss, and gain insights into what you can learn from the company's mistakes.
The Podcast
Be it in your pocket, your hand, or enjoying the audio version of the case study during commutes or lunch breaks - there's no better feeling than immersing yourself in our startup playlist that is simply hard to miss.
The Premium Article
We are delighted to provide you with the case study that offers an opportunity to understand how the startup Pirate3D failed and what you can learn from its mistakes.
Unlock to view the premium article

Reebonz is an online and offline retail marketplace for buying and selling new and pre-owned luxury items in the Asia Pacific.
Description: Digital Marketing, E-Commerce, Shopping
Category: E-commerce, Digital marketing, and High-end Luxury Goods
Country: Singapore
Period: 2009 – 2021 (Acquired)
Size of the company: 201-500
Number of funding rounds: 3
Number of investors: 6
Total amount raised: USD 64 million
Reebonz aimed to provide Asian consumers with access to online shopping and affordable luxury. It attracted retailers to its platform to create an ecosystem in which consumers of luxury goods would become sellers in its marketplace. This has allowed Reebonz to offer items from over 1,000 brands and 172 boutiques worldwide.
Reebonz was once seen as a success story for homegrown Singapore businesses. However, after 12 years in operation, there were
33 customer complaints
made to the
Consumers Association of Singapore (CASE)
against Reebonz (3 complaints in 2019, 12 complaints in 2020, and 18 complaints in 2021).
The Straits Times
also reported another 11 complaints lodged by sellers on Reebonz's White Glove Service in August 2021, with claims of more than SGD 30,000 (USD 22,000).
In September 2021, Reebonz entered into voluntary liquidation, and its brand and digital assets were acquired by
LiveCommerce Entertainment
(a live streaming platform and marketplace) in December 2021. So what led to its downfall?
Daniel Lim and Benjamin Han met during their Singapore National Service in an Armour unit and launched Zuunbo.com, a website that featured daily discounts on items. The name is based on the Singaporean expression used to express disbelief and surprise.
With SGD 15,000 (USD 10,000) in seed funding, an additional SGD 5,000 (USD 3,300) from their savings, and office space in
Singapore Management University (SMU)
from the SMU Business Innovation Generator, which manages the Entrepreneurial Talent Development Fund together with Spring Singapore (Spring Singapore was combined with International Enterprise Singapore to form
Enterprise Singapore
in 2018).
Zuunbo.com was launched in April 2007. It proved to be hugely popular, especially amongst its female clientele. It offered its members discounts of up to 35 per cent on products, including MP3 players, beauty kits and even vouchers for upmarket apparel stores.
Each day at midnight, a new deal was launched, and only a limited number of deals and items were available each day. Zuunbo.com was also able to keep costs low using its eCommerce platform to offer clothing at significant discounts as compared to conventional retail outlets. Through cold-calling of larger retailers, they established partnerships, and the short 24-hour discounts increased retailers' willingness to provide higher discounts.
Zuunbo.com actively sought to understand its customers with a blog that allowed its members to provide feedback to improve its product offerings. In June 2008, it had around 2,000 members on its platform.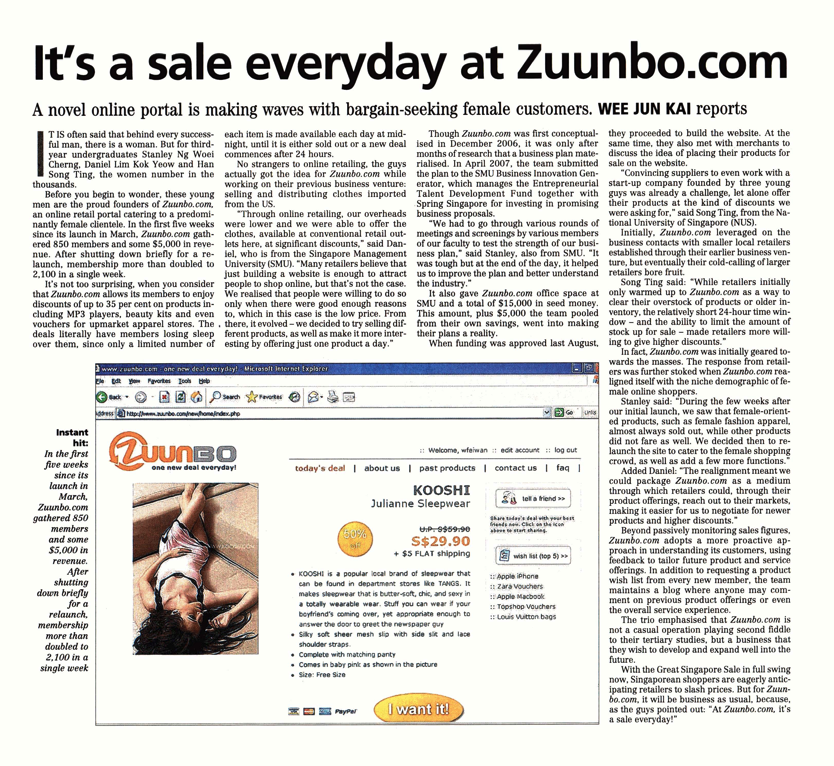 Photo Credit: Singapore Management University, The Business Times


Samuel Lim (elder brother of Daniel) founded
eFusion Solutions Pte Ltd
in 2004. eFusion Solutions provides solutions in these five areas - Sales Channel Management, Sales Force Management, Sale Leads, and Property Connect, which connects customers to property agents.
While watching tourists queue to buy high-end luxury bags from a Gucci outlet in Italy, Samuel came up with the idea of developing a website to make luxury goods accessible to Asian consumers. With the success of their previous company and noticed the trend in online luxury shopping and outlet shipping in Europe and the United States, Daniel, Samuel, and Benjamin moved into luxury e-commerce and co-founded Reebonz in 2009.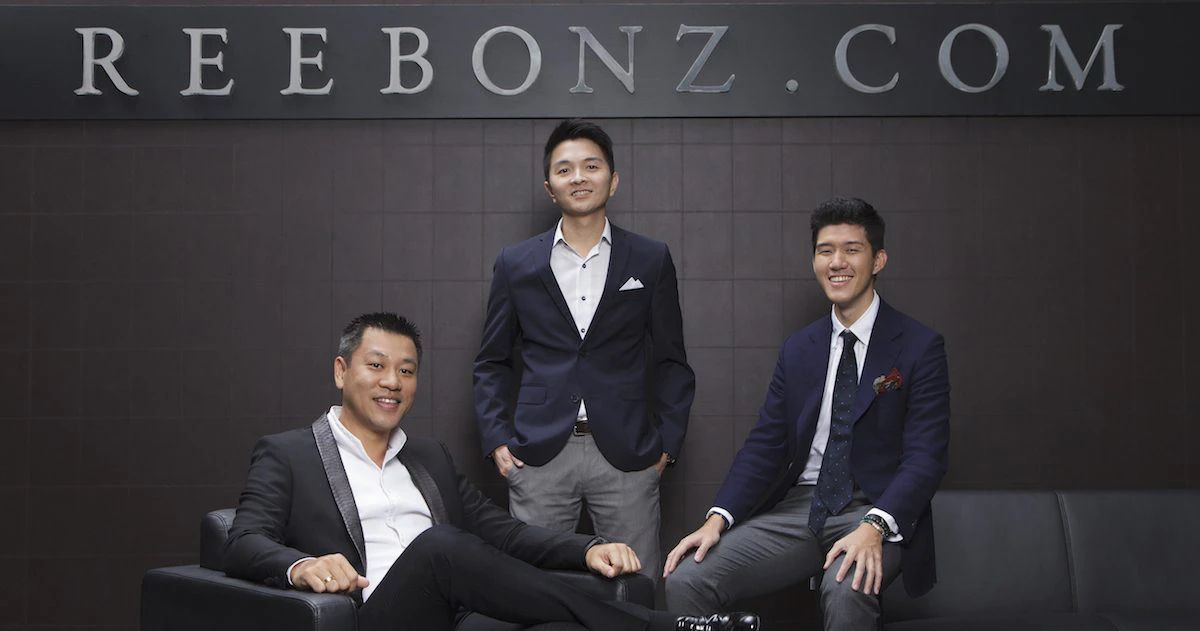 Reebonz was founded in 2009 by Samuel Lim, Daniel Lim, and Benjamin Han. Samuel Lim was the CEO of Reebonz, Daniel Lim as its Chief Brand Officer, and Benjamin Han was its Chief Marketing Officer.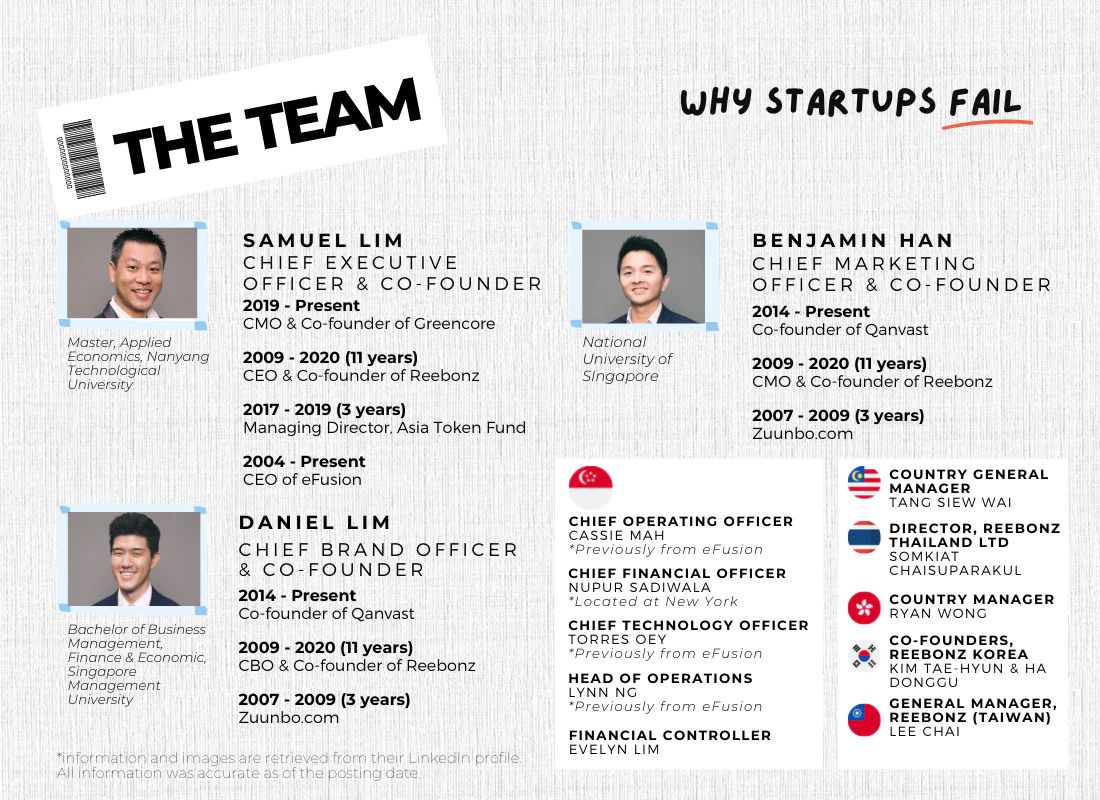 Besides Reebonz, the founding team had also gone into other ventures. Samuel Lim co-founded Greencore (develops a blockchain energy and exchange platform) in 2019. He was the Managing Director of
Asia Token Fund
from 2017 to 2019 (an advisory & accelerator for FinTech & Blockchain companies and blockchain and cryptocurrency media). Daniel Lim and Benjamin Han co-founded
Qanvast
in 2014, a home renovation platform connecting homeowners with interior designers.
Most of the Management team, including Chief Operating Officer Cassie Mah, Chief Technology Officer Torres Oey, and Head of Operations Lynn Ng came from eFusion Solutions, which Samuel Lim set up in 2004.
What contributed to Reebonz's success was the network that Reebonz made with its suppliers in the United States, Europe, and Asia to source and bring luxury goods into Southeast Asia. In addition, the rising demand for luxury goods by the middle class in Southeast Asia has also contributed to Reebonz's early success.

Through its omnichannel strategy, Reebonz provided both business-to-consumer (B2C) and consumer-to-consumer(C2C) services. As seen in the image below, Reebonz's strategy was to convert buyers to become sellers on its platform, while its sellers, in turn, would be converted to become buyers on its platform.
By 2011, Reebonz had expanded into eight markets: Singapore, Malaysia, Hong Kong, Australia, South Korea, Taiwan, Indonesia, and Thailand.

From the image below, Reebonz used multiple channels (in green) and provided its customers with additional services and offerings (in blue) to support its ecosystem strategy.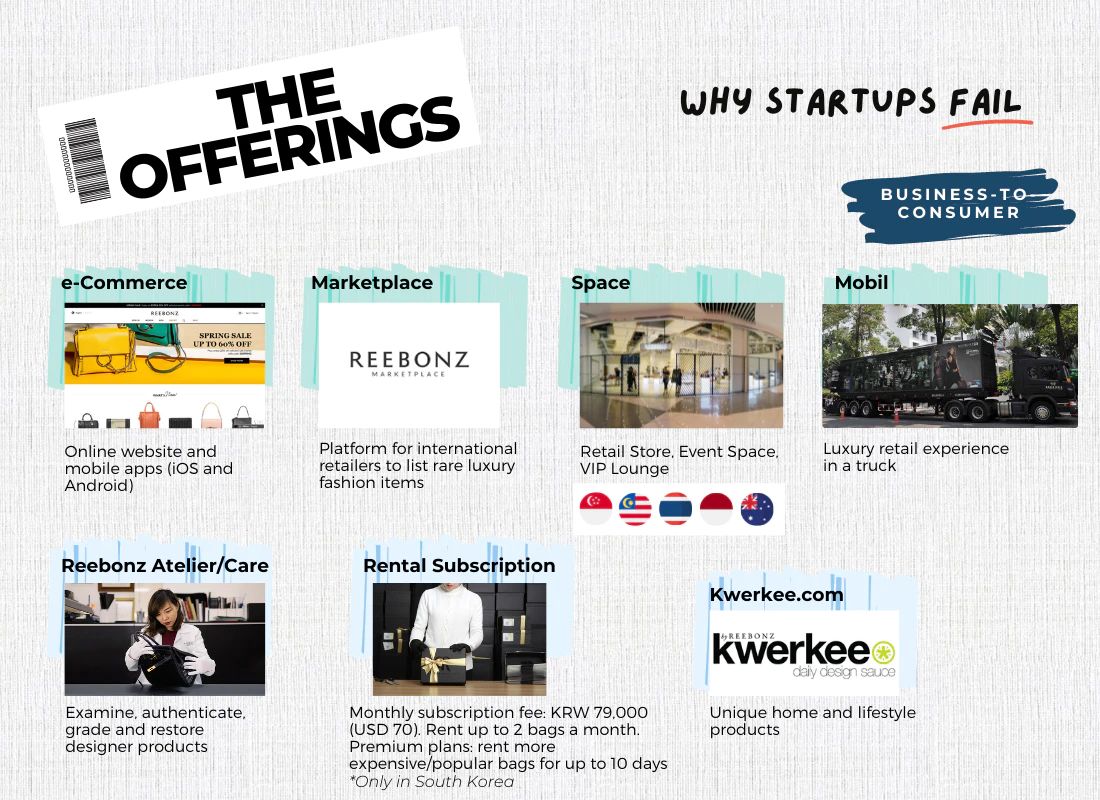 "You test the market, and the market decides. The market decides what you're offering. Be practical and ride that wave."
- said Samuel Lim, CEO of Reebonz

Reebonz also provided various C2C product offerings and services, such as its White Glove consignment service and Closets, which allowed customers to sell their pre-owned luxury products to other customers.
Reebonz also offered a Sell Back Guarantee option for its C2C offerings, enabling customers to sell products at a guaranteed price in exchange for Reebonz credits which could be used to offset purchases made.


To strengthen its certification and authentication service, Reebonz formed a partnership with
VeChain
, a public blockchain platform, to develop a digital tag that would enable product traceability, supply chain planning, product management, and proof of ownership of products.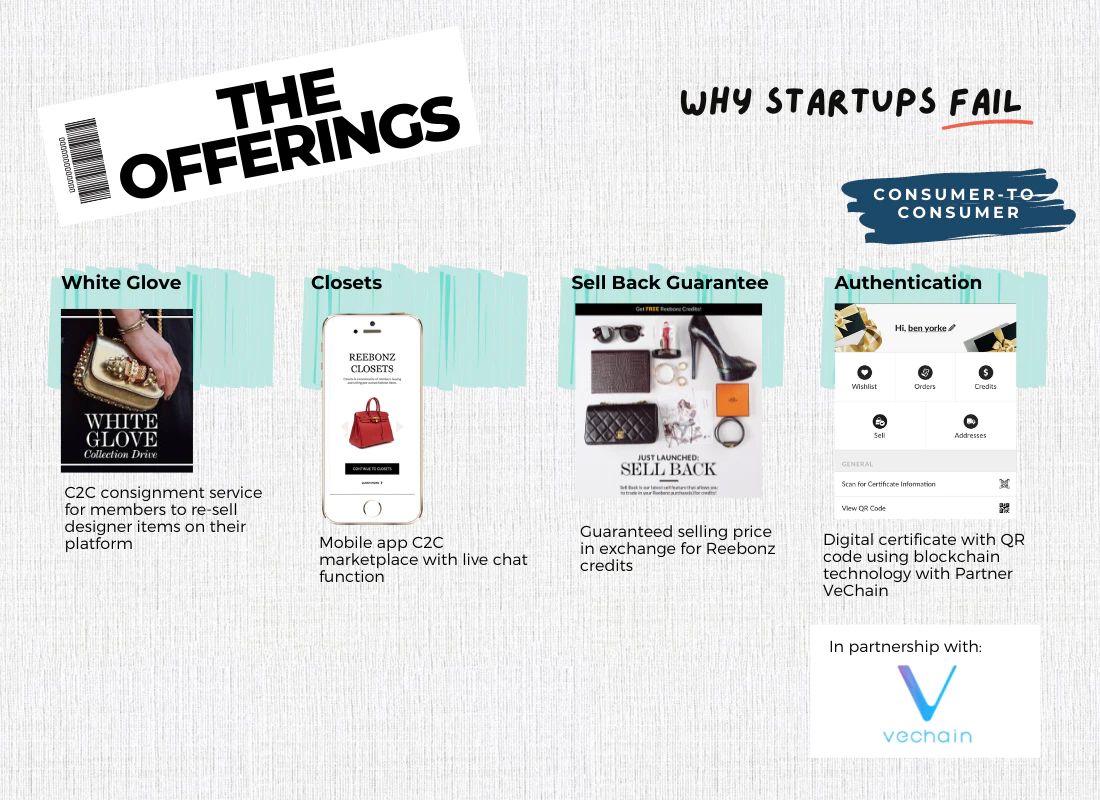 In late 2015, Reebonz was valued at around USD 300 million, making it the most valuable luxury e-commerce startup in Southeast Asia. By 2017, Reebonz had 5.5 million registered members, a Gross Merchandise Value (GMV) of SGD 347 million (approximately USD 255 million) and net revenue of SGD 150 million (approximately USD 110 million).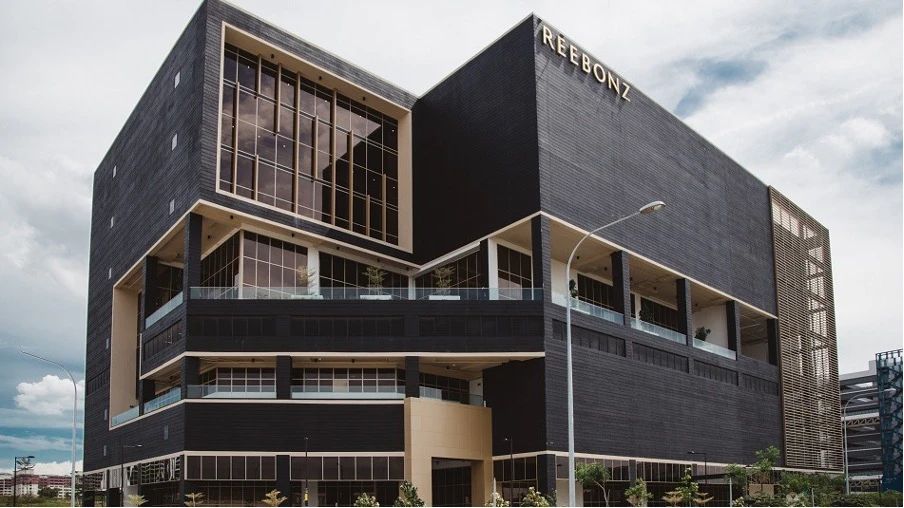 In June 2017, Reebonz launched a 200,000 square feet SGD 39 million (USD 29 million) headquarters in Singapore. In December 2018, Reebonz was listed on the NASDAQ Stock Exchange in the US as RBZ via Special Purpose Acquisition Company, Draper Oakwood Technology Acquisition Inc.
Reebonz formed a partnership with
TWIST
in January 2020, which enabled Reebonz to add more variety to the products on its platform. TWIST is a Hong Kong multi-brand luxury fashion boutique that retails brands such as Alexander McQueen, Givenchy, Fendi, Gucci, Prada, Stella McCartney, Valentino, and more.
Reebonz raised a total of USD 64 million through 3 funding rounds. Reebonz obtained USD 10 million in funding from GGV Capital in 2010, USD 14 million from Intel Capital in 2011, and USD 40 million from Vertex Ventures, Mediacorp Singapore, Matrix Capital, Intel Capital, Infocomm Investments, and GGV Capital in 2013.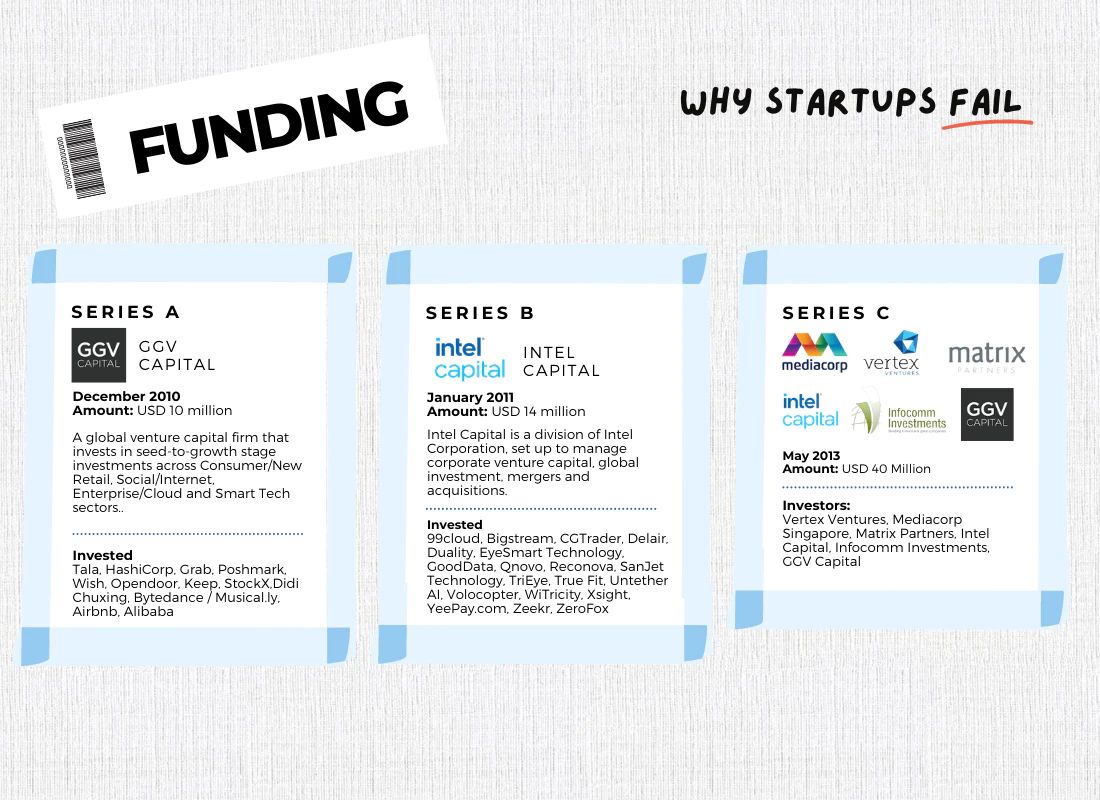 Reebonz had its startup phase from 2009 to 2010, with the launch of its eCommerce platform in March 2009 and entering into six different markets: Singapore, Malaysia, Hong Kong, Australia, South Korea, and Taiwan.

Its Series A funding of USD 10 million in 2010 and Series B funding of USD 14 million in 2011 helped its expansion during its growth phase from 2011 to 2018.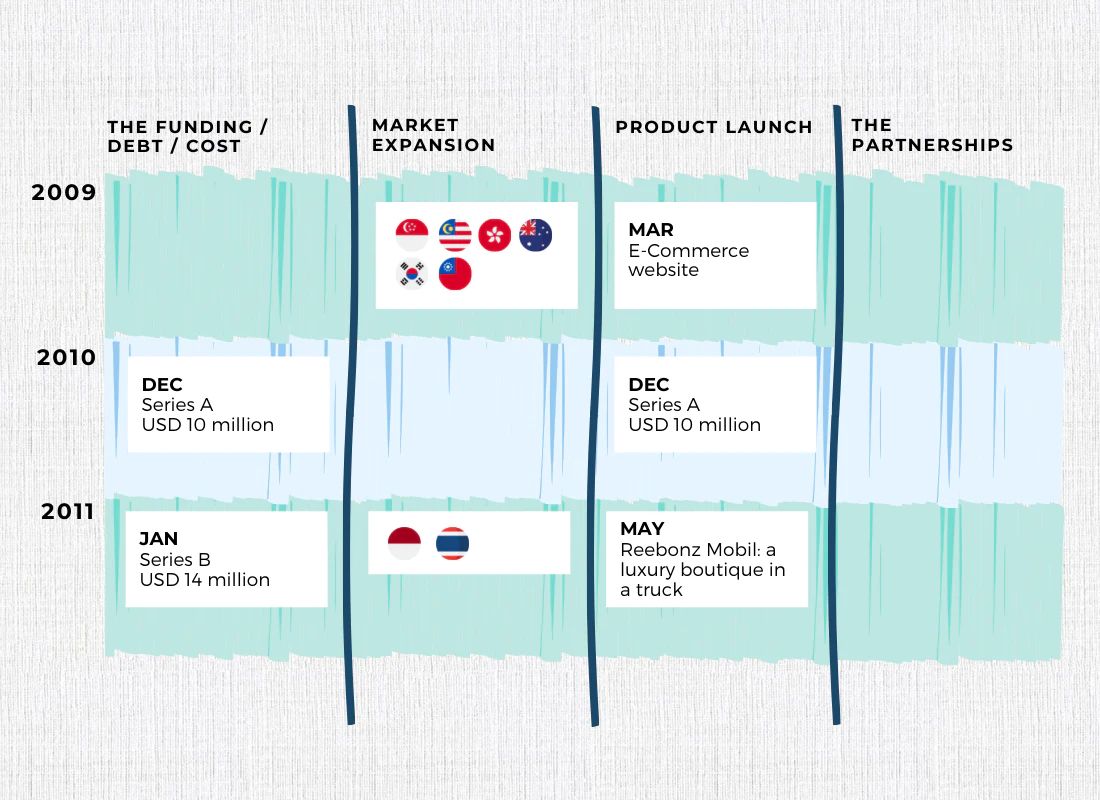 In 2012, Reebonz embarked on aggressive expansion with multiple product launches, including Reebonz SPACE, Kwerkee, Reebonz Vintage, and Reebonz Atelier.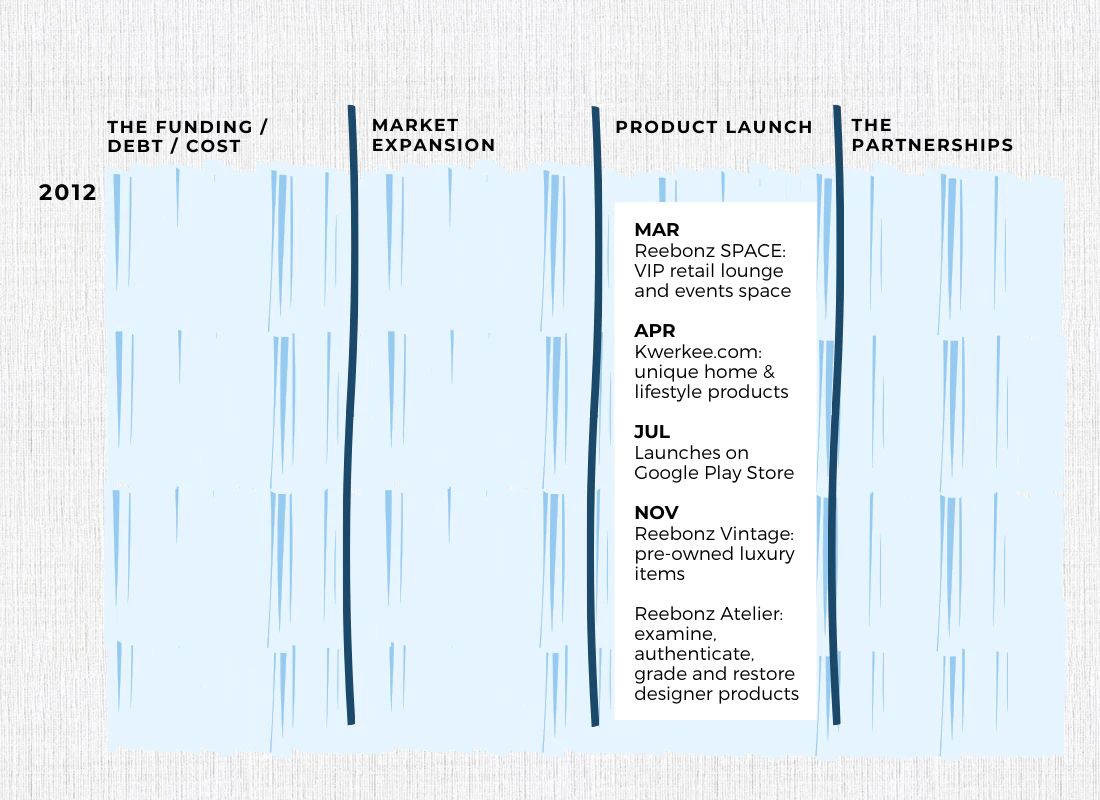 A Series C funding of USD 40 million helped Reebonz expand further into Japan, Myanmar and China from 2014 to 2015. It also launched Closets, a C2C Marketplace mobile app that allowed customers within the same country to trade items directly.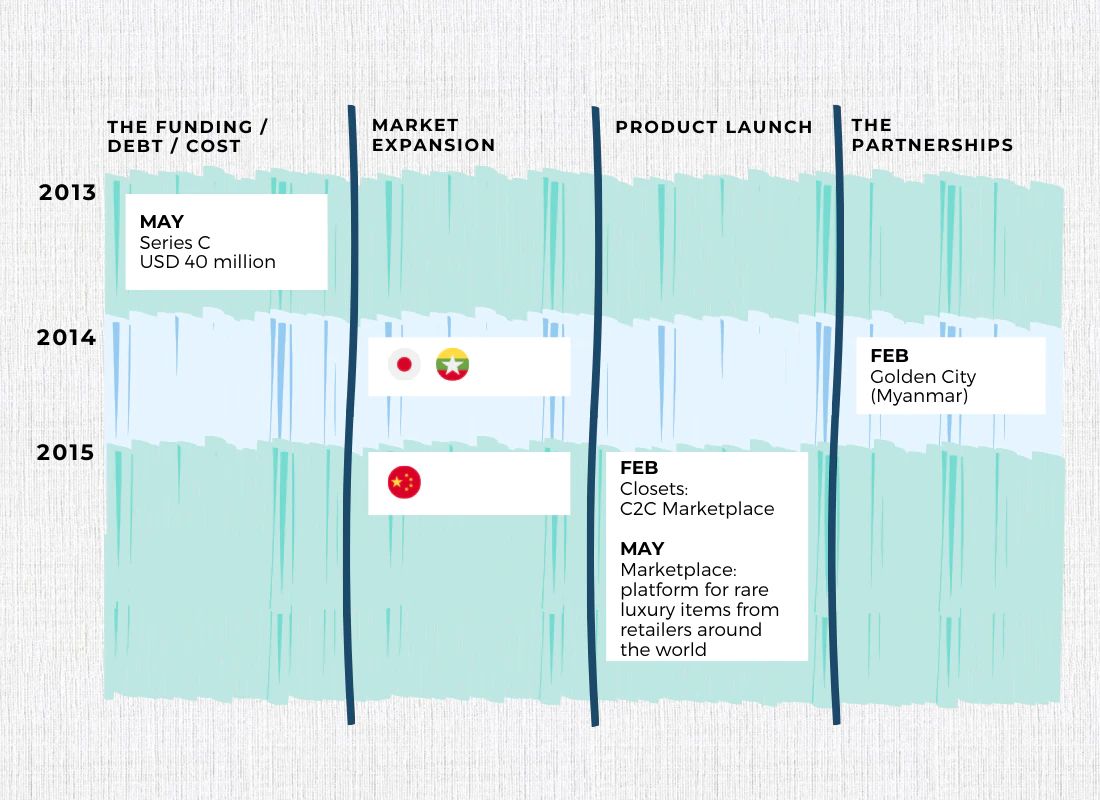 In 2018, Reebonz was listed on the NASDAQ Stock Exchange through a merger with Draper Oakwood Technology Acquisition, Inc. (DOTA Holdings), a Special Purpose Acquisition Company (SPAC) incorporated in the Cayman Islands.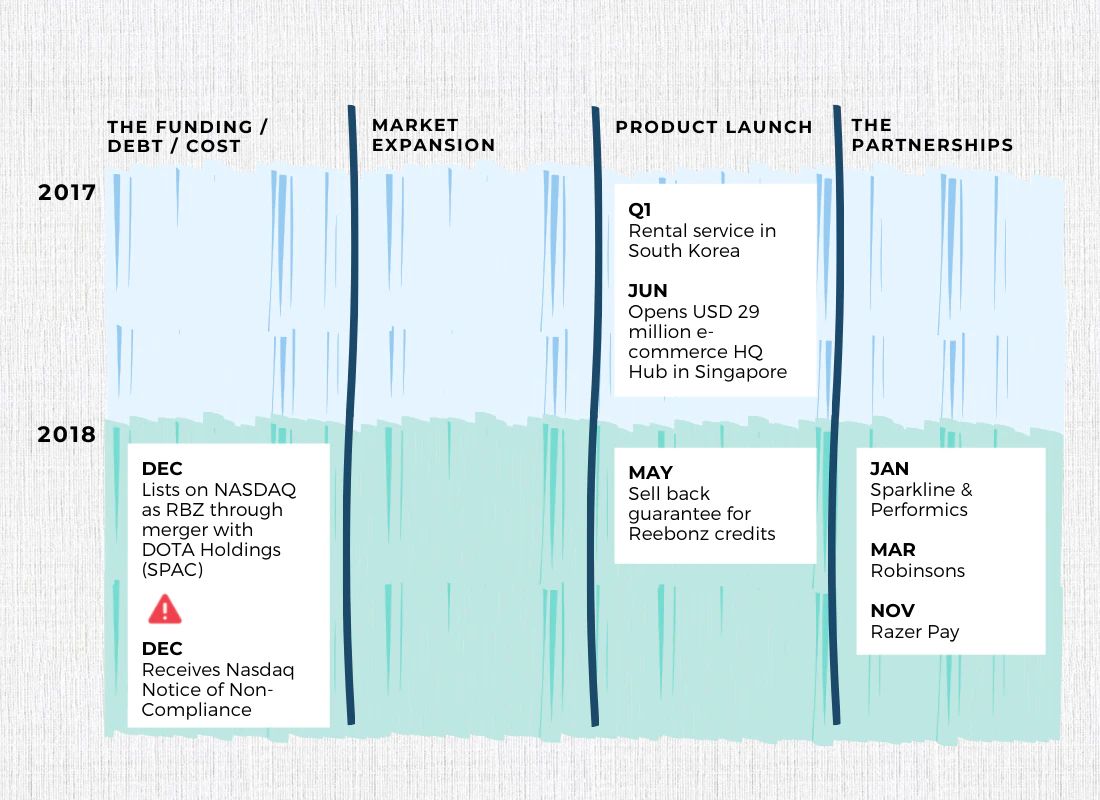 After Reebonz's Initial Public Offering (IPO, it received a notice of non-compliance in December 2018 from NASDAQ as it could not keep its share price above USD 1. Reebonz achieved full compliance in May 2019. In November 2019,
Tech in Asia reported
that Samuel Lim (Reebonz's CEO) offloaded shares along with other major investors such as Vertex Ventures, GGV Capital, Mediacorp, Matrix Partners, Intel Capital and OCBC Bank.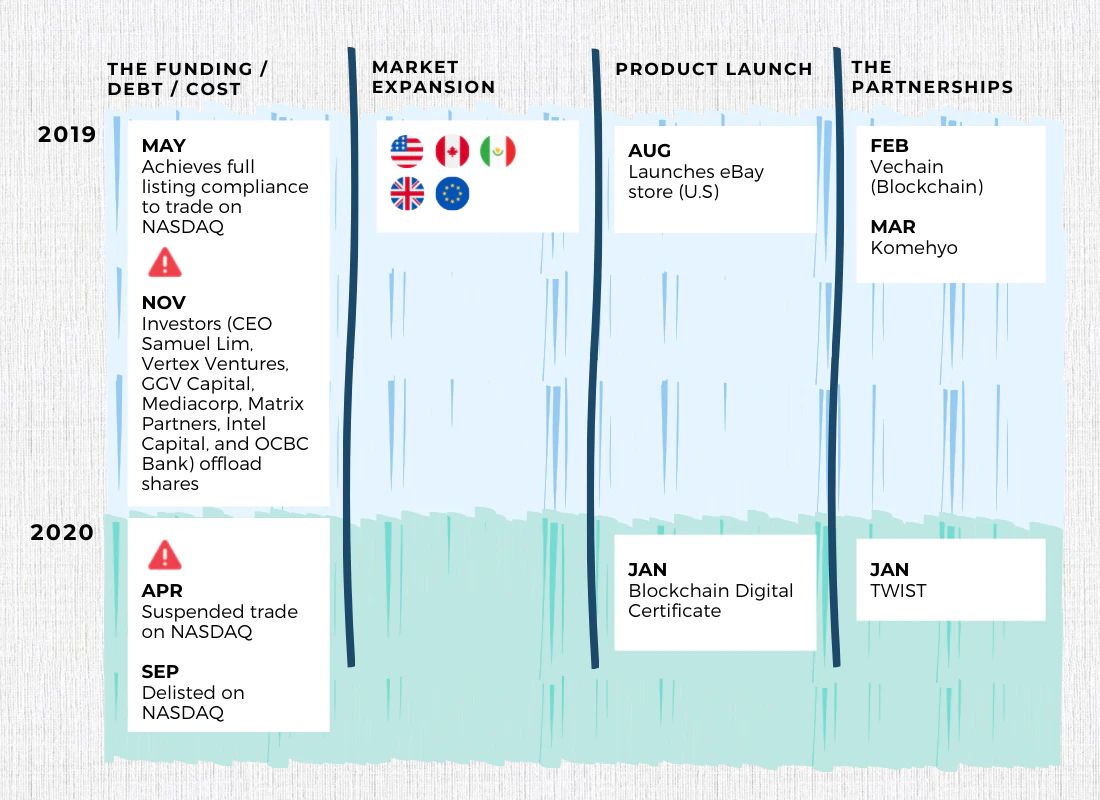 In April 2020, the trade of Reebonz shares was suspended on NASDAQ after it received another Deficiency Notice of being unable to meet a minimum share price of USD 1. It was delisted on NASDAQ in September 2020.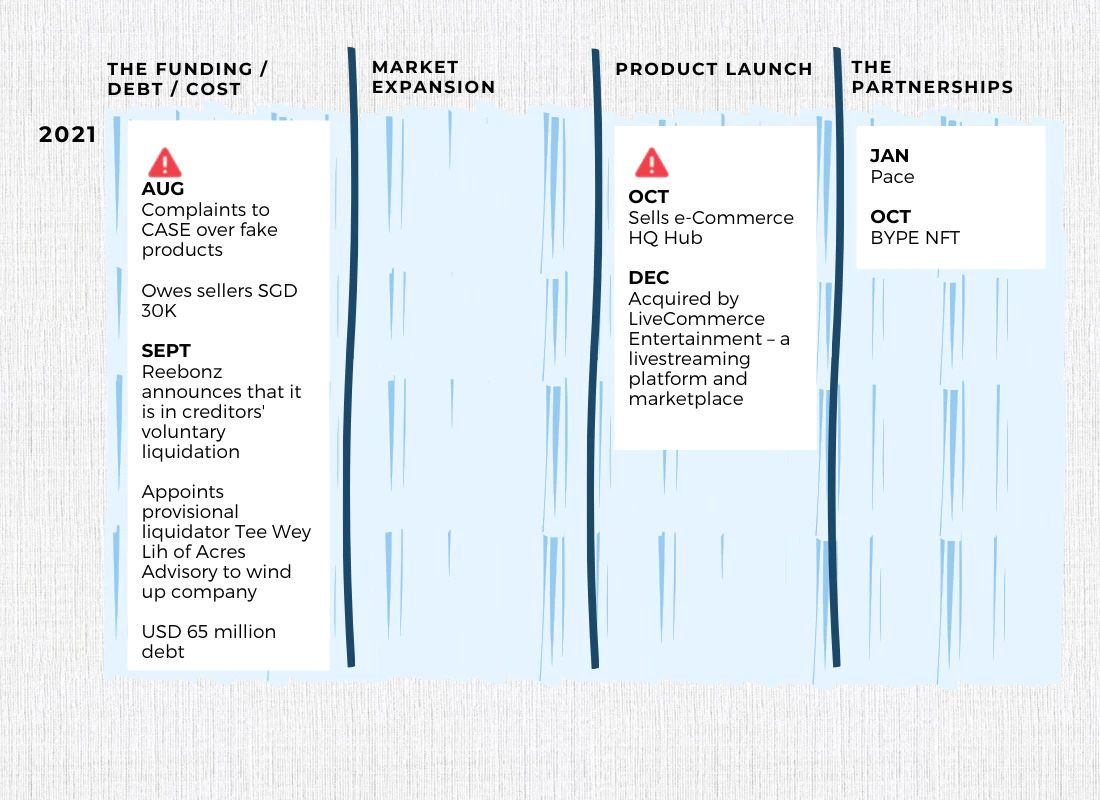 In August 2021,
reports
highlighted complaints from sellers to the Consumer Association of Singapore (CASE) about payment delays and complaints from buyers about counterfeit goods sold on Reebonz. The following month, Reebonz announced that it was in creditors' voluntary liquidation and appointed a provisional liquidator to wind up the company. At that time, Reebonz had
reportedly
accumulated USD 65 million in debt.
After it achieved full compliance, Reebonz should have constantly engaged its investors to build investor confidence and attempt to prevent any further sell-off. So why did its CEO offload his shares? The offloading of shares from its CEO would not have sent a positive signal to other investors and hindered Reebonz's attempts to build investor confidence and increase its financing.
So what went wrong with Reebonz?
01. Sourcing of products
Reebonz is a platform that enables the transfer of luxury goods to various stakeholders. The key to success depends on how well Reebonz manages its supply and creates demand for its products. When scaling the business, Reebonz should use the data to identify the product's demand and its strategies to manage the product chain.

At the initial stage, Reebonz should get a good product mix to test out the market demand. This can range from limited edition products to mass-market luxury products. The focus would be on sourcing products with a lower cost to have a healthy margin, allowing them to have a small buffer to cover other unforeseen operating costs.

After collecting the data and insights on popular brands and items at the initial stage, Reebonz should utilise the information to make the decision on the products mix and decide if its business strategy is to target the mass consumer market (more sales but lower margins) or go after an exclusive group of clientele (less sales but higher margins).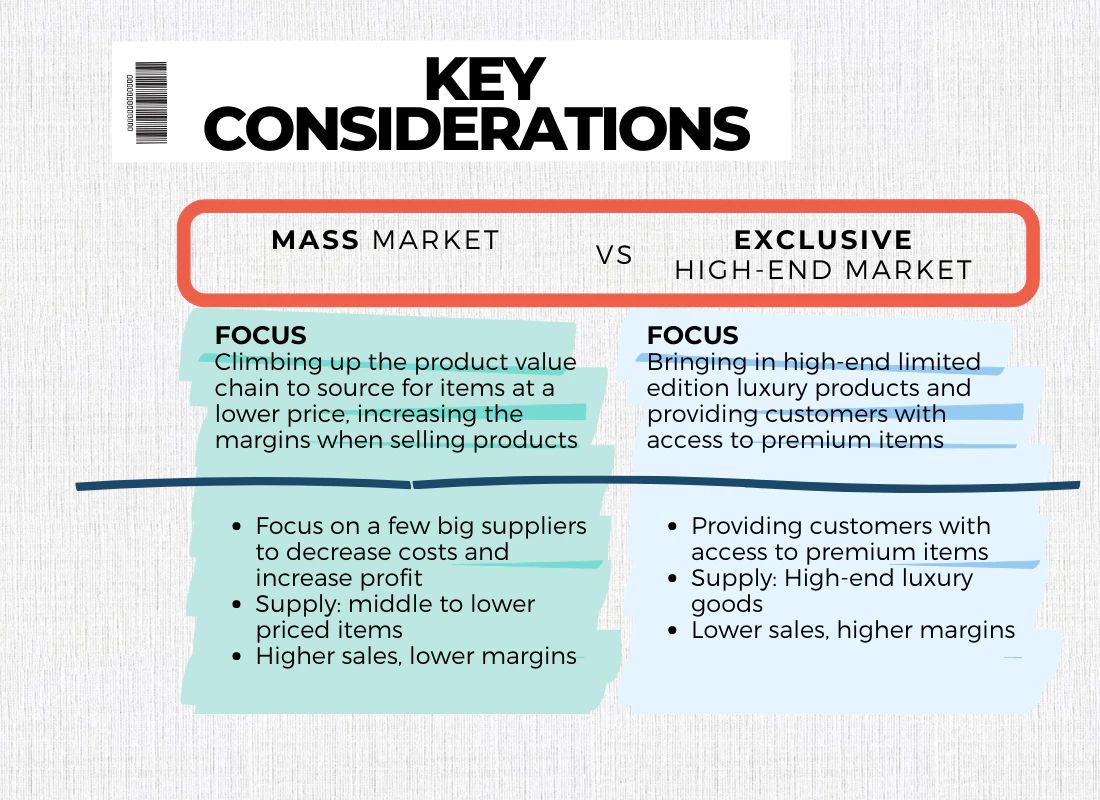 When targeting the mass consumer, Reebonz's focus would be going up the product value chain to source items at a lower price and increase its margin when selling products. To increase its scalability, Reebonz can consider focusing on a few big suppliers to decrease costs and increase profit margin.

For exclusive clients, the focus would be to bring in high-end limited edition luxury products providing its customer with access to premium items.

Company can decide to target both groups. However, one needs to be clear about its primary and secondary target audience. The primary target audience should be the company's main source of income, and the company should prioritise its efforts.

A clear understanding and choosing its approach would enable Reebonz to focus on more strategic planning to foster valuable partnerships to increase its basket size or the number of products sold in a single purchase by bringing in the types of products that cater to the tastes of its particular target audience.
02. Growing with its customers
As businesses expand over the years, their original customers would also experience shifts in their lifestyles, needs, and desires as they enter different phases of their life.

Businesses can grow together with their customers to maximise the Customer Lifetime Value. Businesses need to understand the needs and changes in demographics of its customer to build customer loyalty to the brand. With 12 years of operations, did Reebonz map out the shift in their customer demands over the years?

For instance, customers who were fresh graduates when Reebonz first started would have developed different spending patterns and requirements as they move up in their career or lifestyle changes when they enter a different stage of life. Customers who started with Reebonz in 2009 would likely have increased in earning power and demands as they mature in their careers and lives.

Segmenting their customers and understanding the different needs would have allowed Reebonz to develop specific marketing strategies to target its customers and understand and address their needs. For example, a business executive might prefer function over form, while a socialite would emphasise trendy designs, and a newborn parent might choose space over design.

Reebonz's marketing strategy seems to lack emotional appeal. Reebonz's Facebook posts mostly showcased their products in a commercial manner, focusing on the product focusing on the saving rather than the emotional appeal of the product.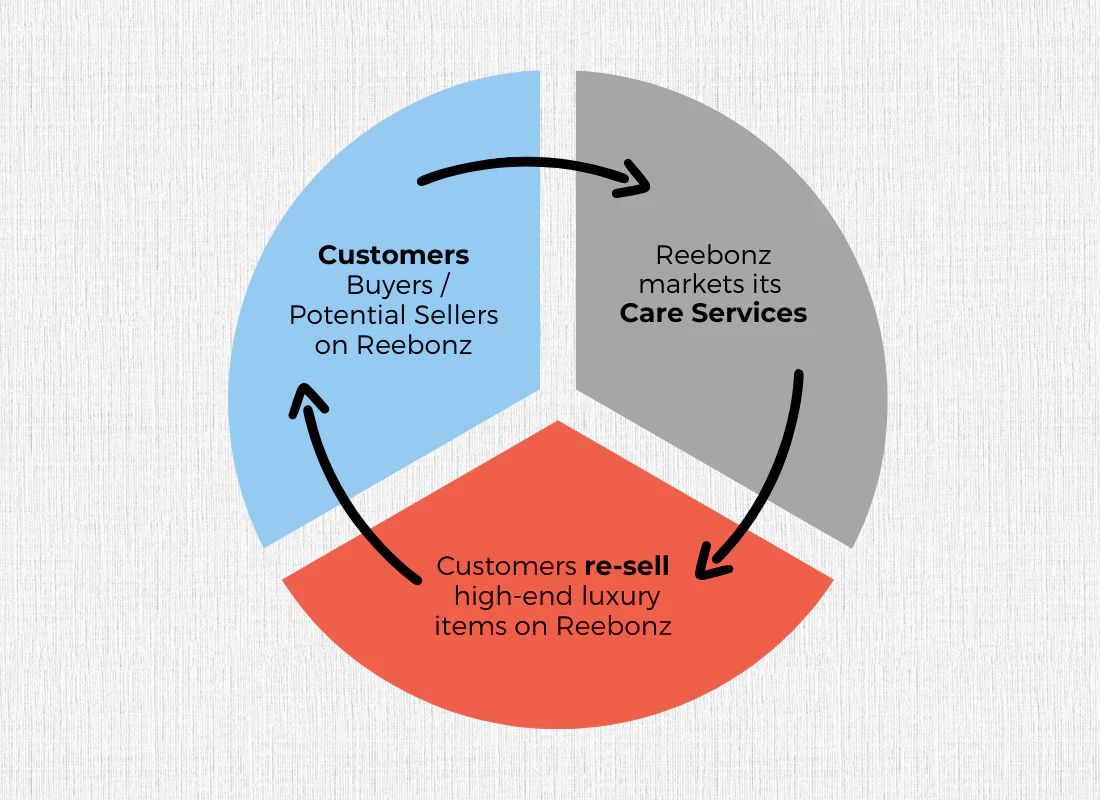 The image above explained how Reebonz could extend the life cycle of products within its ecosystem. First, customers would enter the Reebonz ecosystem as buyers or potential sellers of high-end luxury items. Then, Reebonz would market its supporting services, such as care services. Finally, customers could sell the products on Reebonz's platform and purchase other products, and the cycle would repeat. This would allow Reebonz to maximise the product's value within the ecosystem, and Reebonz could cross-sell its other product offerings, such as its care services and its White Glove or Closets services.
An example of a business that grows with its customers is
LoveBonito
, a fashion eCommerce and retail concept. LoveBonito started out selling affordable female casual wear on its online platform with its target audience of female youth. To maximise its customer lifetime value, the business grew its product line throughout the years to include businesswear as its customers entered the workforce and maternity clothes as its customers became parents. LoveBonito understood the needs of its customers and addressed them as they entered different stages in their lives. Its founder also developed a strong brand identity by becoming a spokesperson for women's issues connected with its primary target audience.
03. Emotional sentiment
Reebonz's White Glove and Closets service relied on a steady stream of individual sellers to list their pre-loved items on the platform. Since sellers were a key part of Reebonz's supply chain and strategy, it needed to understand the supply and test whether potential sellers were willing to sell the high-end luxury products they owned and the demand of buyers to purchase pre-owned luxury items.

These potential sellers might have received their luxury items as gifts for special occasions such as anniversaries and birthdays and may have an emotional attachment. As a result, they may be less willing to sell or replace these items.

Reebonz might have to look beyond and may have needed to establish partnerships with other businesses for its C2C offerings.
04. Scalability of business
Reebonz entered eight markets within just two years of its commencement. For Reebonz to grow rapidly, it needed to make its business scalable. Without scalability, operational costs would have been high, which would eat into Reebonz's profits. One way to make its business scalable was to increase its product scalability. Reebonz has to identify the common denominator within the business offerings, such as common preference for items from a particular brand.

This would help scale the business, as Reebonz would have been able to source multiple products from a single supplier. Similarly, a single brand may have numerous items that cater to different target audiences with different purchasing power. For example, luxury handbags for those willing to pay more and luxury wallets for those willing to spend less. Reebonz could have sourced for brands with a range of products that catered to these different target audiences.

Establishing a team to understand and analyse the data on Reebonz's platforms would allow Reebonz to understand its different target audiences and increase its ability to scale.

Reebonz only allowed sellers on its Closets platform to sell to buyers from the same country. This may have been a missed opportunity as it could have leveraged its presence in various markets to facilitate the trade of pre-owned luxury items from different markets. Having entered multiple countries with varying demographics of consumers, Reebonz could have leveraged these market entries by understanding the customers' demographics, purchasing power, and pattern in the markets they entered. For instance, products from White Glove sellers in countries with higher purchasing power could be marketed at a lower price to customers in countries with less purchasing power.

In leveraging its entry into different markets, Reebonz would also have needed to account for import duties and logistic issues such as warehousing, storage, and ensuring that these high-end luxury goods were not damaged or lost during the delivery process. These issues would affect Reebonz's profit margin or sales if Reebonz decided to pass the costs on to its customers.
In
December 2021
, Reebonz was rebranded as ReebonzLIVE after an acquisition by LiveCommerce Entertainment, a live-streaming platform and marketplace.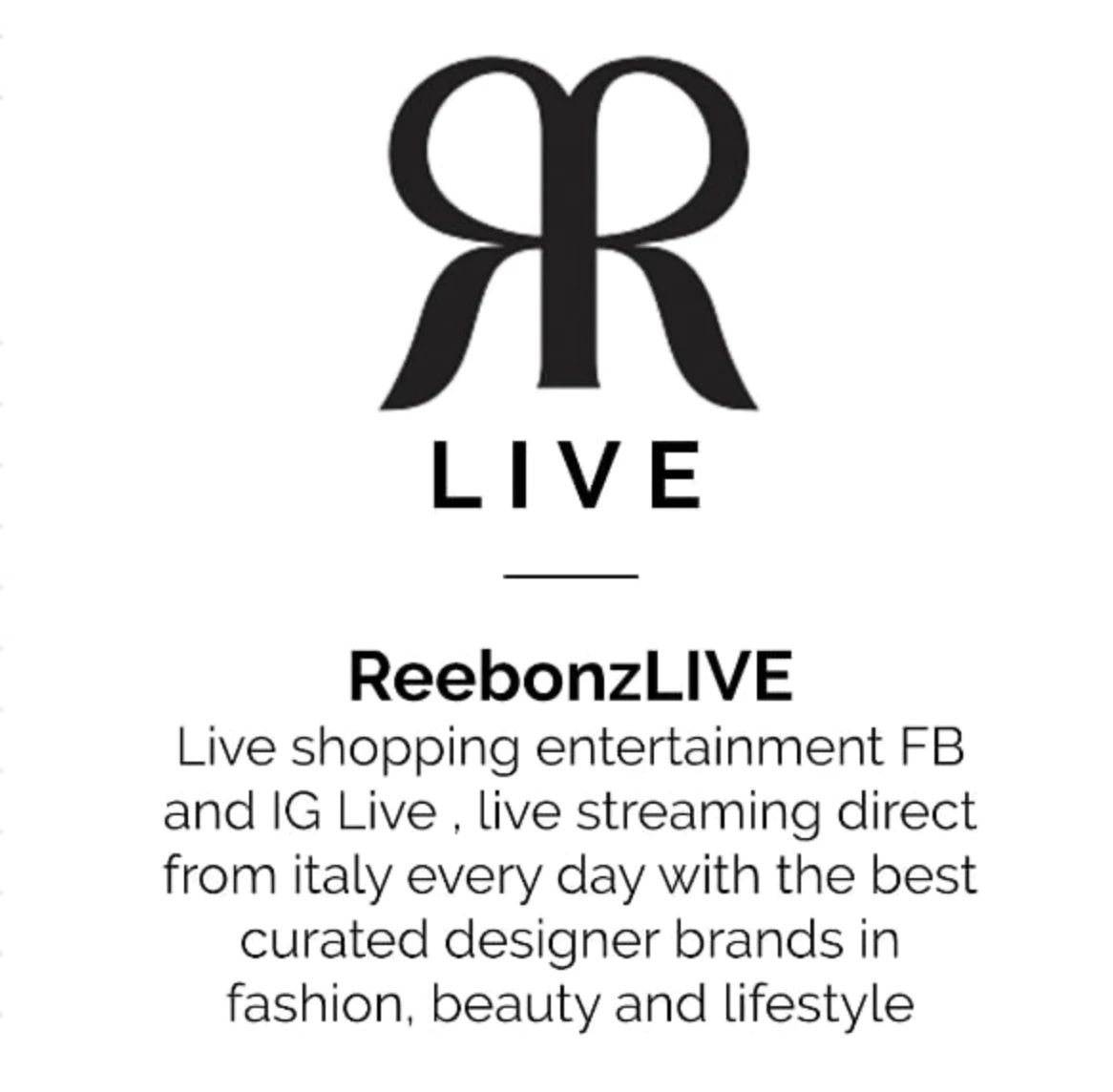 Photo Credit: Reebonz Facebook
ReebonzLIVE was launched that month and offered daily livestreams on Facebook Live and Instagram to see the live selling of various brands. Users can place orders during the livestream using the comments section, and a Facebook message will be sent to them to add the item(s) to a cart and check out the items on the cart. In addition, the platform allows users to make purchases by credit card, QR pay, or PayNow.
Startups Failure Checklist
The People
01. Delegate the main responsibilities and support
As an eCommerce platform, it was easier for Reebonz to enter multiple markets simultaneously. First, however, Reebonz needed to ensure that its business operations were scalable and understood the various markets it served.
Business owners who intend to scale their business and enter into various markets should consider doing the following:

Internal
Setting up a data team: Having a team that analyses and interprets key data and indicators enables the business to optimise its business functions and understand the markets it serves.
Don't neglect the relationship with your investors: When companies decide to list on a stock exchange, they need to manage their investors carefully. Create an investor relations department or hire an external agency to manage this aspect.
Understand your customers and address their needs: To capitalise on key opportunities, maximise customer lifetime value and grow with their customers, businesses need to understand and address the needs of their customers. Displaying an understanding of your customer's needs through your products would also increase customer loyalty to the business.
External
Identify your primary and secondary target audience: It is important for businesses to identify their primary target audience early. The primary target audience should be the target audience that generates the most profit for the business and one that the business should strive to increase. Identifying this segment allows businesses to set the business strategies on the partnerships and product mix that would maximise profits from this group.
Test the willingness of customers to buy and sell (for C2C businesses) the products: While businesses build products that they believe there will be market demand for or launch products based on customers' feedback, it is still important to test the willingness of the consumers to buy and sell products on their platform.

The Process
When businesses attempt to scale and enter various markets, they need to streamline their business operations and processes to ensure the scalability of the business. When simplifying and scaling your business operations, consider the following points:
Outline processes required to support your business: After the early identification of their target audience, businesses should outline the processes and operations required to support their business strategies. This will provide business owners with an idea of the strategy's feasibility and may result in adjustments to the strategy to increase profitability.
Research: When entering new markets, businesses need to understand the different legislations and duties that might increase their costs and affect their profitability. Companies need to research early on potential tariffs and taxes of each country they plan on entering and how these might affect their profit margin.
Calculate and estimate operational costs: With any new business venture, the business needs to do its budgeting. Operation costs such as warehousing, logistics, and even the delivery service needed (for example, as Reebonz was shipping high-end luxury items, premium delivery services may be needed).
Know the business models of each product: Businesses may have multiple products, each with its business model. For example, Reebonz had its B2C eCommerce platform and C2C White Glove and Closet business. Therefore, businesses need to understand the requirements of each of the different business models they are engaged in. For example, for Reebonz's B2C eCommerce platform, one of the key requirements was to know how to manage the costs of doing business. However, for its C2C business, a key requirement would be the sensitivity of paying sellers (potential customers) on time and the transparency of its payment process and timeline.
The Product
When attempting to expand their business, it is also important for business owners to study how they can increase their product scalability and leverage their presence in various markets.
Increase product scalability: When scaling your business, identify ways to increase product scalability. For example, you may be able to streamline your supply chain by sourcing multiple products from a single supplier, or you may identify if your audience has a common preference for items from a particular brand, allowing you to source for a range of luxury products from the same brand.
Maximise your product value: Business owners need to consider how customers would use the products and how they can increase the product value or the benefits the product offers to the target customers. For example, Reebonz could have increased its care services' marketing and increased the product's life cycle in its ecosystem.
Use your market entry to your advantage: Reebonz was an eCommerce platform; it was simple for them to enter several markets. They might have taken advantage of this by analysing market demands and repurposing pre-owned products that were no longer in demand in one market to another.
Disclaimers
*All information extracted from external sources was correct at the date the article was posted and the dates on the sources.
The information contained in this article represents the authors' views, and opinions that are based on public data available online and do not necessarily reflect the position of the organisations mentioned in the article.
Hyperlinks for the information obtained from external sources are provided in the article. Please click on the links for updates on the information provided in the respective articles.
Please email [email protected] for any enquiries or clarifications on information contained within the article.
Get your 14-day trial today!
No debit/credit card is required.
After the free trial, you may:
Pay as low as 27 cents a day to access unlimited content

Watch events playback at your own pace and join the discussion

Unlimited access to ready-to-use templates

Access to exclusive events for premium members

Receive digital certifications upon completion of courses

Cancel the subscription any time
Choose Your Plan
Free
Free access to the complimentary content

Purchase additional individual premium content separately

Access to limited free events for a limited time
Monthly
Unlimited access to premium courses, podcasts, events and webinars


Unlimited access to business templates

Access to exclusive events for premium members
Annual
USD 99.90/yr USD 118.8
Unlimited access to premium courses, podcasts, events and webinars

Unlimited access to business templates

Access to exclusive events for premium members
Join our newsletter
Get weekly updates on live streams, news and more right in your mailbox.