Why Startups Fail Series
Premium Case Study 02: Pirate3D
Overview
Pirate3D aspired to be the world's leading provider of consumer 3D printing solutions by creating a 3D printer that was simple to use and affordable! So what led to its downfall?
Featured Content
Why Startups Fail
Your one-stop-shop for exclusive startup case studies and contents!
Developing an entire ecosystem of our own combination of hardware, software, and library was far more costly engineering project than expected.
Brendan Goh, Co-founder of Pirate3D
What is this about?
Startup failure is inevitable, even with the most experienced entrepreneurs and seasoned investors--it's impossible to predict every possible obstacle your startup could encounter.

Pirate3D set out to change the world of 3D printing by creating an affordable and accessible solution for consumers. Offering a simple, innovative, and cost-effective way of 3D printing, it looked to build on the recent advancements in consumer 3D printing technology.

Formerly regarded as one of Singapore's most promising tech startups making waves on Kickstarter, Pirate3D has faced an unfortunate end. In this podcast, you will learn about the company's history, how it could have prevented the failure, and what you can learn from the project's mistakes.
The Podcast
Be it in your pocket, your hand, or enjoying the audio version of the case study during commutes or lunch breaks - there's no better feeling than immersing yourself in our startup playlist that is simply hard to miss.
The Premium Article
We are delighted to provide you with the case study that offers an opportunity to understand how the startup Pirate3D failed and what you can learn from its mistakes.
Unlock to view the premium article

Pirate3D is a 3D printer manufacturer. Its 3D printer, the Buccaneer, was intended to be a user-friendly consumer printer and was listed as the most successful Fused Filament Fabrication project on Kickstarter (US) in 2013.
Description: 3D printing, Fused Filament Fabrication, Product Design, and Mechatronics
Category: 3D printing, 3D technology, Consumer Electronics, Robotics
Country: Singapore
Period: 2012 – 2015
Size of the company: 11 - 50
Number of funding rounds: 3
Number of investors: 1
Total amount raised: USD 3.9 million (USD 1.4 million from Kickstarter)

Pirate3D had the vision of becoming the world's leading provider of consumer 3D printing solutions by making a 3D printer that was user-friendly, affordable, and accessible to everyday consumers. To achieve its vision, the company set out to create not just the hardware but a 3D printing ecosystem with software, mobile applications, design software, and a 3D-object online marketplace.


Pirate3D's Buccaneer printer was once thought to be one of the most promising 3D printers projects on Kickstarter, garnering USD 1.4 million in funding. However, after just two years of operation, its backers were unhappy with the project, Pirate3D was unable to deliver on its promises, and its backers demanded refunds. So what went wrong?
Nanyang Technology University (NTU) Materials Science Undergraduates
Brendan Goh
and Tsang You Jun met through a school assignment where they faced difficulties assembling and getting a 3D printer to work. After meeting
Roger Chang
, a 3D printing enthusiast and business undergraduate from the National University of Singapore, the trio intended to start a 3D printing service. However, they were later advised by Neo Kok Beng, an adjunct associate professor at NUS Business School to design a 3D printer instead.
After graduating from university, they founded Pirate3DP in August 2012. Through Neo Kok Beng, Pirate3DP secured seed funding from Red Dot Ventures (a Singapore early-stage venture capital fund) and a grant from the National Research Foundation Singapore amounting to SGD 589,000 (USD 482,000). This funding was used to develop prototypes of their 3D printer with its associated software, and their Kickstarter campaign was launched in May 2013.

Neo Kok Beng also assisted Pirate3D in securing an additional USD 2 million in seed round funding in 2015. Together with their Kickstarter campaign of USD 1.4 million, the company raised a total of USD 3.5 million in funding.
Founded in 2012 by Brendan Goh, Tsang You Jun, Roger Chang and Professor Neo Kok Beng.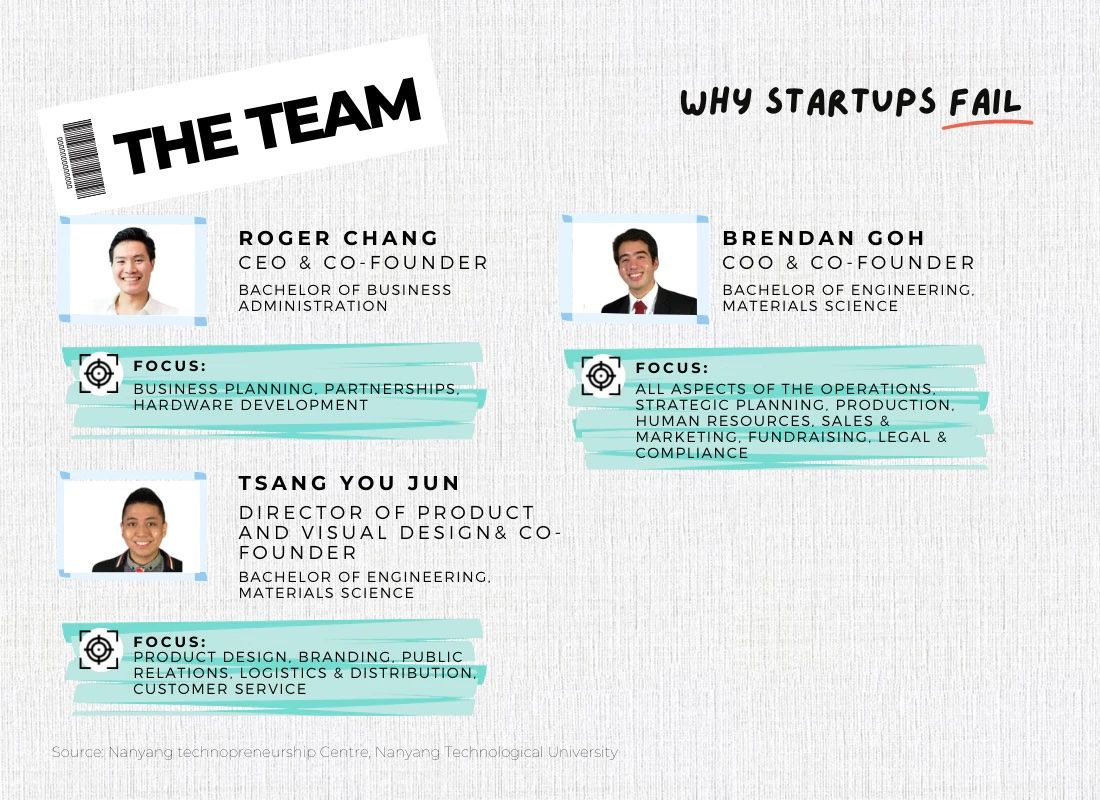 Roger, Brendan, and You Jun were involved with the operations and management of the company, while Neo played an advisory role and provided strategic leadership.


Below is a summary of Neo Kok Beng's appointments in 2013:
July 2007 – Present: President & CEO, Awak Technologies
2004 – June 2021: Associate Adjunct Professor, NUS Business School
January 2010 – December 2019: Associate Faculty with the Science, Technology & Globalisation program of the Kennedy School of Government, Harvard University
2010 – December 2018: Academic Committee & Faculty, Singapore Stanford-Biodesign
Pirate3D was listed as the most successful Fused Filament Fabrication project on Kickstarter in 2013. Within 10 minutes, Pirate3D reached its campaign target of USD 100,000, with money continuing to roll in at the rate of USD 81,000 per day. As of today, a total of 3,520 backers had pledged USD 1,438,765 to back Pirate3D's project.
Co-founder Tsang You Jun and Singapore 7th President Tony Tan at the President's Design Award 2014.
Image Credit: DesignSingapore Facebook


In 2014, they also won the prestigious President's Design Award for Design of the Year in Singapore. The
President's Design Award
is Singapore's highest honour for designers and designs across all disciplines that recognises the achievements of designers striving to make a difference through excellent design.
Pirate3D filed for a US
patent
for their Buccaneer three-dimensional printer on 5 July 2013 and was granted the patent on 12 May 2015 for 13 years under Pirate3DP Pte Ltd.
Pirate3D raised a total of USD 3.9 million in equity fundraising and reward-based crowdfunding (Kickstarter). They raised USD 2.48 million from two seeds rounds of equity fundraising and USD 1.4 million in crowdfunding.
Kickstarter is a crowdfunding platform founded in 2009 in the US. The platform enabled projects or ventures to raise money from many people who could choose which project to fund or "back." Initially, the platform only allowed projects from the United States to be listed.


Eventually, Kickstarter enabled projects to be launched from the United Kingdom in 2012; Canada, Australia, and New Zealand in 2013; certain countries in Europe such as the Netherlands, Denmark, Germany, France, Spain and others in 2014 and 2015; Singapore, Hong Kong, and Mexico in 2016; and Japan in 2017.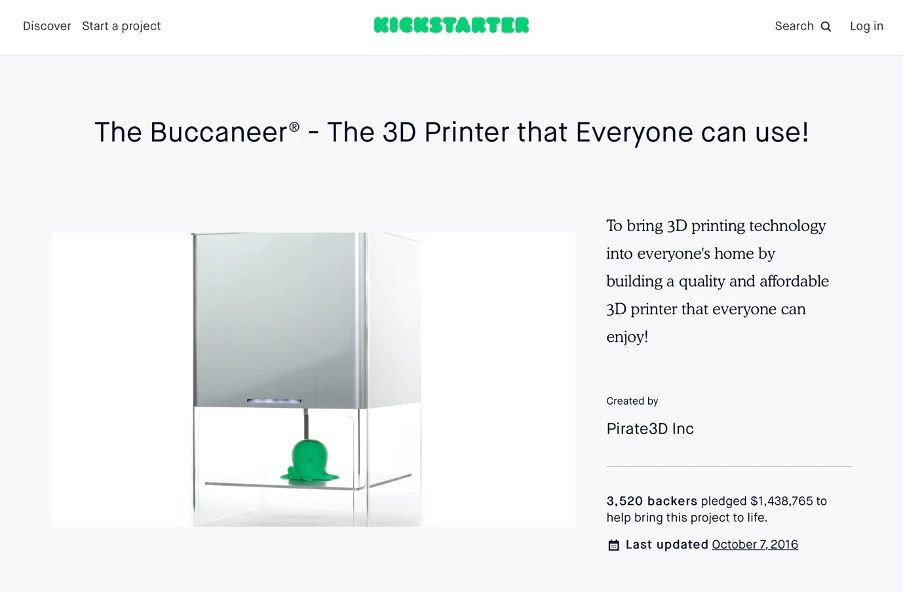 Image Credit: Kickstarter


Pirate3D launched their project on 30 May 2013, five months after their first seed round fundraising in January 2013. The project was launched in the US as the platform was unavailable to Singapore companies. This resulted in Pirate3D having two offices in the U.S. and one in Singapore. Their campaign, titled "The 3D Printer that Everyone can Use!" was simple, straightforward, and was hugely successful, garnering international media attention.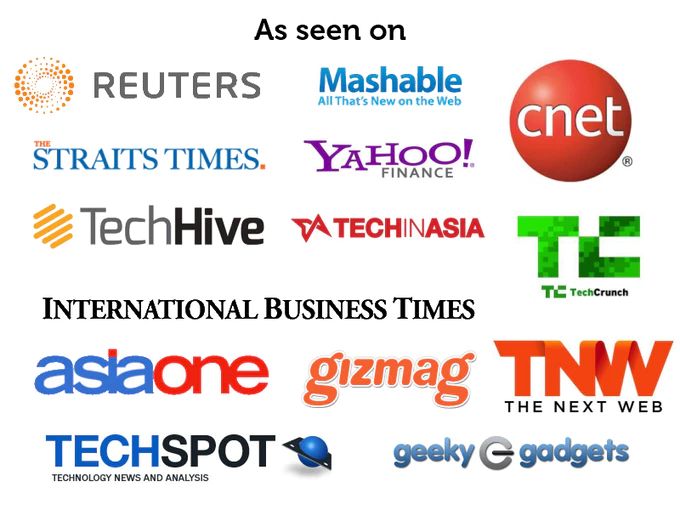 Image Credit: Kickstarter


The expiration of the patents for the
fused deposition modelling
(FDM) printing process patent in 2009 resulted in the price drop of the 3D Printers from USD 10,000 to less than USD 1,000 - paving the way for 3D printers for the consumer market.
Pirate3D vision of producing a 3D printer that was user-friendly, affordable, and accessible to everyday consumers was a huge hit amongst its backers.
User-friendly: Do not need to learn the 3D creation software or have any experience in setting up 3D printers
Affordable: At just USD 347, 16% of the price of Replicator 2 (Makerbot – USD 2,199)
Accessible: Treasure Island – a library with printable objects with networked 3D Printing through wireless internet. Available in iOS and Android apps.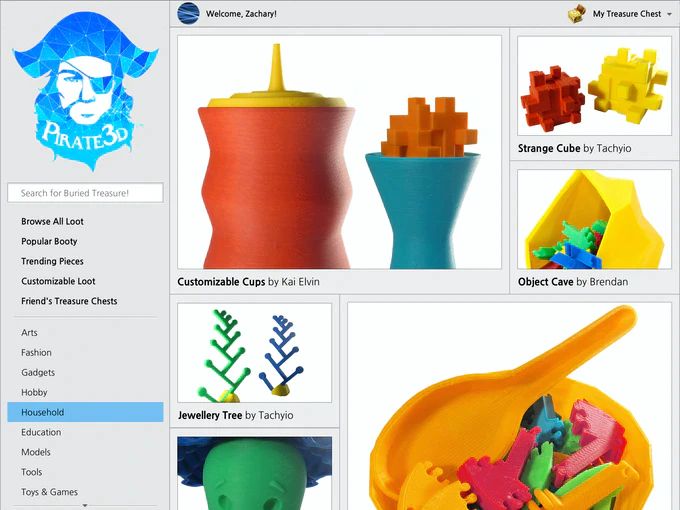 Treasure Island. Image Credit: Kickstarter


The Offerings to the Backers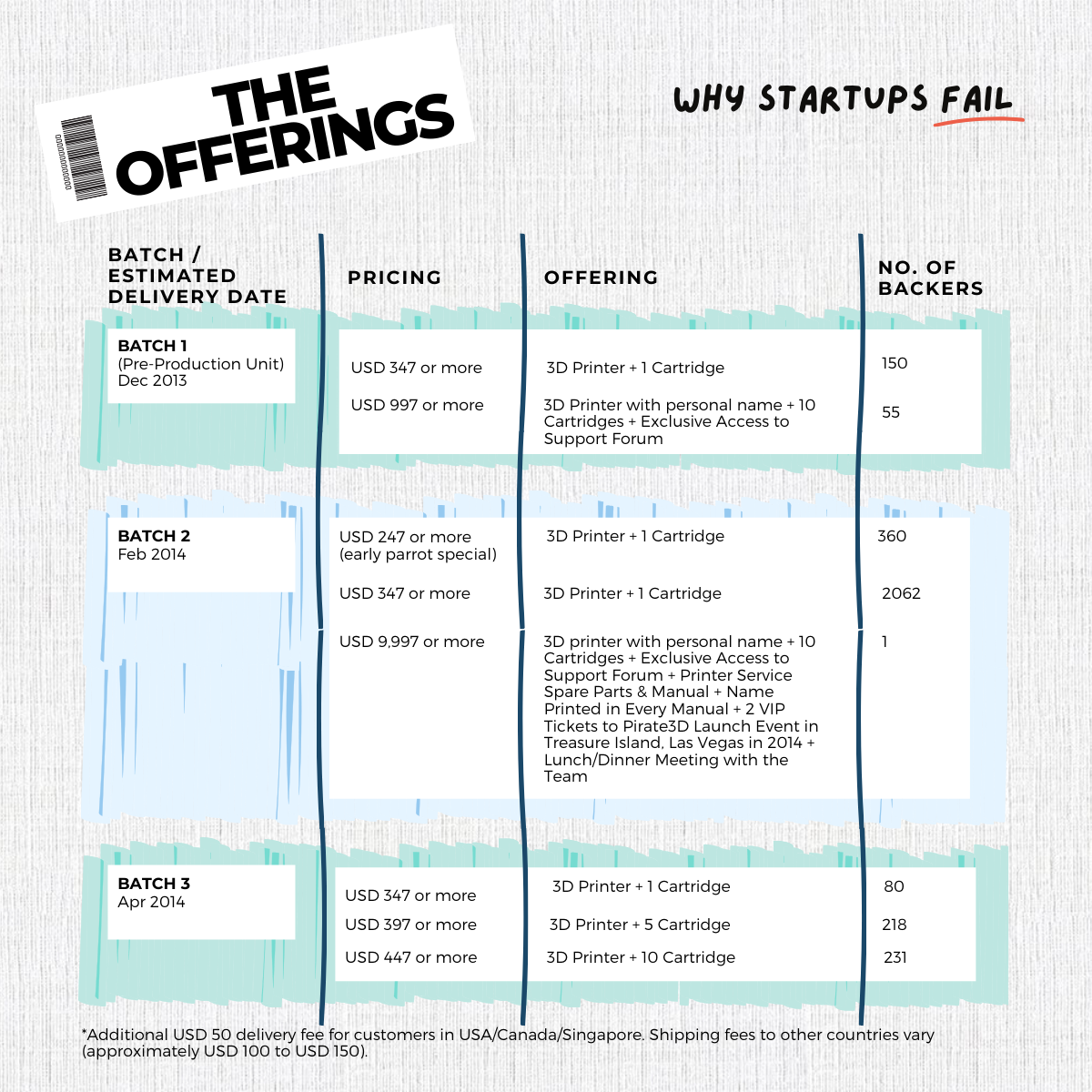 An overview of the success of the campaign
Set up 30-day fundraising in Kickstarter with a target of USD 100,000 on 30 May 2013
Within 10 mins, Pirate3D reached its campaign target, with money continuing to roll in at the rate of USD 81,000 per day
Ten days later, they raised USD 760,000
On 29 Jun 2013, a total of 3,520 backers had pledged USD 1,438,765 to back Pirate3D's project


What is Kickstarter's role in projects?
Kickstarter does a quick review to ensure the project meets basic guidelines

Once a project meets its campaign target, a contract is formed between the project creators and their contributors (backers)
Creators are legally obligated to fulfil the rewards once a project is successfully funded
Kickstarter is not a part of the contract; the contract is a legal agreement between creators and their backers
Funds from backers are released to creators after a project has successfully met its campaign goal, and after Kickstarter takes a cut
Kickstarter does not issue refunds if a project does not succeed
It is up to project creators to issue refunds to backers


Residents and registered entities outside of the countries where Kickstarter projects are allowed cannot launch projects on Kickstarter
Projects can be launched if creators take steps to conduct business in a location where projects are allowed
May involve setting up a legal entity with a bank account and credit card, filing taxes, having a local representative, etc.
Launching projects locally allows creators to collect pledges in the local currency and use their local banking and business details

Reward-based crowdfunding may be taxable depending on the taxation laws of the country

- US: taxable income; may be offset by deductible expenses.

- Singapore: taxable trade income

Important for project creators to be familiar with local laws governing business and taxation for crowdfunding projects based in that country
The table below covers the funding and costs, the project details, product promises, the partnerships, and the business outcomes of Pirate3D from 2013 to 2015.


In 2013, Pirate3D launched their Kickstarter campaign with their Buccaneer 3D printer, described as a high quality, affordable 3D printer with cloud printing functions, user-friendly 3D design software, with a platform to download 3D objects. Pirate3D also promised acrylonitrile butadiene styrene support, an all-metal hot end and a new hotbed if specific Kickstarter goals were reached.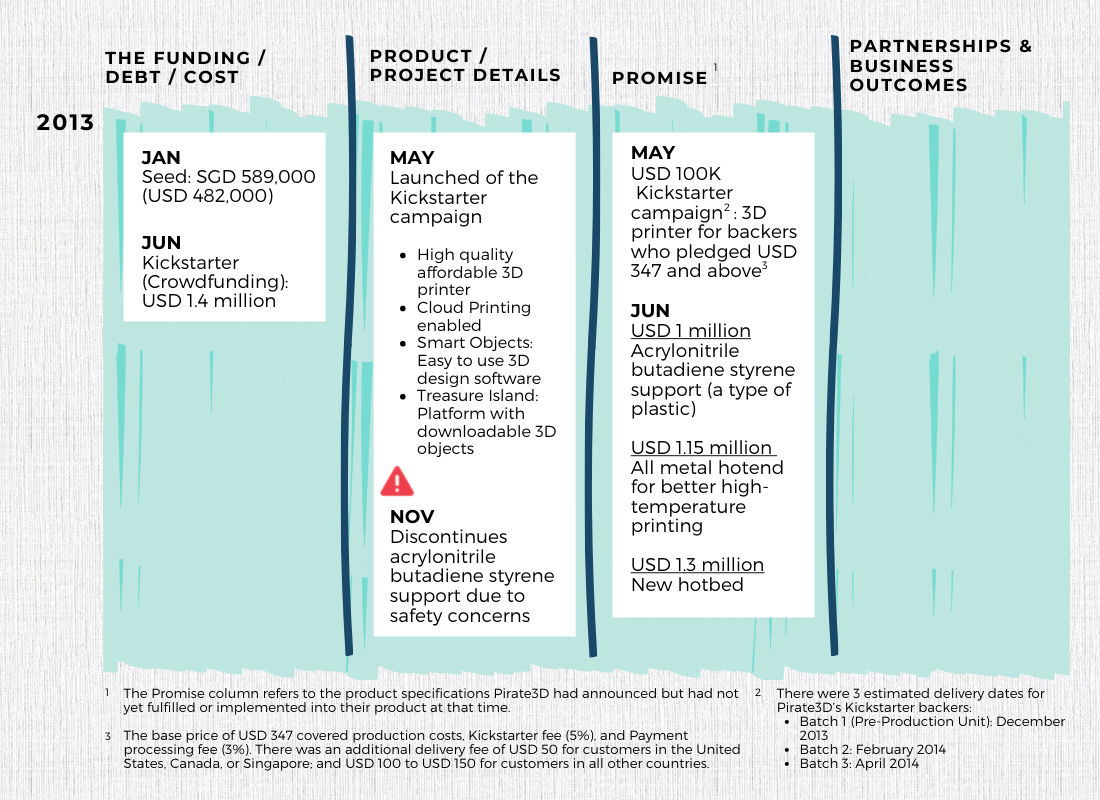 Issues started to show in 2014 when backers voiced frustration that Pirate3D could not deliver their product according to their stipulated timeline. Pirate3D then offered three options to backers: a cold bed option, a hotbed option that had a delivery timeline later than the cold bed model, or a refund. By October 2014, only 800 to 900 Kickstarter printers orders were
reported
to have been fulfilled.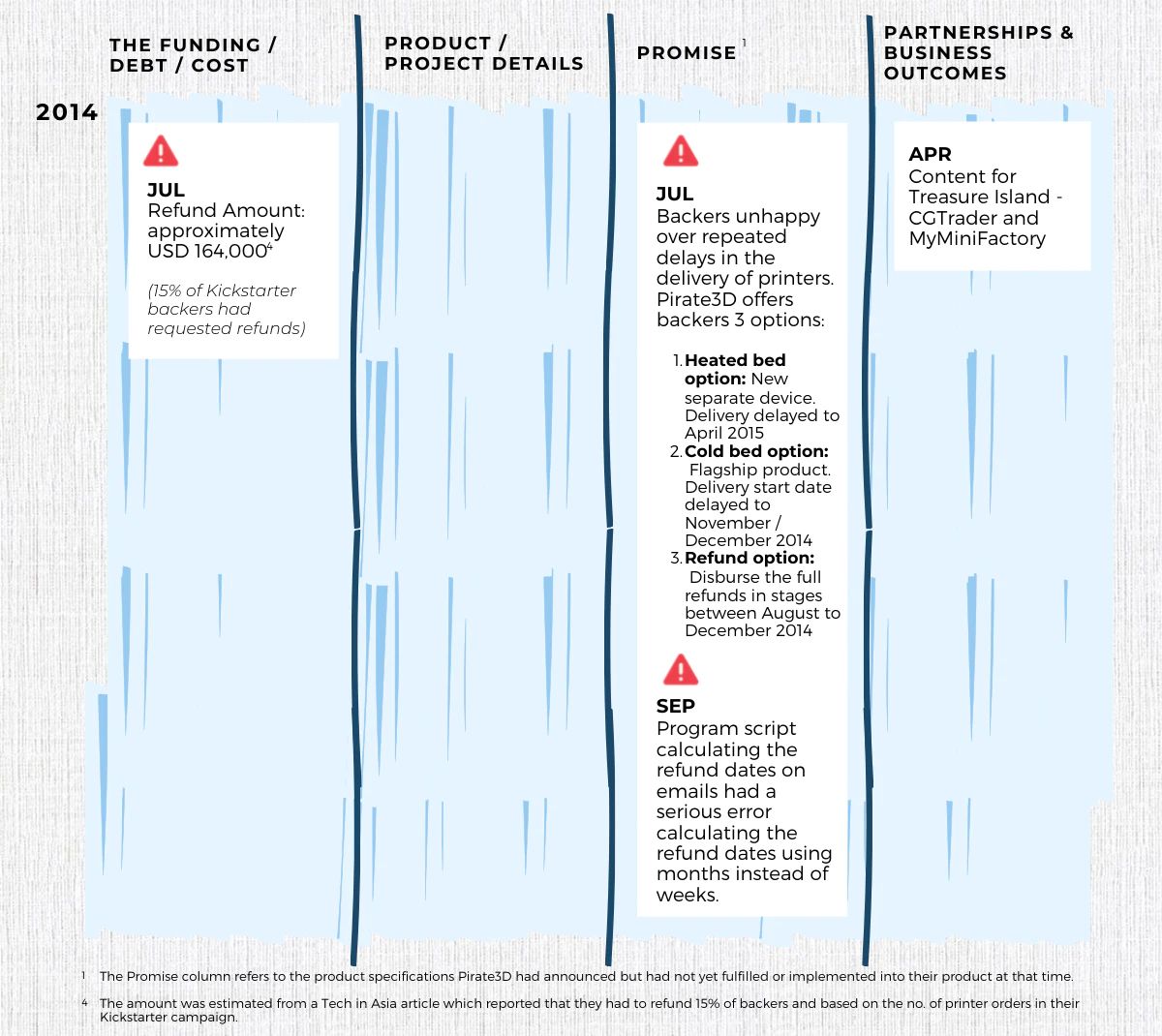 In 2015, Pirate3D was still facing issues with fulfilling the commitments to its backers. They secured additional funding of USD 2 million. They announced that they would cease production of the current model, redesign it to lower costs, and eventually pivot to the professional 3D printing industry.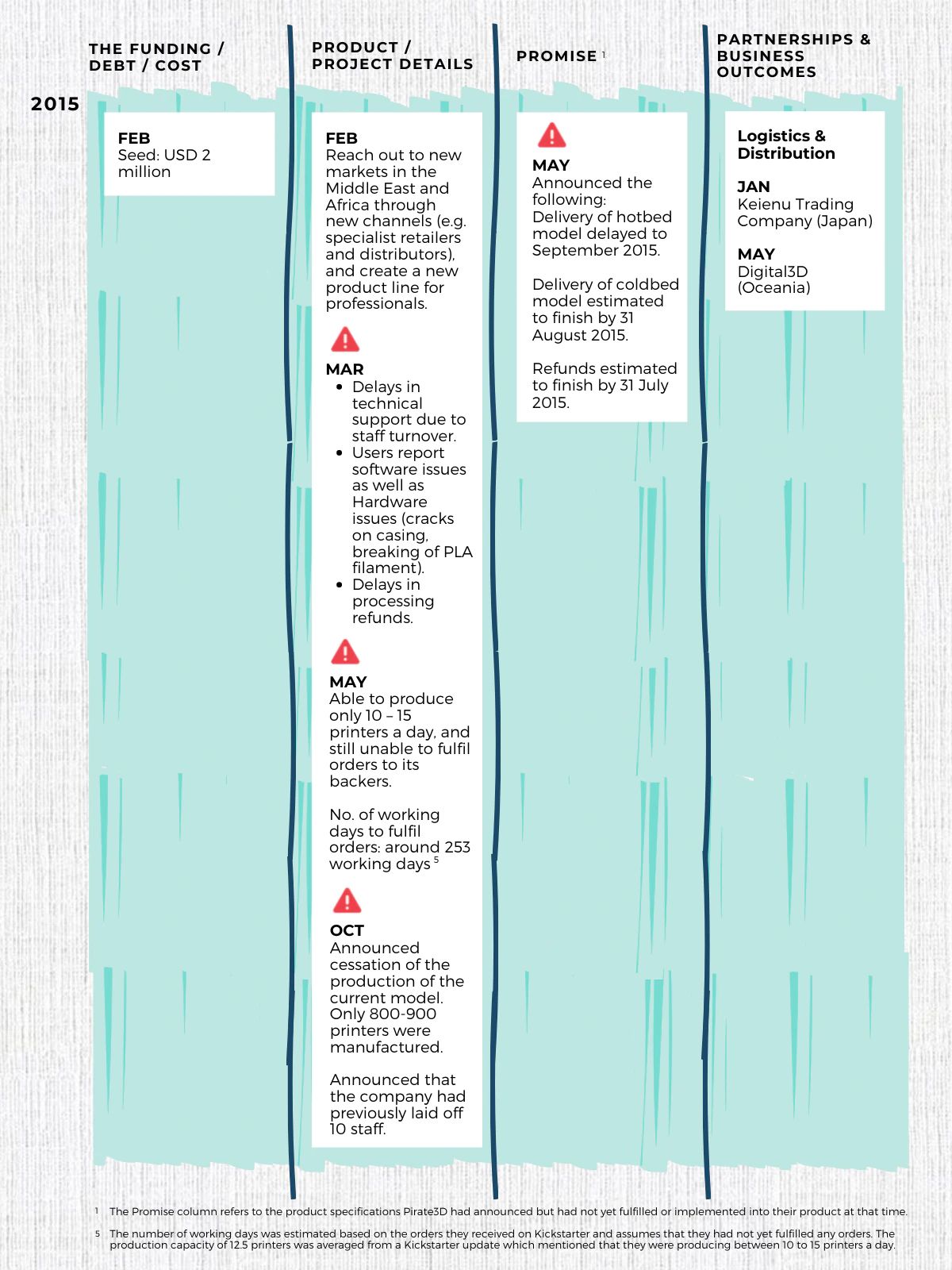 So what went wrong with Pirate3D?
01. The Failure to Manage the Value Chain
Mapping out and understanding the value chain is the first step to minimising risks for the business. It allows entrepreneurs to identify areas and opportunities to increase their competitive advantage within the supply chain.
Players at the value chain start have the most bargaining power and usually have one of the highest profit margins. Further down the value chain, players will have lesser and lesser bargaining power and lower profit margins.


Companies have to manage both the upstream and downstream value chain. Upstream value chain refers to the supplies needed to make your product. A downstream value chain refers to getting the product to your customers.


Here is an overview of Pirate3D's Value Chain with the various stakeholders.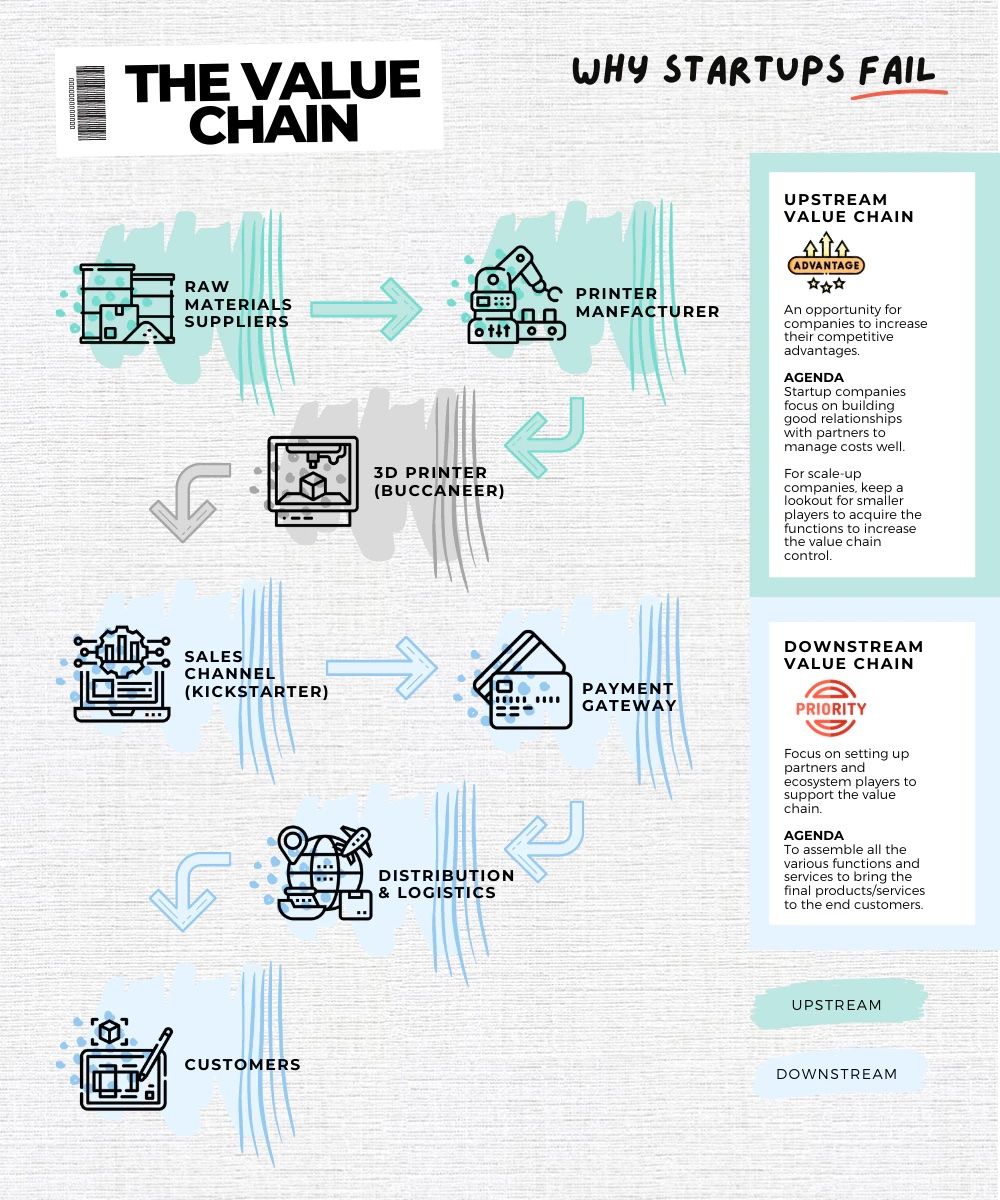 The downstream value chain is all about getting the products to the consumers. Pirate3D has two main functions in its downstream value chain – the sales channels that enable them to collect payment and the logistics for delivery. Their move into the crowdfunding platform, Kickstarter established the first part of their downstream value chain.
Its upstream value chain refers to its printers' raw materials and manufacturers.


A single party or multiple parties can achieve this function, and both have their pros and cons. The risk is distributed among numerous suppliers or manufacturers, but quality control must be carefully monitored. However, having only one supplier allows you to consolidate the order and negotiate for lower costs but increases the risks of relying on only one supplier or manufacturer.
02. Over-reliance on Kickstarter
Startups founders need to be clear about their business objectives of launching projects on Kickstarter. They should ask themselves:
Why launch a Kickstarter campaign?
What do you want to achieve from a Kickstarter campaign?
What does your business get out of it?

Project creators must be aware of what they seek to achieve through their Kickstarter campaign and focus on achieving that goal. Below are a few reasons for launching a Kickstarter campaign.

(A) Convert supporters to loyal customers
Business owners should seek to use crowdfunding platforms to build a group of supporters for the project or idea, eventually converting them into loyal customers.

(B) Assess demand for the product & gather feedback
Having a Kickstarter campaign is a great way to assess if there is a demand in the market for your product. A Kickstarter campaign also allows you access to feedback from the actual users of your product. However, not all feedback you get will be feasible, and business owners should carefully assess the feasibility and costs involved in implementing the feedback.

(C) Build media coverage for business expansion and fundraising
Businesses can use Kickstarter as a platform to garner media attention on the company and leverage it for business expansion and fundraising.


A Kickstarter campaign is a controlled project with a specific end (the fulfilment of rewards to backers), and creators should strive towards that. However, in the case of Pirate3D, continuous modifications to their original design at the request of backers, such as ABS support and a heated bed, made that goal more challenging to achieve.


Enhancing a product for a crowdfunding project with massive demand from the community spelt trouble for Pirate3D. The failure to budget correctly and price it right will be further discussed in the next point.


An example of a startup that successfully used Kickstarter to raise funds is
BOW
. BOW launched a Kickstarter campaign in April 2017 with a goal of SGD 15,000 for its Quiver bag, a multifunctional sports bag. Its campaign was highly successful, meeting its target within three days and raising a total of SGD 60,982 by the end of its campaign. With a successful campaign, founder Mandy Chan realised market demand for her product and decided to leverage her company's hype to raise funds. The company is now backed by Quest Ventures, a Venture Capital firm that has also backed companies like Haulio, Vulcan Post, Carousell, Burple, Shopback, 99.co, and Carro. According to
HerWorld magazine
, BOW valued around SGD 2.5 million (USD 1.83 million) in September 2020.
03. Failure to Understand End-To-End Processes in Software and Hardware Development
Pirate3D failed to understand the end-to-end processes involved in developing their software and hardware. The constant upgrades that Pirate3D announced for its printer, coupled with the short time frame involved, shows that the team had a weak understanding of these two different processes.

Hardware development usually involves:
A longer cycle with sourcing raw materials, suppliers, and manufacturers.
Checking production capacity.
Prototyping.
Product testing.
Checking product safety requirements and compliance with licensing regulations.
Such changes to the hardware are more complex to implement than software development.
When announcing features such as Acrylonitrile butadiene styrene support and hotbed upgrades, Pirate3D failed to consider the feasibility of the implementation and product safety requirements. Before making these announcements, it had not done enough due diligence on these factors. Thus, while Pirate3D's approach to continuously implementing upgrades might be feasible in software development, it is not in hardware development.


The key differences between software and hardware development are summarised below.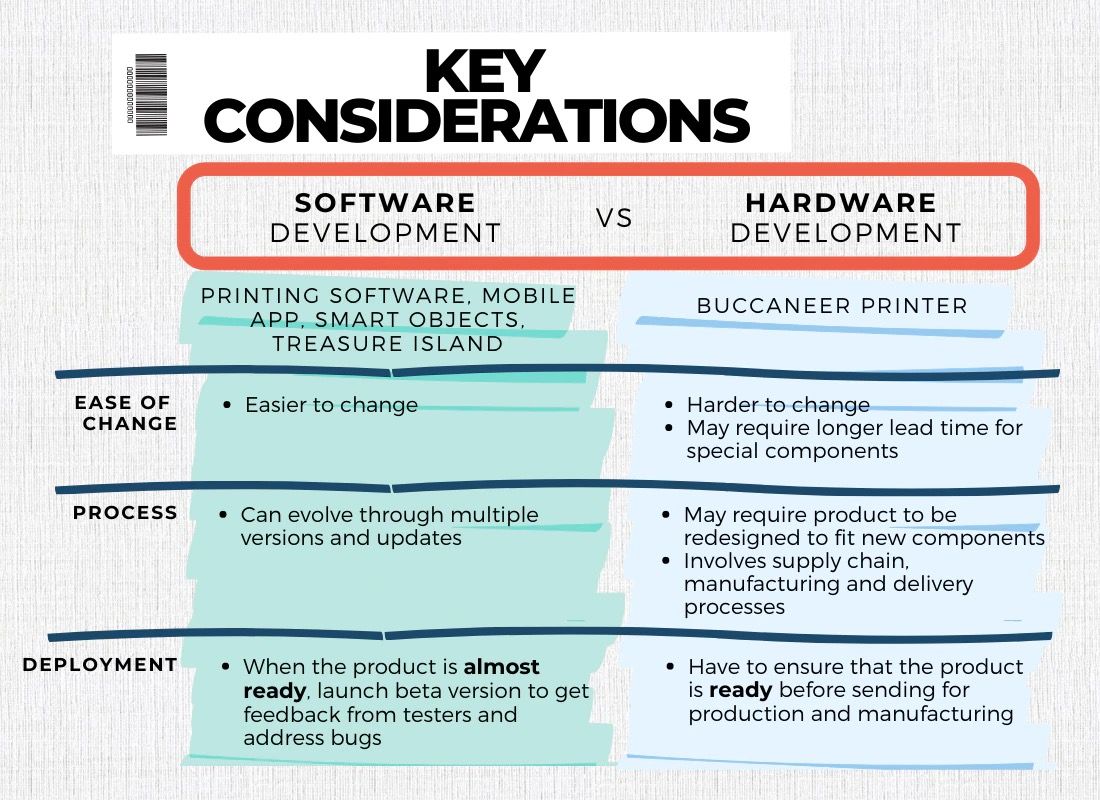 Furthermore, Pirate3D needed to consider that they had sourced an external manufacturer for the production and did not have much control over the upstream value chain. Therefore, they needed to work closely with the manufacturer, considering their feasibility and production capacity inputs.

Pirate3D might not have foreseen the limited production quantity as one of the risks to their business, which ultimately led to the downfall of their Kickstarter project as they could not deliver their products in the timeframe they had promised and ruined the company's reputation.
04. Error in Product Pricing
Pirate3D had underestimated the costs involved in shipping and software and hardware development. Large printer manufacturers usually have complex supply chain networks throughout the world to reduce the cost of supplies, manufacturing and delivery of the equipment. As Pirate3D was a small start-up based in Singapore, they did not have the economies of scale to reduce the manufacturing printer costs. An extensive logistics network and delivery costs were reportedly as high or even higher in some locations like South America.
With a price tag of USD 347, Pirate3D's printer was only 16% of competitor's Makerbot USD 2,200 price tag and was highly underpriced. According to Pirate3D, this price just covered production costs with a small margin for business operations. Pirate3D's Buccaneer printer eventually retailed for USD 799, a difference of USD 450 from its initial Kickstarter price.


The constant upgrades that Pirate3D made to its printer further raised the cost of production and the research and development expenses. It is important to remember the purpose of your Kickstarter campaign. If the goal is to evaluate customer demand for your product, you should stop setting new milestones once you have reached your campaign goal. You can always launch another Kickstarter campaign for future versions of your product based on the feedback you have gathered.


With the error in product pricing, every Kickstarter order by backers would have incurred a loss for Pirate3D. As such, the success of its campaign would have resulted in huge losses for the company.
A
TechCrunch report
in October 2015 revealed that the company was sourcing for new investors funding and planned to fulfil the remaining orders to their Kickstarter backers, although a timeline was not stated. The financing would produce a new machine, and its previous printer model would be
discontinued
.
Startups Failure Checklist
Pirate3D achieved more than 14 times its Kickstarter campaign target of USD 100,000 with USD 1.4 million raised. Refer to the checklist summary of failure points below
The People
01. Delegate the main responsibilities and support
For Pirate3D, the founding team focused on the products and the engineering behind the products. Without key personnel accountable for business functions, the ship could sink quickly without the team knowing what went wrong. The primary responsibilities should have been split among the founders' team, using the founding team's good mix of technology and business skillsets.
For example, two co-founders could be put in charge of one aspect of the business (technology or business) based on their skill set, with both reporting to the CEO.
When dividing key responsibilities, business owners can take note of the following points:
Be clear about who is responsible and accountable for key business functions.
Avoid overlapping different business functions when allocating key responsibilities, resulting in conflicting views and decisions.
The team might lose focus in planning and mitigating any business risk, and particular tasks may get overlooked, affecting the business's performance.


02. Start small and celebrate small wins mentality
It is important to remember that the success of a Kickstarter campaign is just an indicator of the consumer demand for the product. Business owners should focus on delivering the products and promises to backers before enhancing their offerings.
As a startup with limited resources, experience, and time (especially for crowdfunded projects), Pirate3D should celebrate small victories or milestones. This boosts the company's morale and allows the company to conduct a review before embarking on the next project or growing your business.


Through the review process, businesses can identify:
What could have been done better?

How can you reduce costs?
Were there inefficiencies in processes, and how do you reduce them?
Is there is a need for further product development?
Are suppliers (upstream/downstream) giving us the best offer, and can you negotiate a better price?

The Process
03. Set up processes to monitor key financial and project metrics
Besides the success of their Kickstarter campaign, little was mentioned about the milestones and achievements of Pirate3D's printer and its product delivery. Unfortunately, there were also reports of constant delays to the delivery dates.


This suggests a need for Pirate3D to set up a control system and implement processes to monitor key financial and project metrics. Some key questions to ask when setting up financial and project metrics include:
Is the project timeline feasible?

Is the new feature implementable?
Have you done enough research into the new feature to prepare for a launch?
What are the requirements to implement the new feature? What additional resources do we require?
How much would it cost to implement the new feature?
Is the feature commercially viable?
Are there any product safety concerns about the feature (essential for hardware products)?
Does the team have the expertise needed to implement the new feature?
Do we need to hire external parties to work on the new feature?


04. Control and checking system in place
In setting up control processes to monitor and manage the project timeline, business owners should ask the following:
Who should make decisions on which business or tech aspect?
Does the team have sufficient information to make a decision?
Is there more research needed to make an informed decision?
Internally, was the communication about the project details and timeline to the team clear?
Do you have a detailed monitoring system to track deadlines for the project?
Were the deadlines for the project met? If the deadlines were not met, why?
What are your plans to meet the following few project deadlines?


Things could spiral downwards quickly without such a control and monitoring system. These processes were especially important in Pirate3D's case. They were venturing into both hardware and software development and needed to ensure the commercial viability of their business as a small startup.


The company's culture also plays a vital role in the establishment of a control system to monitor the key financial and project metrics, and business owners should ask:
Does the company culture value and promote accountability and responsibility?
How does the culture support accountability?

The Product
05. Understand the nature of the products/offerings
Business owners need to understand the nature of their products and the different processes involved in product development. Having checklists for technical/engineering, business, and operations can be helpful when launching a new product. Some key items to include in the checklists include the following

Technical/Engineering Checklist
1. Hardware
Safety tests

Engineering Validation Testing (functional requirements of product)

Design Validation Testing (stress testing of product)

Product Validation Testing (address production issues)

2. Software
Unit Testing

Integration Testing

System Testing

User Acceptance Testing (UAT)Business Checklist

Business Checklist
Do you have the production capacity to support
your product demand/backers on a crowdfunding platform?
Do you need to source for additional manufacturers?
Do you need to limit the quantity backers can purchase?
How much does it cost to produce the product?
What are the licensing requirements for the product?

Operations Checklist
Is the product feasible?
What are the limitations of the product?
What kind of technical and customer support will be provided?
Are there ways to reduce costs in the distribution channels and payment gateway?
What supplies/raw materials are needed for production?
What is your current production capacity?
Can you meet the promised delivery timeline?

Additionally, businesses can assign a team member to be critical as a "devil's advocate" and question the validity of ideas. This prevents groupthink by providing points that challenge the team's initial decision and allows the team to inspect the idea more carefully. The team also needs to create an environment that supports dissenting opinions and carefully evaluate and consider the negative points.
06. Product Pricing
With the experience gained from a successful Kickstarter campaign and knowledge of your product's demand, you can consider marking up the price of your product and expanding its downstream value chain, exploring other opportunities such as e-commerce.
As highlighted in point 2, startups should start small and celebrate small victories. Ensure that the company reviews both what went well and went wrong after your Kickstarter campaign. With the insights from the review process and the information gained from the checklists in point 5, you can consider the following when pricing your product.
Have you done costing for your project/product?
Have you accounted for variable and fixed costs in your costing?
Is there a large price difference from your competitors? If so, why?
What is your profit margin?

Suppose your pricing remains competitive against other competitors after establishing the price of your product and factoring in all the associated costs. In that case, you might consider marking up the price of your product to have a higher profit margin as it serves as a buffer for costs or expenses that were overlooked and were not accounted for in your budgeting. This is important, especially when a company starts, as you might not account for all possibilities when starting.


List of other crowdfunding platforms in Southeast Asia:
Disclaimers
*All information extracted from external sources was correct at the date the article was posted and the dates on the sources.
The information contained in this article represents the authors' views, and opinions that are based on public data available online and do not necessarily reflect the position of the organisations mentioned in the article.
Hyperlinks for the information obtained from external sources are provided in the article. Please click on the links for updates on the information provided in the respective articles.
Please email [email protected] for any enquiries or clarifications on information contained within the article.
Reviews

A good example of how a startup business can fail is not fully knowing all the possible pitfalls. Anyone looking at starting their own business in 3D printing needs to read the excerpts, but it might be worth paying for a subscription. The critical part of any business is being fully conversant with every step of the process.
- John Calluy
Get your 14-day trial today!
No debit/credit card is required.
After the free trial, you may:
Pay as low as 27 cents a day to access unlimited content

Watch events playback at your own pace and join the discussion

Unlimited access to ready-to-use templates

Access to exclusive events for premium members

Receive digital certifications upon completion of courses

Cancel the subscription any time
Choose Your Plan
Free
Free access to the complimentary content

Purchase additional individual premium content separately

Access to limited free events for a limited time
Monthly
Unlimited access to premium courses, podcasts, events and webinars


Unlimited access to business templates

Access to exclusive events for premium members
Annual
USD 99.90/yr USD 118.8
Unlimited access to premium courses, podcasts, events and webinars

Unlimited access to business templates

Access to exclusive events for premium members
Join our newsletter
Get weekly updates on live streams, news and more right in your mailbox.