Why Startups Fail Series
Premium Case Study 05: Multiply
Overview
Ah, remember Multiply? Multiply was a behemoth with massive success in the Indonesian and Filipino markets due to its social networking and eCommerce twist. Why did it fail?
Featured Content
Why Startups Fail
Your one-stop-shop for exclusive startup case studies and contents!
xxx
Jeffrey Yuwono, CEO of Sorabel
The Podcast
Be it in your pocket, your hand, or enjoying the audio version of the case study during commutes or lunch breaks - there's no better feeling than immersing yourself in our startup playlist that is simply hard to miss.
The Premium Article
We are delighted to provide you with the case study that offers an opportunity to understand how the startup Multiply failed and what you can learn from its mistakes.
Unlock to view the premium article

We're all familiar with companies from the neighbourhood knocking it out of the park in Southeast Asia, but what about a US company? Multiply was a social networking company that later switched to the eCommerce industry. Founded and initially based in the United States, the company moved its headquarters to Indonesia in 2012 due to its success in the Indonesian and Filipino markets.
Description: eCommerce, Blogging and Media-sharing Platform, Social Commerce, Social Networking Service, Marketplace
Category: eCommerce Marketplace, Social Network
Country: Indonesia
Period:
2004 – 2012 (Initially based in Florida, United States)
2010 – Multiply was acquired by Naspers*
2012 – 2013 (Multiply moved its HQ to Jakarta, Indonesia)
Size of the company: 101 – 150
Number of funding rounds: 3
Number of investors: 4
Total amount raised: USD 29.6 million
Before Facebook, there were a couple of social media services that people are addicted to. One of them is Multiply. Multiply started as a social networking platform where users shared photos, blogs, videos and others. It was one of those social media websites that required you to have an account to view your friends' blog posts and photo galleries.

But Multiply was more than that. It aimed to provide a social networking platform for buyers and sellers throughout the globe with a unique twist of eCommerce. Let's see how this hybrid model of eCommerce and social networking came to be. And why did it fail?
The Beginning & The Transition
Multiply was originally founded in 2004 by
Peter Pezaris
,
Michael Gersh
and
David Hersh
in Florida, United States. It quickly became the second-largest social network in Southeast Asia, with millions of users in the US, Brazil, India and more.
Phase 1: Social Networking and Media-Sharing Platform
Back in 2004, Facebook started in the same period as Multiply. But Multiply had feeds long before Facebook did. When you log in to Multiply, you will see a content stream similar to Facebook's newsfeed. The most recent events, messages, and photo albums from your friends are displayed in the main column, with thumbnails next to each.
By September 2005, Multiply managed to onboard one million users worldwide, this number grew exponentially, and by June 2007, they recorded a total of five million users which doubled in October 2008.
Phase 2: Social Commerce (Product Version 2)
Though it began as a social networking site, with groundbreaking features like the news feed, it has also evolved into the purest example of social commerce. Unlike other eCommerce sites that just sold stuff and provided limited user engagement, Multiply had a more social component—true to the site's original concept as a (initially) social networking platform.

"We may be the first truly social shopping experience out there. Multiply started as a site where you could share your personal content with people you care about more than other social networks. Your network on Multiply is a more accurate reflection of the people you know in the real world, who also influence your buying decisions. That happens in Multiply — people tell their friends that they bought shoes from this store, and then they'll post a review on that site."

- David Hersh, Multiply's Vice President of Business Development
Store owners used Multiply to open a shop quickly and easily, with unlimited storage for posting photos, videos, and blogs about their products. Their shops and products are then featured in the Multiply Marketplace, a shopping community central directory. The social media tools on Multiply allowed sellers to spread the word through their network of customers and fans, allowing the shoppers to learn more about products and share their opinions and experiences with other shoppers.
Phase 3: Marketplace (Product Version 3)
By 2011
, Multiply had over 18 million registered users and over 100,000 registered merchants worldwide. The same year,
Multiply opened an office in the Philippines
, which the company claimed was its largest and fastest growing market. With 90,000 registered Filipino sellers, Multiply was the country's largest online shopping portal.
Along with opening a new office in the Philippines,
Multiply partnered with Go Negosyo
to support small and medium-sized businesses and "help Filipinos become self-sustainable."
Go Negosyo
is a nonprofit organisation led by Joey Concepcion that seeks to combat poverty in the country by enticing people to start a business.
Following the newfound success of Multiply in adding a Marketplace on their site. Multiply then abolished its social networking features—photos, videos, blogs, and social messages—and focused on the Marketplace in December 2012, as a response to the rise of Facebook as a social networking site.
"When Multiply shifted to becoming an eCommerce site, one of the first things we wanted to accomplish was to be able to offer more than convenience and variety to the Multiply shopper. We also wanted to create an eCommerce platform that was reliable and secure that would be able to connect entrepreneurs to their market."
- Jack Madrid, Country Manager of Multiply Philippines.
In that year, the company also made a strategic move to relocate its headquarters to Indonesia. The service, which was apparently Southeast Asia's largest of its kind, explained that the move was motivated by growing opportunities.
"We chose Jakarta because the opportunity is so large. It's such a fast-growing economy. So many people are using Multiply in Indonesia, it's such an important market for us."
- Peter Pezaris, CEO of Multiply
In
April 2013
, Multiply announced that it would be shutting down operations. The news came as a shock to the ASEAN tech startup industry. One of the reasons for this is the unsmooth transition or rebranding Multiply underwent earlier that year.
The transition resulted in many problems—sellers couldn't receive the payments, the buyers were difficult to contact, product errors in the product listing, etc. The site was chaotic, making them fall from
ranking 17th down to 50th in the Philippines and 344th in Indonesia
. It's also said that the company had been burning too much money. Read more about Multiply's failure points in
Section 8
for an in-depth explanation of why they failed.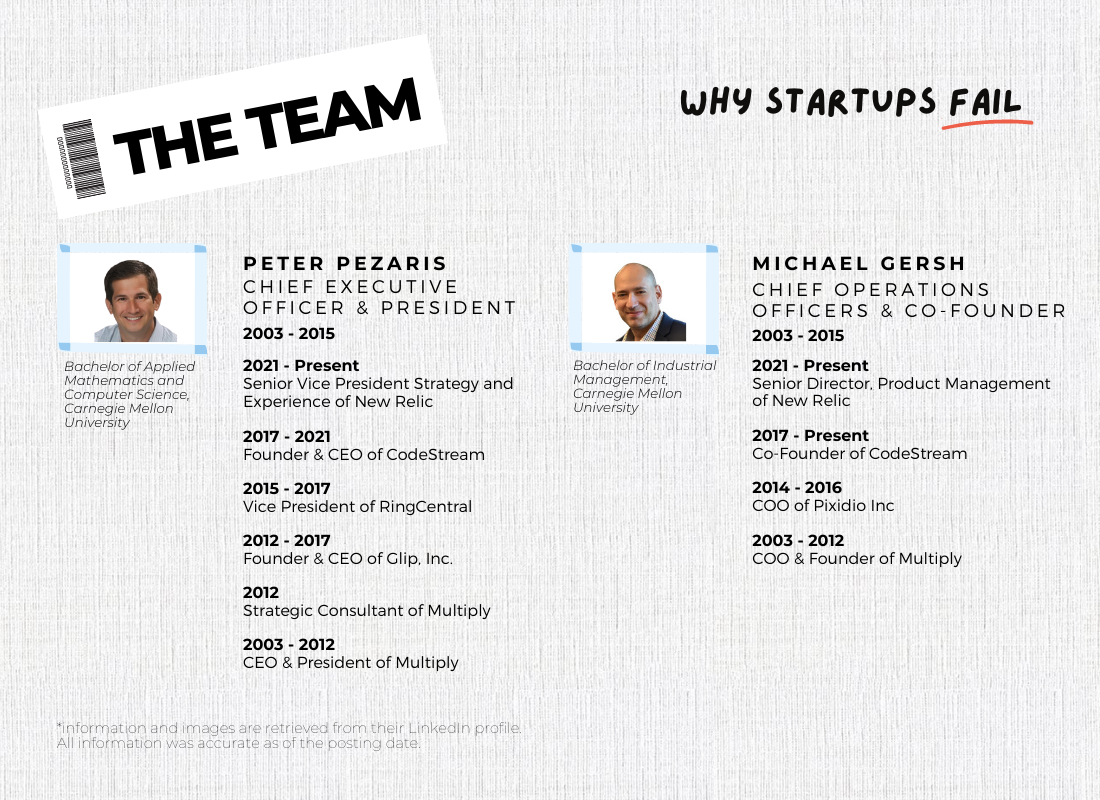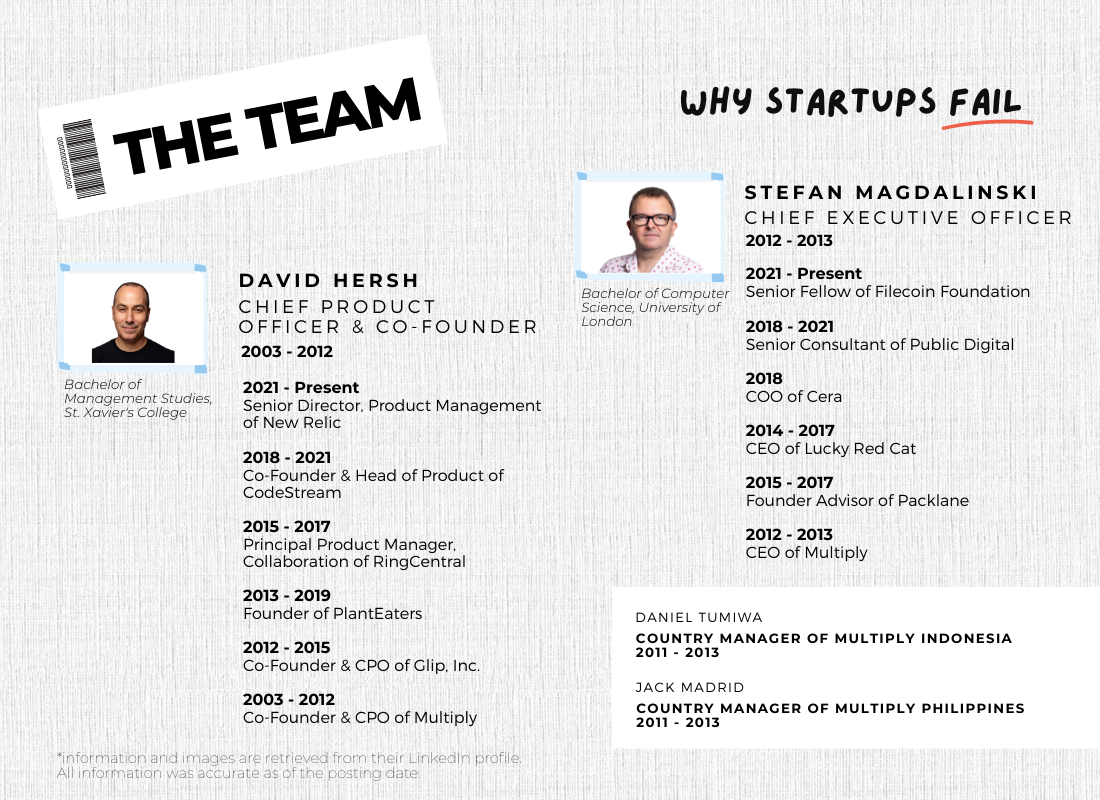 Initially just a team of three founders in 2004, Multiply was founded by
Peter Pezaris
as Chief Executive Officer and President,
Michael Gersh
as Chief Operating Officer and
David Hersh
as Chief Product Officer. They quickly expanded into global markets and recruited
Daniel Tumiwa
as country manager for Indonesia and
Jack Madrid
as country manager for the Philippines.
When Multiply relocated to Indonesia in 2012, Stefan Magdalinski took over as CEO, overseeing all product development and strategic direction. Magdalinski managed eCommerce for MIH in Sub-Saharan Africa (a subsidiary of Naspers Group) before joining the company.
Social Networking and Media-Sharing Platform, 2004 (Product Version 1)
The Multiply website was launched in 2004 and quickly became one of the fastest-growing social networking sites in the United States. Multiply launched version 4.0 of its website in 2009 to attract even more families and close friends.
Multiply was a platform where people could post images, videos, and blog entries, but its big appeal for many users was that you can share unlimited photos. People could upload large volumes of media without sacrificing quality because of the unlimited photo sharing feature. These photographs were organised into albums and categorised by date.
In 2009, after Facebook and ImageShack, News Corp's
PhotoBucket
appeared to be the third largest image warehouse on the Web, with 7.2 billion photos. Then there's Yahoo's
Flickr
, which had 3.4 billion photos and included some videos. Surprisingly, the social network Multiply trailed Flickr in photo count with 3 billion images. One of Multiply's main strengths was its photo-sharing functionality, which made it appealing to its core demographic of families and mothers (an area where Facebook struggled).
A large portion of Multiply's users was tech-savvy, digi-cam-wielding Filipino youths in their late teens to early twenties. From 2007 to 2010, when Facebook became popular in the Philippines, Filipinos forgot about Multiply, which had just become a storage area for old images.
Social Commerce, 2010 (Product Version 2)
It was at first illegal to use Multiply to buy and sell, but people were aware of the eCommerce activities that have been taking place among its audience and users. Multiply has also recognised this, and to elevate those opportunities, the social networking site has launched the new and improved Marketplace for online sellers and buyers. The new system includes a more robust online ordering system, stock management, buyer protection systems, and other enhancements.
Multiply Commerce was the most significant breakthrough that Multiply had made to capitalise on existing opportunities. Multiply walked you through the process of migrating to the new selling platform:
Sellers must prepare information for their online store, such as item stocks, payment methods, photos, prices, and other details. After which, sellers would receive a stocked item list, photo listing, shopping cart, and automated item reduction while selling or restocking. While, buyers would notice online stores when they visit the seller's website, automatic shopping cart, and integrated payment options such as PayPal.
According to the
DailySocial blog
, Multiply did not charge sellers to access the new Marketplace. However, if the payment is made through Multiply, sellers would be charged 3%, and an additional IDR 2.000 will be charged if sellers want to see their account balance or send their revenue before the "deadline."
"There will still be no charge for merchants. We'll take the short-term loss to build for the future. These short-term losses will pay themselves back eventually," Pezaris even stated.
According to Pezaris, there were many other social shopping strategies, such as Groupon's group discounts or group buying and outright selling via Facebook. On the other hand, the Multiply model capitalised on engagement by allowing buyers and sellers to interact more closely.
"Engagement results in more transactions." There was a lot of social interaction on Multiply, and all conversations were open to the public. "Sellers converse with buyers, and buyers can learn from (the conversation threads)", he added.
Multiply recognised that it could compete with Facebook in social networking. This recognition and user feedback contributed to the shift in their business model.
100% eCommerce Marketplace, 2012 (Product Version 3)
As it was believed to become the biggest and most beloved eCommerce platform in two exciting markets, Indonesia and the Philippines, Multiply removed its social networking and content sharing features (pictures, videos, blogs, social messaging, and so on) in 2012. This move was most likely motivated by the MIH of Naspers, after the acquisition of Multiply in 2010.
Multiply sought to set itself apart from rivals by positioning itself as the "social shopping" hub for online marketers as Facebook became the dominant player in social networking. They were on a quest to provide a better way for the 350 million people in Indonesia and the Philippines to buy and sell products online and became a pure eCommerce marketplace.
Although several eCommerce sites had been founded in Indonesia before Multiply, Multiply had set itself out from the others as a "past" social network. Multiply already had the tools necessary for user engagement (they could share blogs, notes, photos, links, videos, and even chat).
People who did business in Multiply already had a large network and a loyal following. With the help of their social media platform, Multiply gained a significant number of users from both the demand and supply sides of the marketplace. This allowed the company to pivot their business faster than competitors while spending less on marketing to entice users to join.
Multiply aimed to increase the benefits of selling and buying with its new features (enhanced Marketplace, Stock Room, Payment Gateway, and other programs such as Multiply Promote and Multiply Trust). They entered the market with good payment choices (KlikBCA, Mandiri, Virtual Accounts, ATM, PayPal, and mobile payments integration), even though only a handful had surfaced. In Indonesia, there's no shortage of choices in marketplaces, including Tokobagus, Kaskus, and Tokopedia. They, on the other hand, just have one or two features.
Multiply grew an ecosystem for its users organically by combining eCommerce and social communication tools that were unique only to Multiply's site. As a result of its innovative ideas and first-mover advantage in the social shopping industry, Multiply managed to raise a total of USD 29.6 million within its lifetime.
What contributed to Multiply's success as a startup was the strong relationship that it had managed to build with its users through its social networking site. In 2011, at its peak, Multiply claimed to have onboarded a total of 18 million registered users and more than 100,000 merchants using their platform globally. This led to Multiply's second-largest social network in Southeast Asia, second only to Facebook.

As a social networking site, Multiply boasted the ability for users to upload unlimited photos and other forms of media entertainment onto their platform, where Multiply would host them for free. This allowed users to grow their following quickly, Multiply also had a unique function where they qualified for cross-platform blogging where users could seamlessly integrate their blogs across different sites such as LiveJournal and Blogger.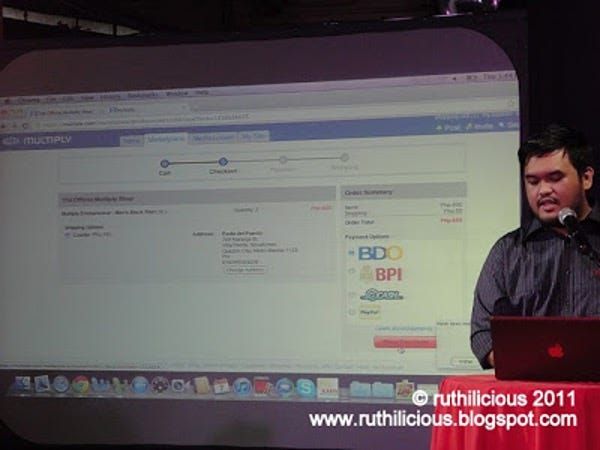 Image Credit: ruthilicious.blogspot.com
On July 7, 2011, they launched the Multiply Marketplace at Gateway Mall in Cubao (the Philippines). Multiply gained success for its safe and convenient transactions:
Provided solutions against bogus buyers and scammers through an efficient inventory system and safer payment options: GCash, Paymaya, BDO virtual card, and BPI.

Made online shopping hassle-free—no need to wait in a queue for payments, fill out order forms, or compete against other customers to secure their desired item.

With its efficient processing, customers could purchase an item within minutes.
No overpricing in shipping fees.
A "cart" feature that lets you pick multiple items from different stores and then check them out simultaneously later.
Featured a wide range of locally made items you rarely see in physical stores.
Supported local, small, and novice entrepreneurs and creatives by reducing the needed capital to open a business.
Created a closer seller-customer relationship—shoppers can request a specific item to become available.
As a result of the functionality provided to their users, many saw Multiply as a one-stop shop for a user's online experience. In 2008, Multiply was a finalist for the Open Web Awards. The company was valued at USD 100 million. It quickly sought to shift to an online marketplace due to its vast number of users and the functionalities provided by its site.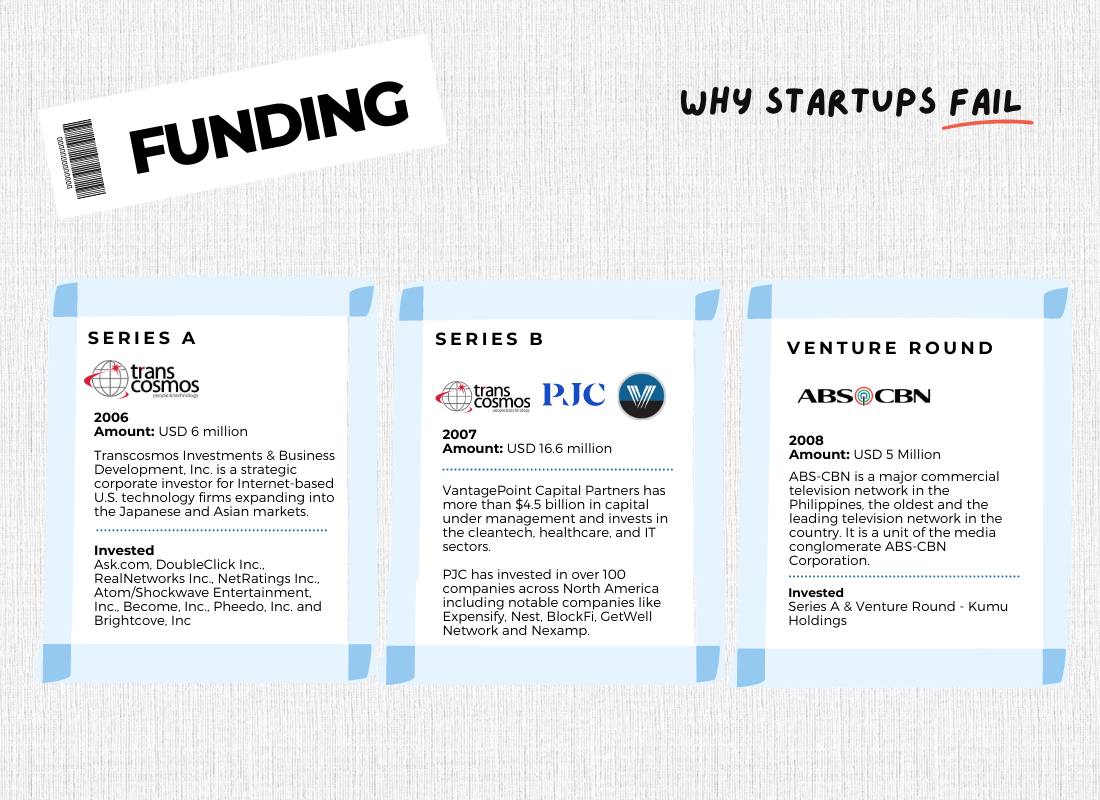 As a startup, Multiply generated buzz and was awarded a total of USD 29.6 million from four investors. These four investors include
TransCosmos
, who funded Series A & B rounds,
VantagePoint Capital Partners
and
PJC
, who invested in their Series B round, and
ABS-CBN Global LTD
, who supported their venture round.
In 2006, Multiply raised a total of USD 6 million in series A funding, of which 5 million came from Japanese venture fund Transcosmos, and the remainder came from the company's founders. Its series B funds came in 2007, raising a total of USD 16.6 million. VantagePoint Venture Partners, led by Point Judith Capital and Transcosmos Investments, also participated in the Series B round. As part of the round, ex-chairman of Intermix Media (the original owners of MySpace) David Scott joined Multiply's board of directors.
ABS-CBN invested $5 million in Multiply in November 2008
, acquiring a 5% share in the blogging/social networking service. ABS-CBN is the Philippines' largest and oldest commercial television network. ABS-CBN was already selling Multiply local ads at the time, which was reinforced by adding more Multiply sites for each episode and TV program that the network giant broadcast. The decision was made to boost overall site traffic and market share in the Philippines.
This last funding round, secured in November 2008, valued Multiply at $100 million. Naspers, a South African media conglomerate with the industry's most powerful corporate venture arm, acquired full control of social networking and shopping site operator Multiply in 2010.
How did Multiply fail with a total of USD 29.6 million, with regional offices in three countries and a huge user base of dedicated sellers and buyers?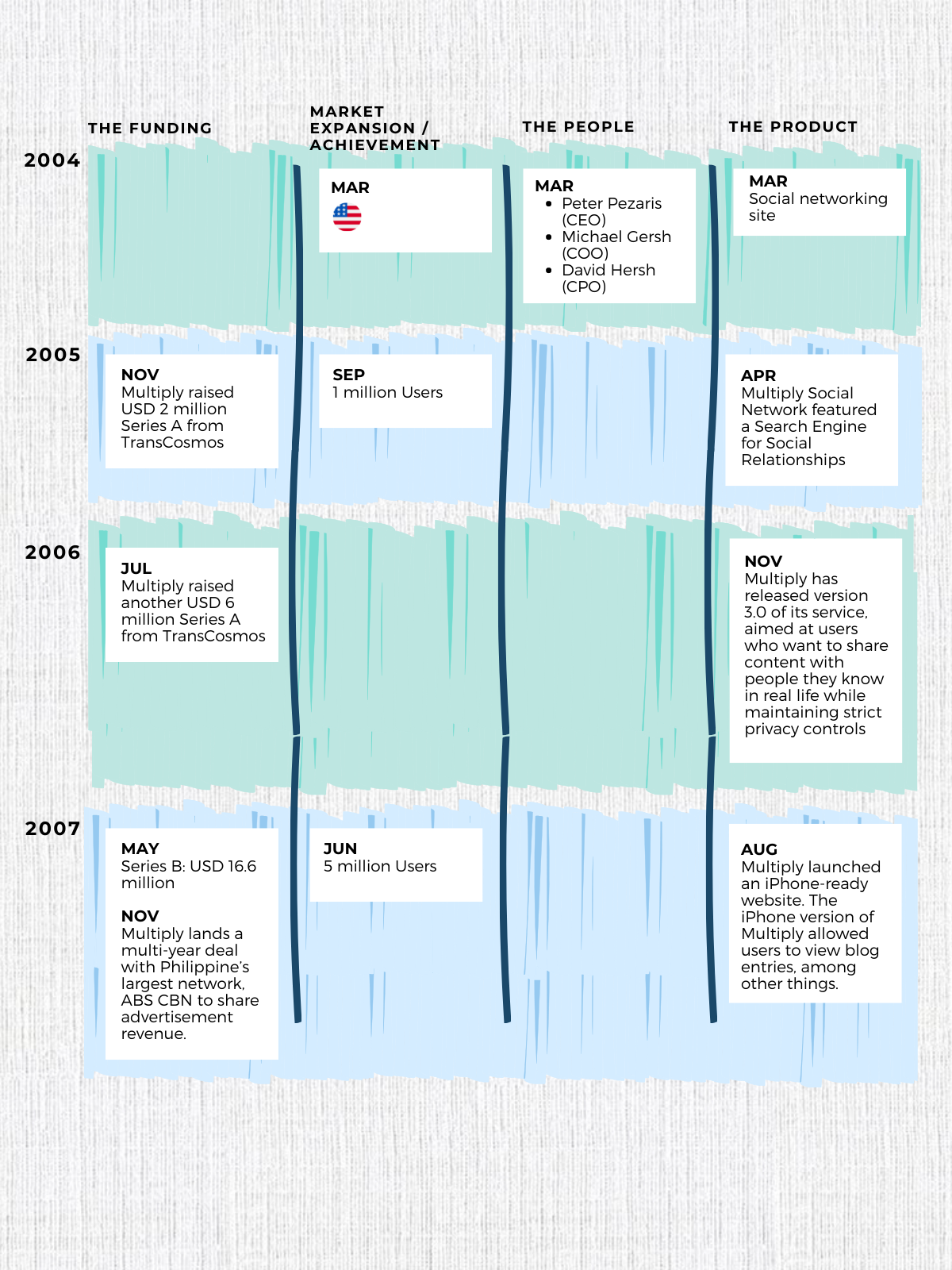 Its series A funding allowed Multiply to quickly scale its startup phase in 2006 and reach new markets, most notably in the Philippines and Indonesia. Users from these two countries will grow exponentially in the coming years. The series A funds will also be used to help increase the features, functionality and marketing efforts.
To capture market share from its competitors, Multiply raised another USD 16.6 million dollars in its series B round in 2007.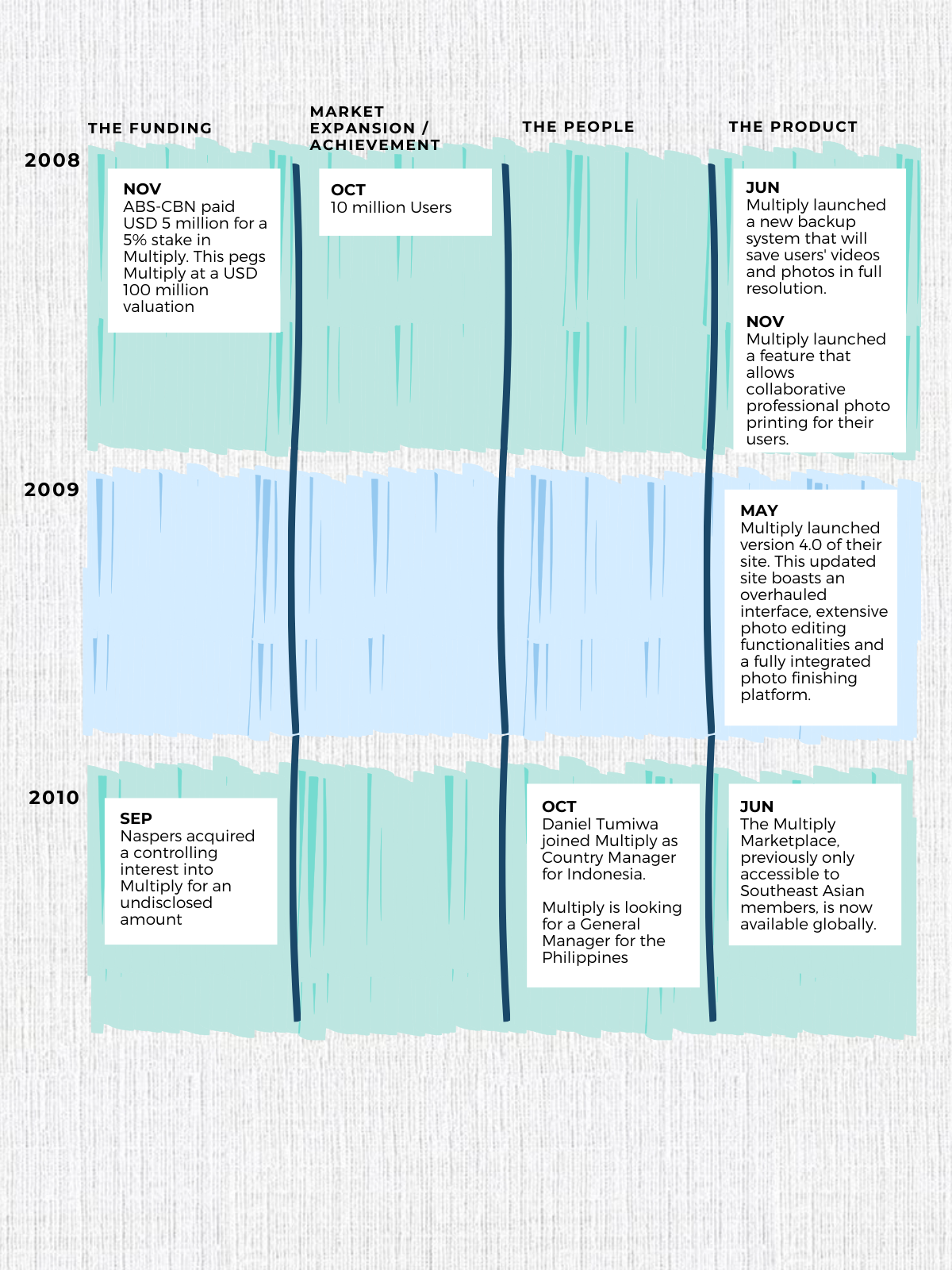 Within 2010, the myriad international holdings unit of Naspers also acquired a controlling interest in Multiply. After the acquisition, Multiply continued to operate under the same management team for 2 years. Naspers also had similar investments in Facebook and Chinese internet juggernaut Tencent. In 2011, Multiply opened a regional office within Manila, Philippines, to get closer to their Philippines user base.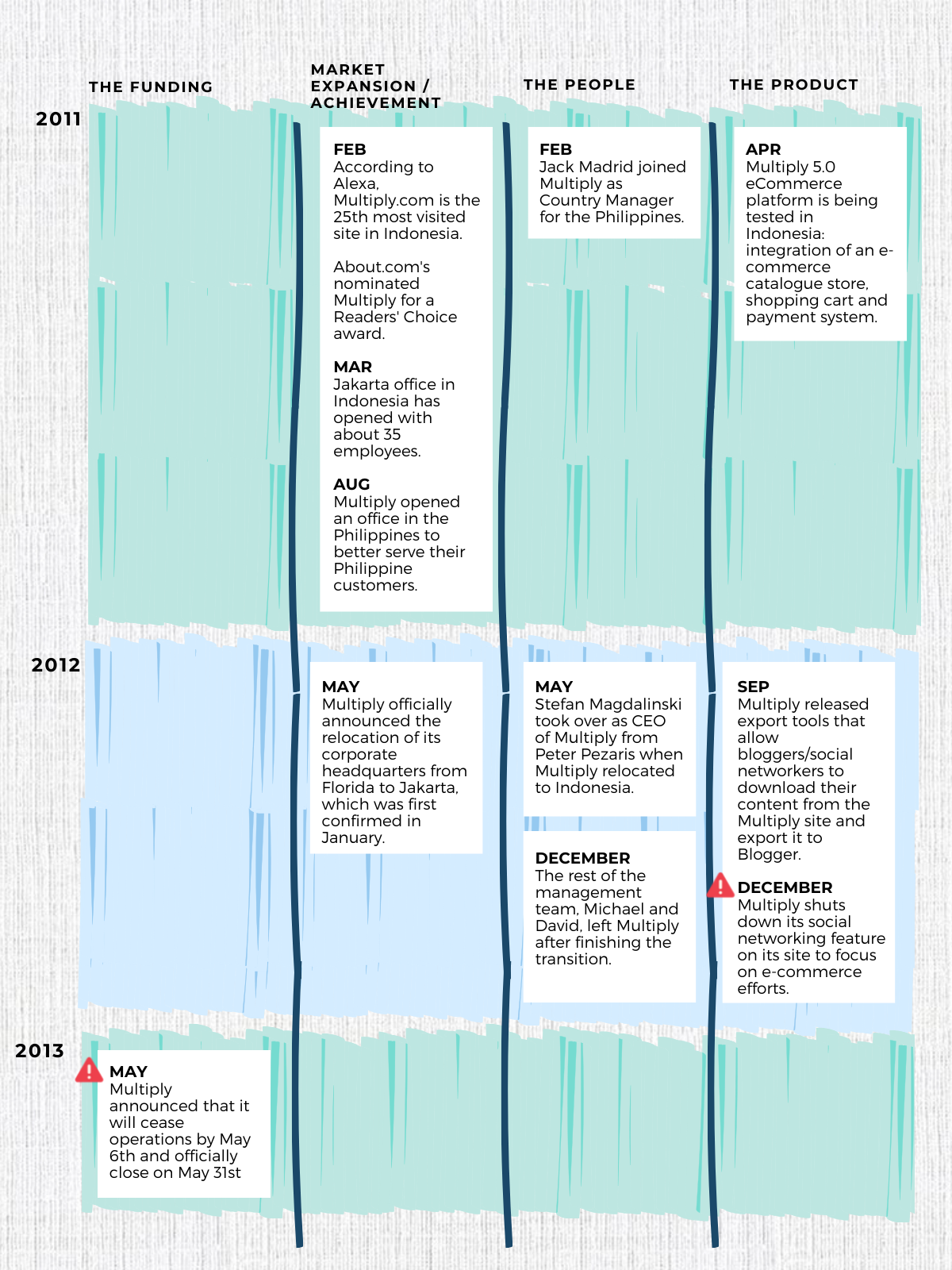 In 2012, Multiply opened a regional office within Jarkarta, Indonesia, to get closer to its Indonesian user base. Stefan has more than 15 years of eCommerce experience when he was brought in and was previously the CTO of Moo.com. Stefan hopes to expand Multiply's social commerce platform and continue driving aggressive growth within the company.
In the same year, Multiply announced that they would shut down their social networking services, which was their main feature that brought in and retained the bulk of their users. The reason behind this move was to allow the company to re-focus its attention on its eCommerce marketplace feature. By the end of 2012, the rest of the outgoing management team left the company after finishing the transition process.
In March of 2013, Multiply was officially rebranded as an eCommerce site with a strong focus on its Indonesian and Philippine user base. However, shortly after its rebranding efforts, Multiply announced that they were closing down on May 6 2013.
So, what went wrong with Multiply?

01. Catastrophic Transition
When Multiply started to transition fully to an eCommerce site in 2013, there were a lot of errors on their new rebranded site that frustrated their user base. One example posted by a user quoted that most of her listings on her site were taken down mysteriously due to an error. Orders made by the customers also failed to list specifically what was bought, which caused much confusion for the buyer, leading to them dropping out of the sales funnel. Most infuriating was that sellers did not receive their money from Multiply.
As a result of this fiasco, both buyers and sellers alike lost faith in Multiply. Furthermore, the transition made Multiply's terms and conditions page look very confusing, especially for the sellers, which prevented them from trusting Multiply's eCommerce site due to a perceived lack of control over their operations. Within the month of the transition, Multiply had fallen in rankings where it was previously the number 17th and 47th site in the Philippines and Indonesia; it ended the month as 50th and 344th, respectively.
As an eCommerce site, Multiply could not have made such a catastrophic transition and could have at least tested their new site before launching it to their users. This clearly showed that Multiply failed to understand an eCommerce site's minimum functionality. This resulted in users feeling betrayed and angered by a place they once used to love and depend upon.
02. Lack of funds
After Multiply's three initial funding rounds, Naspers acquired its full controlling interest in 2010. Multiply believed that joining forces with Naspers, having investments in a number of Internet and mobile businesses from around the world, would enable it to concentrate more on stepping up its social shopping initiatives in Southeast Asia in particular.
However, it appears that Multiply attempted to raise funds from their acquirer, MIH, but was turned down because they had decided to fund other portfolio companies in Indonesia and the Philippines rather than Multiply. These other companies include TokoBagus and Sulit. This meant that MIH's strategy had shifted its focus away from Multiply and towards more promising companies generating more significant revenue and having higher potential than Multiply.
Furthermore, restoring Multiply's tarnished reputation would be highly costly for the company and was no longer the logical option. Hence, the acquirer decided it was better to cut their losses and let Multiply go.
03. High Burn Rate & Low Revenue Growth
Multiply's business model does not take any transaction fees from its sellers. This was originally done by Peter Pezaris, the previous CEO of Multiply. Furthermore, Multiply was the number one eCommerce site for
BCA
, one of Indonesia's largest banks. This meant that Multiply had a great opportunity to generate revenue and hence a positive cash flow for its business, but missed out on it due to forgoing the transaction fees. This act was originally done in 2011 but was extended to its downfall in 2013; for two years, Multiply has intentionally foregone the need to charge transaction fees to generate revenue.
In addition, Multiply also chose to subsidise delivery fees for selected items on their site. The problem with this was that most popular items benefit from this subsidy; hence, Multiply had to burn through much cash in subsidising these transactions.
Due to the subsidised delivery costs and a lack of revenue from transaction fees, Multiply minimised its revenue-generating activities whilst maximising its operating costs. Most startups struggle with balancing short-term growth and long-run sustainability; a key learning point from Multiply would be to ensure that growth through such marketing activities has to be consistent with nurturing long-term sustainability.
04. Failed Last-Mile Delivery
Multiply supported two payment methods; the first was inter-personal bank transfers and Multiply's escrow payment system. Management wanted to cater to and retain more sellers and users; hence, they allowed existing users to perform eCommerce transactions using their bank account transfers. However, this was the root of Multiply's most significant problem as an eCommerce site. Fraud, late deliveries and numerous other problems were rife amongst sellers who chose not to utilise the escrow payment systems.
Daniel Tumiwa, the regional manager for Indonesia, stated that the second generation of sellers on Multiply's site was more trustworthy and had opted for the escrow payment system. But by then, it was already too late; many buyers and sellers alike had lost their trust in Multiply and were driven to other eCommerce sites.
The Startups Failure Checklist
So, what Multiply could've done to minimise their failure points?
The Product
01. Review product features/versions and their impact on the company's future plans.
Multiply's success was built on social networking (product version 1). They quickly build on new features and seamlessly position themselves as social commerce by leveraging the value built on top of your users' engagement (product version 2). Unfortunately, they decided to remove the social networking features and rolled out the marketplace without them.
This narrow vision of the founders and the management team shows how badly a company can fail by failing to recognise how their product versions should be structured to support the ecosystem they are building and the market in which they compete.
Remember that not all improvements and additions will be appreciated by the users. When making changes, here are some questions to ask yourself before making them ensure they're necessary:
Is there a feature that your users use and enjoy that you believe can add significant value?
Is there a feature that a sizable portion of your users have yet to adopt, and you see some changes that will make it easier for them to do so?
Multiply went through this motion when they recognised that eCommerce activities were taking place among its platform users. To expand those opportunities, the social networking site has introduced a new and improved Marketplace for online sellers and buyers. However, they removed its social networking features later, which most users did not appreciate.
Before you start slicing up your product, make a 'kill list' of items you believe you'd be better off without. Know the cost of upkeep vs. the benefit of keeping a small percentage of your users happy or whatever else you must qualify your decision. Here are some of the warning signs:
The product version drains resources.
The product version wastes money.
The product version's value diminishes.
There are many questions you can ask yourself during this process, but for the sake of simplicity, we've boiled it down to just 3.
Does this feature/version add to the overall value?
Is it being used? And how does it affect user success?
Is the cost of upkeep worth it?
02. Capitalise and create revenue
Without a clear vision and plan for how the business should position itself to external stakeholders, the team will face difficulties monetising its efforts. A profitable business's revenue streams are its lifeblood. Without them, your business will die. Multiply overlooked the significance of identifying the paying stakeholders and the payment mechanism (the timing and method).
For instance, Facebook's paying clients are the advertisers, they are paying Facebook their advertising dollars to reach their audience. Facebook understands the importance of focusing its strategies and enhancement of the platform to entice users to spend more time on the site.
Multiply, on the other hand, overlooked the importance of analysing its revenue streams. They should've understood how to earn revenue, capture it, and use it to their advantage. For a situation like this, the first step is to identify the stakeholders involved, who are involved in the value chain, what charging mechanism they are willing to accept from you, and test whether the paying stakeholders are willing to pay.
Despite how simple it may seem to set up your revenue model, certain factors are vital to setting up a successful and scalable model in the long run.
Value Received. What are my customers paying for?
Price. How much will they pay for it?
Currency. In what form will they pay?
Timing. When will they pay?
The Process & The People
03. Set up the process and assign the right personnel to make decisions.
Shifting the headquarters from the United States to Southeast Asia (Indonesia) is not a simple decision that any management team can make in a single day. Many factors must be considered because such a risky move can destroy the company's years of hard work.
Taking advantage of market opportunities makes perfect sense for Multiply. They must, however, consider the following:
What are the key decisions/departments that must be transferred to Indonesia?
Are there any other options to consider? For instance, can Multiply establish a SEA HQ in Indonesia while keeping the US as the primary HQ, or can it be positioned as an R&D HQ?
What business strategies must be revised when the transition occurs?
What types of talent acquisition are needed in the host country (Indonesia)?
Is there a readily available talent pool in Indonesia?
Is there any talent support from the United States to help with the transition?
What kinds of knowledge transfer are required?
Have they established the process and appointed the appropriate key decision makers?
Just getting these procedures set up is a start. Both countries' requirements and support systems must be reviewed regularly. The formation and appointment of an "A" team from the United States is critical to assisting with the transition. The same goes with the management team's commitment to relocate themselves (temporarily) to Indonesia to ensure that issues can be ironed out in the early stages.
Hiring a local CEO and COO will not work unless they have previously supported Multiply in the US. On the other hand, the primary management team, which is well-versed in the US market, may also be unfamiliar with the Southeast Asian market and lack local connections. Onboarding experts with a better understanding of the local dynamics can help with localised execution.
Aside from these, the following factors must be considered:
Time Difference (between the United States and Indonesia): Determine whether shifts in these two companies or revisions to working hours are required to maximise the overlap of both locations' working hours, making it easier for both companies to cooperate.
Culture Difference: If you are relocating your business to a country with a different language, you must consider the impact the language barrier may have on the day-to-day operations of your company. The language barrier is one thing, but culture is another matter entirely.
04. Carefully examine your business model before taking any drastic measures.
The rebranding or transition of Multiply was a big deal. You should know that the success of transition can be significantly determined by how the public receives it. It can take a long time to build a brand image and even longer to build a great reputation. A lot of care and testing goes into creating successful rebranding efforts because failing to do so can drain your company's hard-earned reputation.
Several fatal issues occurred during Multiply's transition to a pure marketplace:
The sellers couldn't receive the payments
The buyers were difficult to contact
Product errors in the product listing
Even though they were gaining traction, all this harmed Multiply's reputation. This negative publicity eventually added to foreign investors' decision to close it down.
Understanding Multiply's requirements and expectations as a marketplace are critical for the team. Multiply should've:
Addressed the mindset shift of being a social networking site and the expectations of marketplace users.
Defined the marketplace business models clearly and ensured that the marketplace could capture that revenue.
Enacted immediate action on the fatal mistakes highlighted above, as they will have a ripple effect on the confidence of various stakeholders, ranging from customers, and retailers to even investors.
In late 2021
, talks about Multiply coming back surfaced. However, it no longer features e-commerce or social networking but will only have archived photos, videos, and other media available. It includes the content uploaded on Multiply from 2004 to 2013, on Dailybooth from 2009 to 2012, on Webshots from 1999 to 2012, on Friendster from 2002 to 2011, and on Fotolog from 2002 to 2015.
Aside from making archived content available for download to former users, Multiply will also let non-Multiply users access content through shared links from the account owners. Before its close-down, Multiply had over 18 million registered accounts. With Multiply.com's relaunching, they can retrieve archived content in a wide range of formats.
Disclaimers
*All information extracted from external sources was correct at the date the article was posted and the dates on the sources.


The information contained in this article represents the authors' views, and opinions that are based on public data available online and do not necessarily reflect the position of the organisations mentioned in the article.


Hyperlinks for the information obtained from external sources are provided in the article. Please click on the links for updates on the information provided in the respective articles.


Please email
[email protected]
for any enquiries or clarifications on information contained within the article.
Get your 14-day trial today!
No debit/credit card is required.
After the free trial, you may:
Pay as low as 27 cents a day to access unlimited content

Watch events playback at your own pace and join the discussion

Unlimited access to ready-to-use templates

Access to exclusive events for premium members

Receive digital certifications upon completion of courses

Cancel the subscription any time
Choose Your Plan
Free
Free access to the complimentary content

Purchase additional individual premium content separately

Access to limited free events for a limited time
Monthly
Unlimited access to premium courses, podcasts, events and webinars


Unlimited access to business templates

Access to exclusive events for premium members
Annual
USD 99.90/yr USD 118.8
Unlimited access to premium courses, podcasts, events and webinars

Unlimited access to business templates

Access to exclusive events for premium members
Join our newsletter
Get weekly updates on live streams, news and more right in your mailbox.