Why Startups Fail Series
Premium Case Study 01: Honestbee
🐝 Honestbee aspired to be Asia's largest online on-demand concierge grocery delivery service and the world's most convenient services marketplace ever! What led to its downfall?
Enrol to view the premium article
Register for free to access the content.
"Hiring and talent retention are one of the challenges many startups face. This is because the skill sets we need are not readily available in Asia."
Joel Sng, CEO and Co-founder of Honestbee
What is this about?
The words failure and startup are not synonymous. In fact, you will hear these words together a lot. So, let's be honest about Honestbee. Honestbee had a great promise. It brought online grocery to the palms of your hand. You may have already heard, and if not, we will tell you the shocker of why Honestbee failed.
In this podcast, we are delighted to provide you with the audio version of the case study that offers an opportunity to understand how the startup Honestbee failed, how they could've minimise the failure rate, and what you can learn from its mistakes.
The Podcast
Be it in your pocket, your hand, or enjoying the audio version of the case study during commutes or lunch breaks - there's no better feeling than immersing yourself in our startup playlist that is simply hard to miss.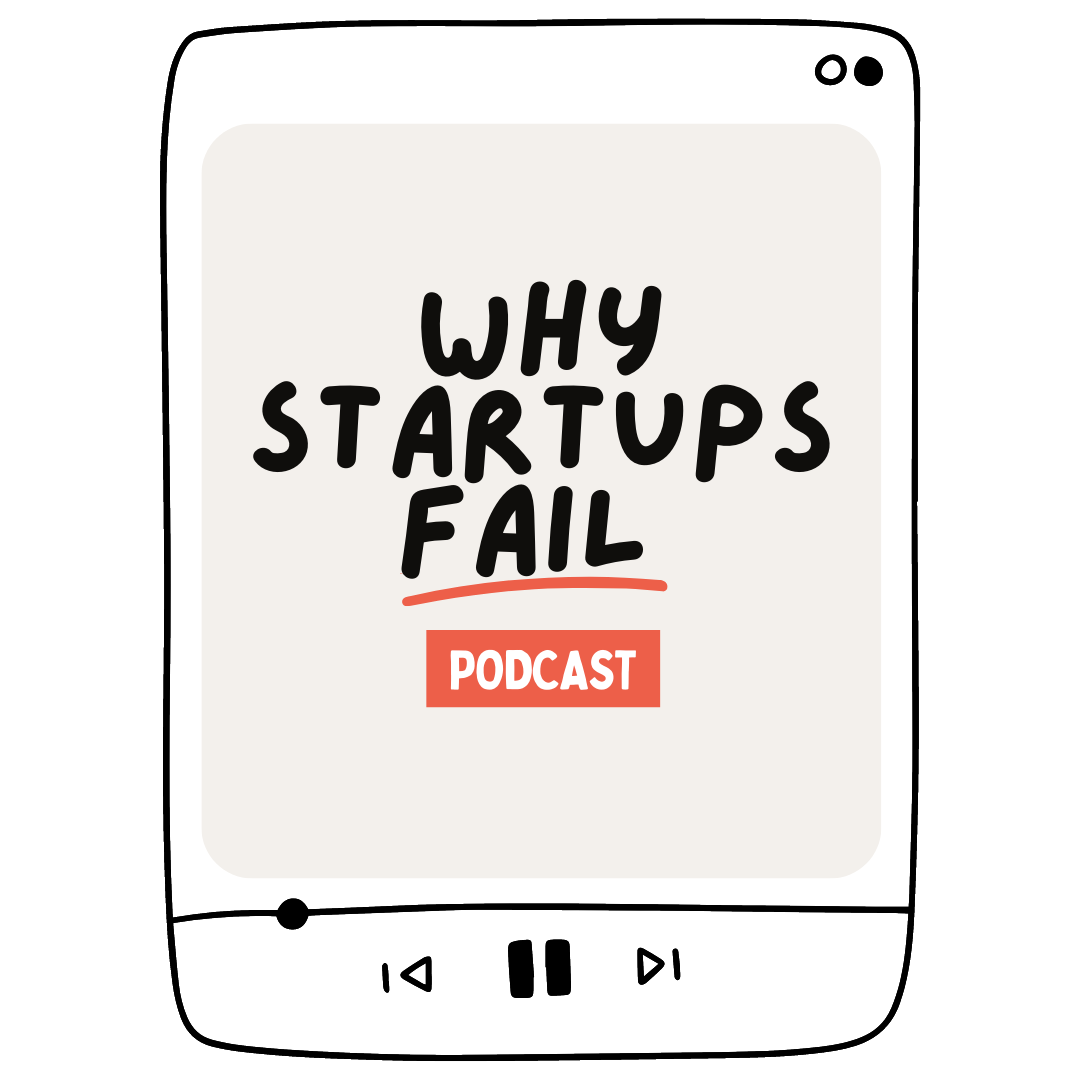 Please login to listen to our first podcast!
Honestbee Ebook
To help you understand why Honestbee failed and what you can learn from it, we'd be happy to send you an eBook version of our case study on their failure. Sign up now to download your free copy.


Your free eBook copy of Honestbee's failure case study is now available for download. Get it now by clicking the button below!
The Premium Article
We are delighted to provide you with the case study that offers an opportunity to understand how the startup Honestbee failed and what you can learn from its mistakes.
Enrol to view the premium article
Register for free to access the content.

Honestbee is a company that primarily provides online grocery shopping and delivery services. It was established in 2015 and is based in Singapore. Since then, Honestbee has expanded to include food and laundry delivery services, as well as Habitat, the "
world's first tech-enabled, multi-sensory grocery & dining destination
".
Description: Grocery Delivery, Online Food Delivery, Laundry, eCommerce Marketplace (Habitat), Logistics, Ticketing
Category: Concierge services, Logistics, and eCommerce
Country: Singapore
Period: 2015 - 2020
Size of the company: 1001-5000
Number of funding rounds: 3
Number of investors: 5
Total amount raised: USD 49 million
Though once considered a successful Southeast Asian startup story, expanded into eight markets in three years, and was backed by a USD 49 million fund, Honestbee began to fall apart within a few months. The company had crumbled, its profits had been wiped out, and its reputation was in a total mess. So, what went wrong?
Honestbee started as Lifeopp, a job portal co-founded by
Joel Sng
in 2012, to provide income opportunities for service workers who could not work fixed hours. In 2014, Lifeopp went out of business. Still, Joel Sng, Jonathan Low, and Isaac Tay decided to take advantage of the gathered infrastructure and database assets and founded Honestbee, an online grocery delivery platform, in 2015.
The team wanted to build a business where they had their customers' trust and staff as hardworking and adaptable as bees, which also work for the benefit of the community. As they wanted to continue the mission of providing opportunities for workers unable to work fixed hours, Honestbee was chosen for the company name.


Honestbee was designed to be an on-demand one-stop grocery store on the internet where customers could conveniently purchase items from various retailers using only a single checkout. Freelance shoppers would then pick the groceries for customers, and delivery staff would deliver the items.
Initially just a team of three, the company was founded in 2015 with Joel as CEO, Isaac as Head of Product, and Jonathan as Lead Software Engineer. It then expanded to 8 markets with Marianne Chuo as the Country General Manager for Malaysia, Bounthay Khammanyvong as Managing Director in Thailand, Crystal Gonzalez as Country Head in the Philippines, Crane Wang as Country Manager for Taiwan, Derek Winder, the Country Manager for Hong Kong, Chris Antonius as Country Director for Indonesia, and Hideaki Miyauchi as Country Manager for Japan.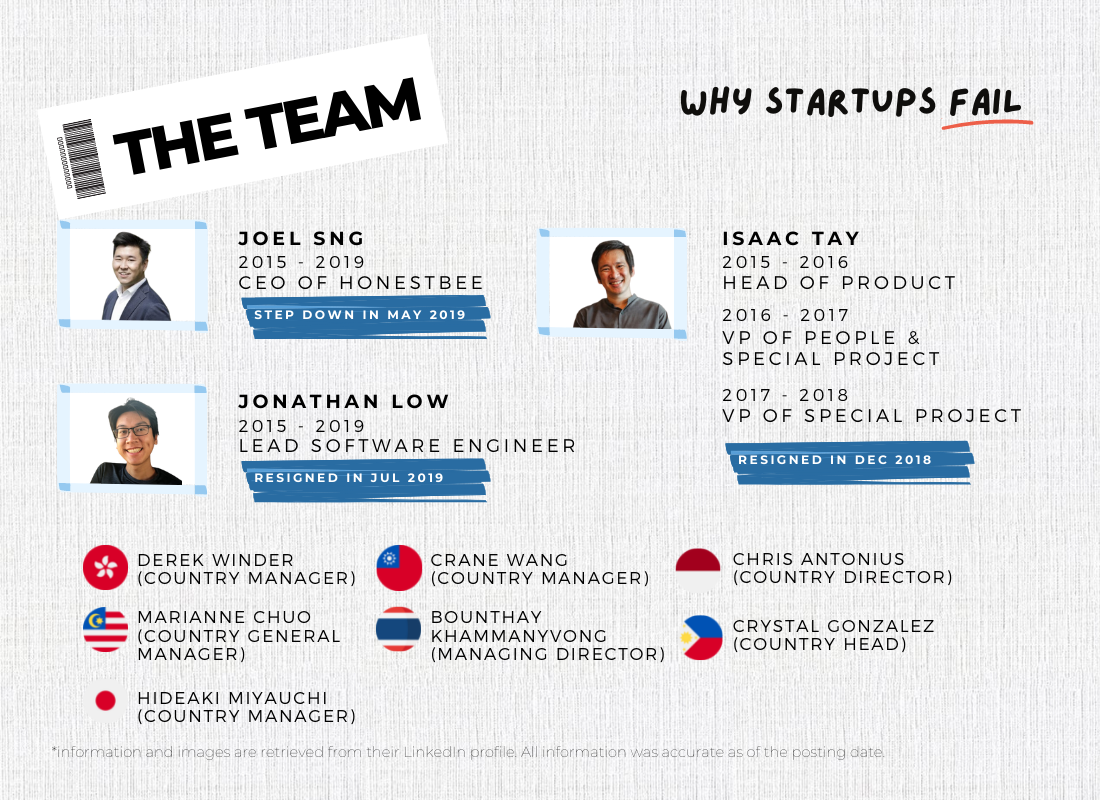 There was a change of management team when cracks showed as early as 2018. You can find more details on the team's evolution in The Sequence of Events.
Due to its asset-light business model, Honestbee managed to scale its business rapidly, expanding to 8 markets within three years of operation. The company entered the Hong Kong market in 2015, Taiwan in 2016, followed by Indonesia, Malaysia, Thailand, the Philippines, and Japan in 2017. It also launched a laundry delivery service in Singapore in 2016 and an e-ticketing service in 2017.


In the same year, Honestbee started a delivery service, first in Singapore, then in Taiwan, Malaysia, Japan, Hong Kong, the Philippines, and Thailand. The company also launched a logistics service called Goodship in Singapore, Malaysia, Thailand, the Philippines and Japan.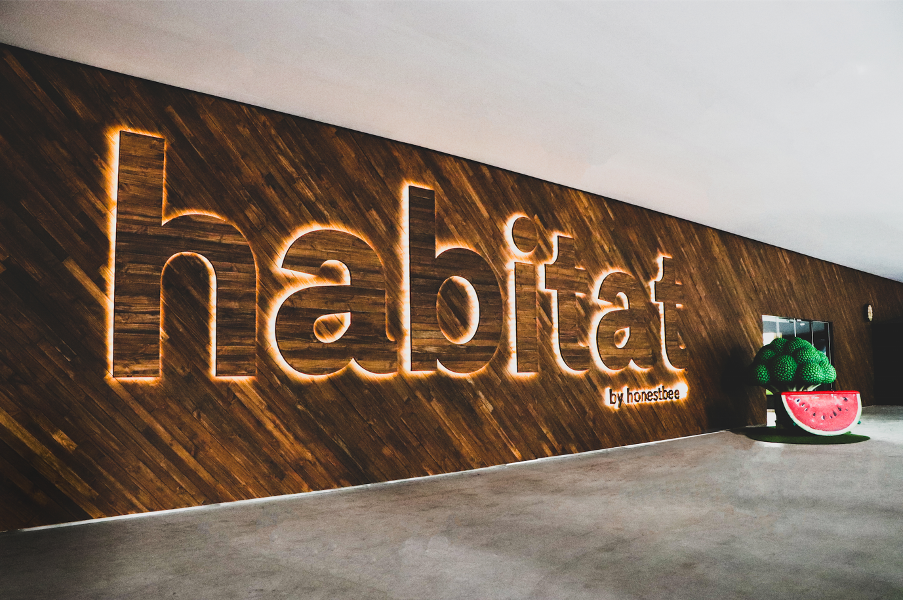 Image Credit: Honestbee


In 2018, Honestbee stepped out of its asset-light business model and owned its first retail destination, Habitat, a tech-enabled grocery and dining concept in Singapore. Habitat was a 60,000 square feet speciality fresh grocer, online fulfilment centre, supermarket, retail innovation hub and experiential dining destination.


To enter Habitat, customers needed to download Honestbee's app and use Honestbee's mobile payment wallet, "Beepay," for their transactions. The checkout system at Habitat could then be automated, cashless, and processed within less than five minutes.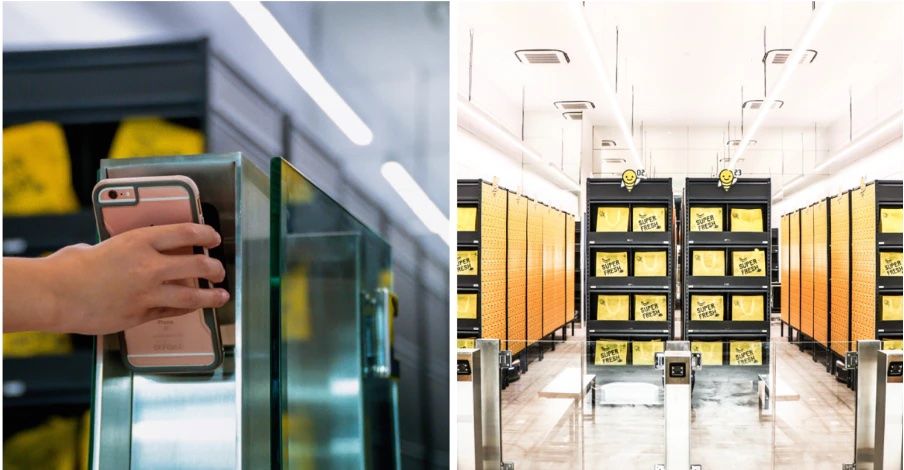 Image Credit: Honestbee
By the end of 2018,
TechCrunch
reported that Honestbee had around USD 2.5 million in net revenue for December and a GMV of nearly USD 12.5 million. However, the company was also making losses of approximately USD 6.5 million.
According to
Tech in Asia
, company filings showed that Honestbee attracted at least USD 49 million through
three rounds of funding
; a seed round in January 2015 and two Series A rounds in October 2015 and September 2018.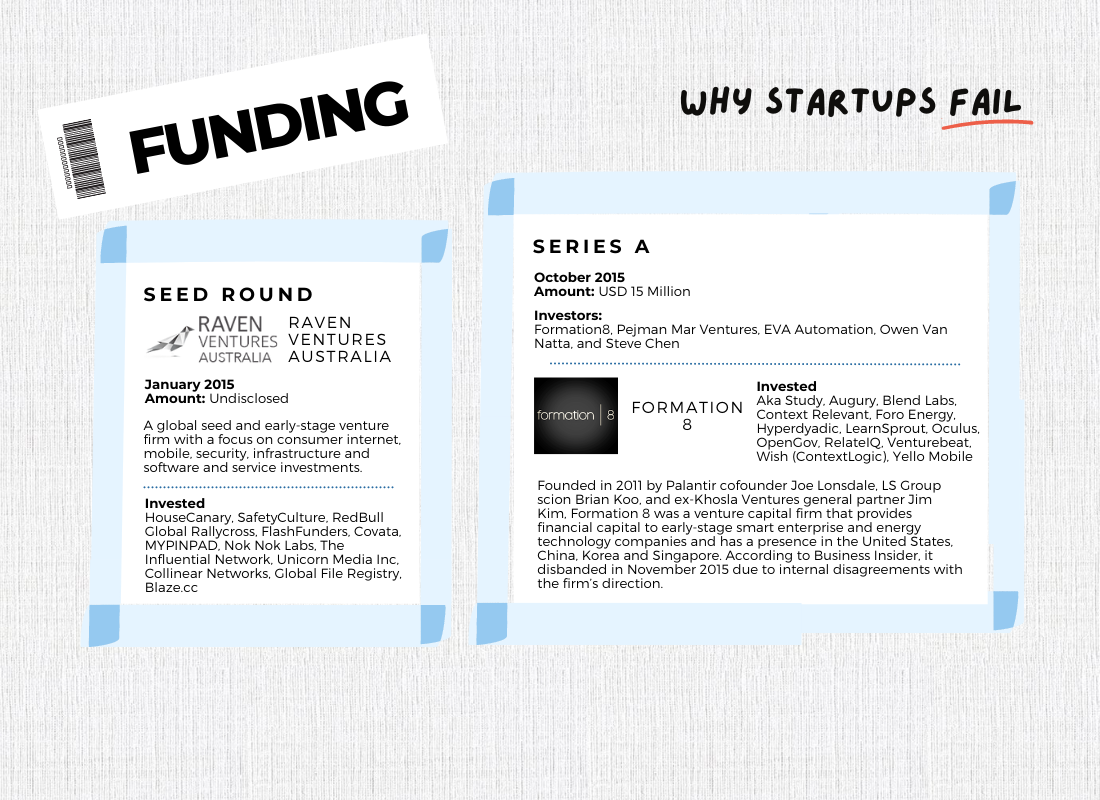 Investor: Bon Woong Koo (Brian Koo), Co-founder of Formation8
LS Group
(a spin-off from LG Group) scion Brian Koo co-founded venture capital Formation8 with Joe Lonsdale and Jim Kim in 2011. Brian had previously started InnovationHub, a company that managed the relationships and investment opportunities in the energy and technology industries for LS Group. In addition, he was Co-Founder and Managing Partner of Harbor Pacific Capital, a venture capital firm focusing on digital media, consumer, and clean technology in the United States and the Asia Pacific.
Brian played a critical role in the restructuring of Honestbee in 2019. Through Formation8 and his family's business, LS Group, Brian injected funds into Honestbee through two Series A funding rounds in 2015 and 2018. He also took over as interim CEO in May 2019, when former CEO Joel left the firm.
With USD 49 million in funding, how did Honestbee fail?


Let's look at the sequence of events for Honestbee and its funding, market expansion, product, people, and partnerships through the company's three stages: the startup, growth, and decline phase.


Honestbee's had its startup and growth phase from 2015 to 2018. The Series A funding of USD 15 million in its startup phase in early 2015 helped Honestbee grow its products and services and expand into new markets from Q3 2015 to 2017.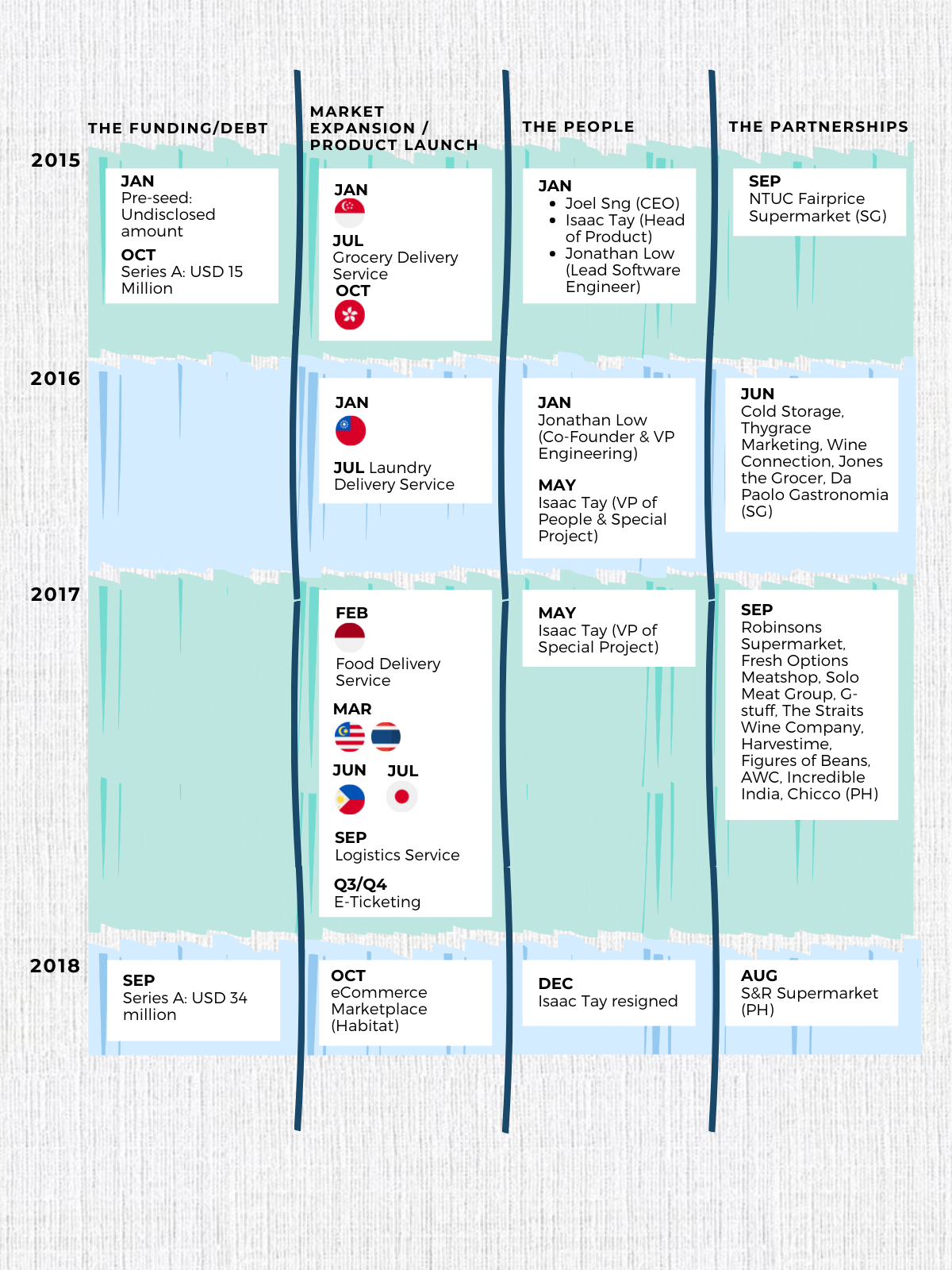 Honestbee was the most aggressive in its market expansion in 2017, expanding into five markets in that year. By the end of 2018, Honestbee was operating in eight markets with six services, including Habitat. We also noted that Isaac Tay had multiple appointments throughout these four years and eventually resigned in 2018.


Take note that partnerships played a critical role in Honestbee's asset-light delivery model. It is where Honestbee provided the staff and partners provided the goods. Honestbee was highly successful in securing partnerships with partners such as NTUC Fairprice, one of the largest supermarket chains in Singapore, and Robinsons Supermarket, the second-largest supermarket chain in the Philippines.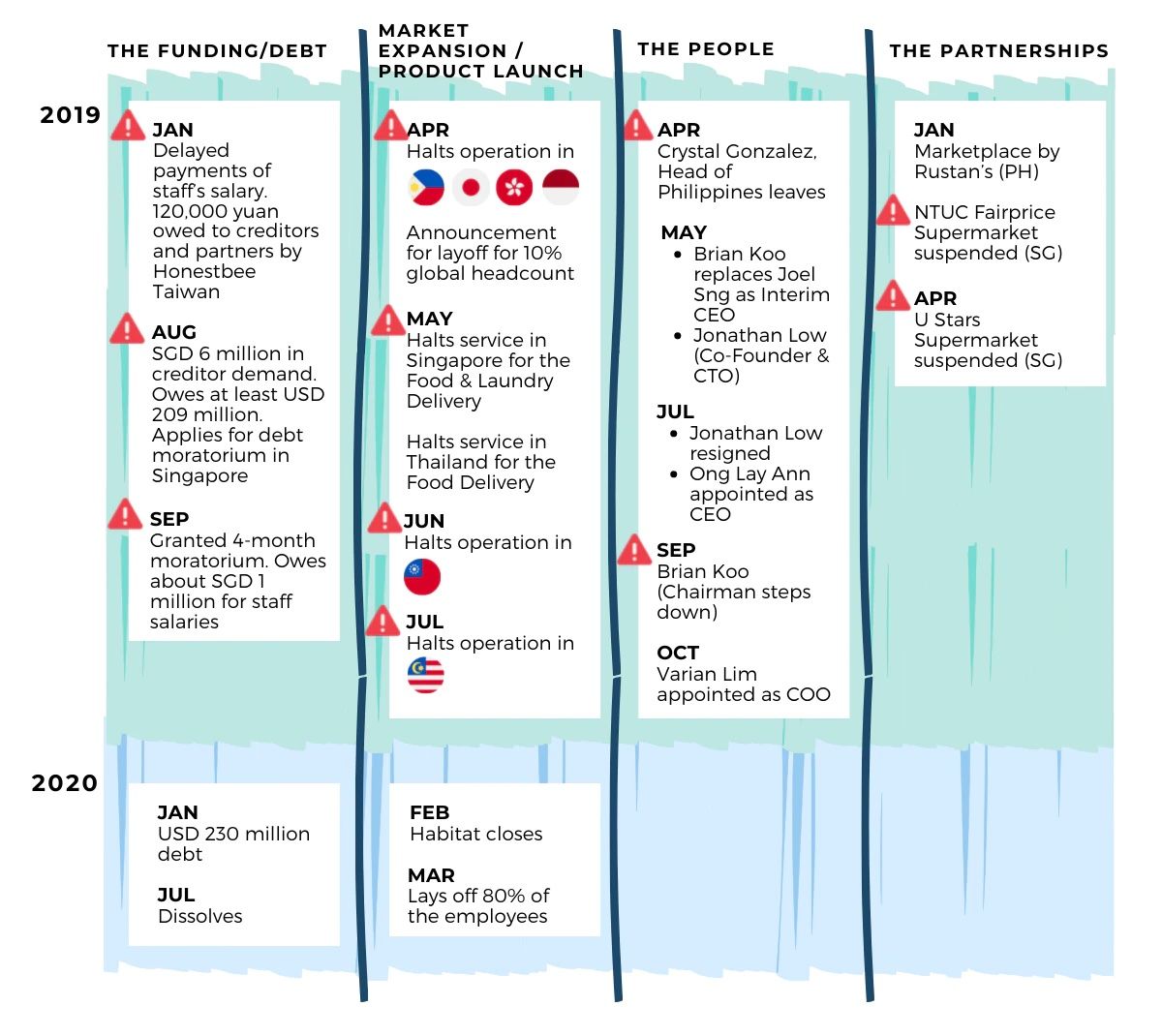 A lack of funds is one of the key issues when startups begin to decline. We can see signs of this at the start of Honestbee's decline phase in April 2019. The company delayed salary payments to its staff and allegedly owed creditors and partners, paused operations in four countries, and laid off 10 percent of its global staff.


During this transition period, Brian Koo took over from Joel Sng as interim CEO and attempted to restructure the company by reducing Honestbee's operational expenses. In July 2019, the last remaining co-founder of Honestbee, Jonathan Low resigned, leaving Brian Koo and newly appointed CEO Ong Lay Ann to run the business.


We can observe the restricting efforts of Honestbee in 2019, with the appointment of a new CEO and the suspension of several of its operations. However, the management team might have realised that Honestbee's business model was not sustainable. In 2020, further actions were taken, which seemed to begin the winding down of the business.
So what went wrong with Honestbee?
01. Lack of focus
Honestbee's business model seems to lack direction. The company was involved in too many initiatives, going into grocery delivery, food delivery, laundry delivery, parcel delivery, ticketing, retail, and food & beverage. In addition, Honestbee seemed unsure about allocating its resources and capital, resulting from an unclear direction of the company.

It had shifted away from its initial asset-light business model of grocery and laundry delivery), opening Habitat, a 60,000 square feet retail and dining experience. This transition requires a change in the mindset of the leadership team and a different way of running the business.

We can compare the two distinct asset-light and asset-heavy business models by looking at Honestbee's grocery, laundry and food delivery business which followed an asset-light model, and Habitat by Honestbee, which followed a heavy asset model.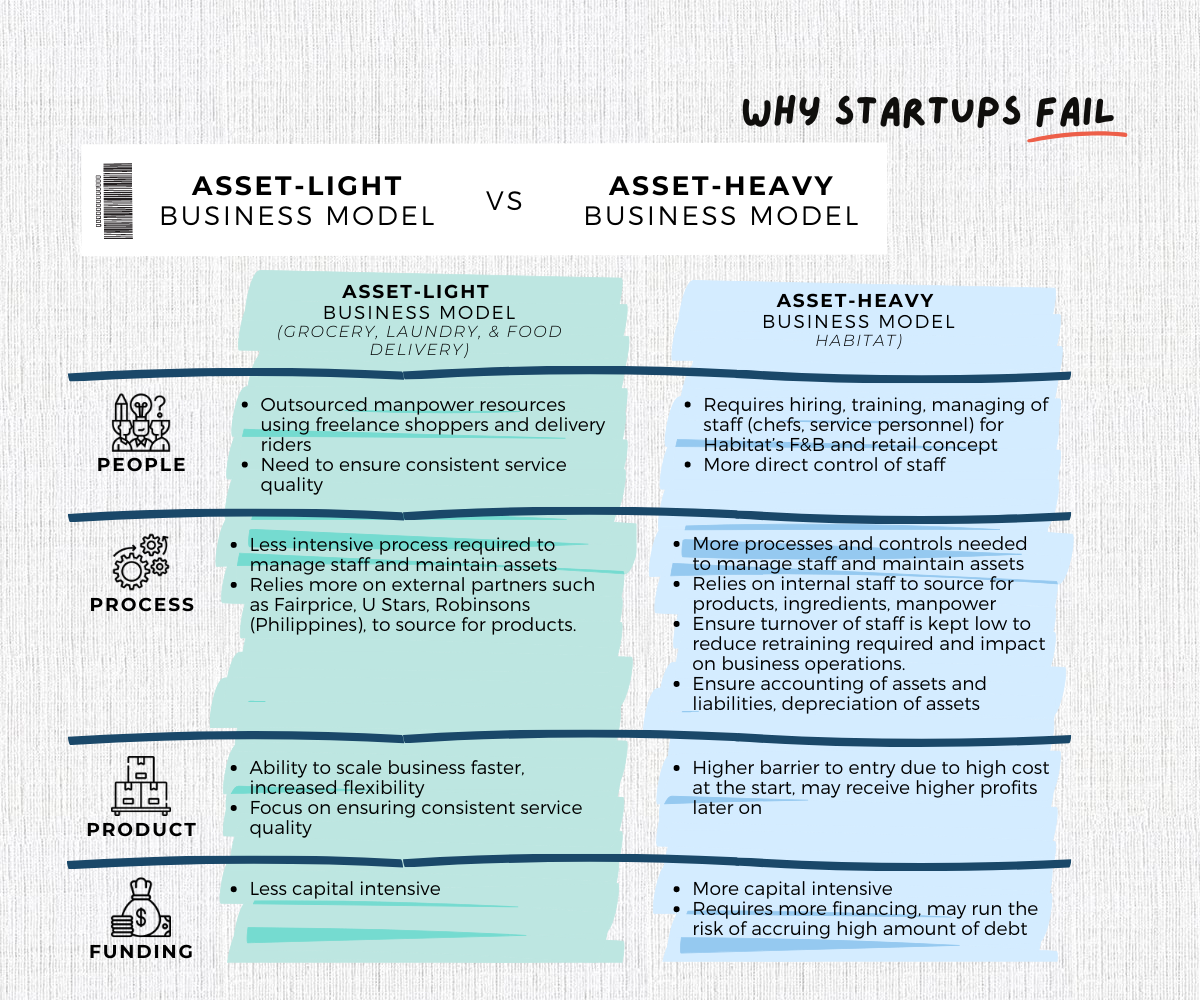 As illustrated, we have highlighted the differences between the 3Ps and the funding requirements for both business models. Management must be clear on how to execute and break down the process to avoid confusion for the operational team, especially when the company is running both business units or migrating the business model.
Employees must be briefed on the differences between both business models, be aware that there will inevitably be opposing viewpoints, exercise caution, and ask for clarification. The inability to know what initiatives are a priority and the final agenda that the business is driving might not allow the company to move forward in one direction.


Ensure that the management clearly understands the business strategy and often meets up to tackle issues. Arrange a weekly meeting and track progress with the head of departments. Be more empathetic and understanding and actively listen to the team's feedback and insights.
02. Processes (Consolidation)
Honestbee's vast expansion of the products and services and overseas market expansion also led to the inability to consolidate its operations. In addition, cutting across different verticals will require additional requirements, processes, and skillsets.
Entering into food delivery services meant that the service would become more time-sensitive with shorter turnaround times for the peak lunch and dinner periods, compared with laundry and grocery deliveries. Maximising the delivery fleet and allowing more turnover on the delivery is one leverage point Honestbee should have taken advantage of.


The scalability of the grocery delivery is much simpler than the rest of the offerings. Honestbee can focus on fostering partnerships or business deals with key supermarket partners such as NTUC Fairprice, U Stars in Singapore and Robinsons in the Philippines for grocery delivery. They can identify a few flagship stores to serve the shoppers' requests. However, food and laundry delivery offerings require the team to work with smaller players. The inability to consolidate the process for both upstream (internal team) and downstream (delivery fleet) have made the fight of resources between the offerings.


For example, the increase in the complexity of its operational execution would require the buy-in from Honestbee's fleet of freelance delivery drivers. While drivers used to pick up and drop off at designated points, expanding the delivery industry gave drivers additional responsibility for delivering products, such as ensuring that all items transported were handled properly.


With both an asset-light and asset-heavy business model, it's not easy to operate the retail and dining concepts without proper training and experience. Habitat would have required different operational systems. Unlike freelance shoppers and delivery staff, Habitat requires active sourcing and management of its employees, products, and ingredients. As a result, it needed a change in how its operations were set up. Furthermore, because the business units were diverse and required distinct procedures and skillsets, integrating the company's skill set to suit the needs of its multiple business units became increasingly difficult.


Honestbee diverse offerings cut across many verticals. However, a crucial question is how the company reviews its KPIs and its approach to growing its products. When businesses launch new products or services, it is important to set up Key Performance Indicators (KPIs) and have a system to review them periodically. In addition, entrepreneurs need to consider the company's assets and strength to leverage them to grow the product and make hard decisions to discontinue products or services if they are deemed unsustainable.


In Honestbee's case, it appeared to be pursuing a path of rapid expansion, growing its products and range of services while simultaneously expanding into different markets. This is evident in 2018, where there are five new markets entries and the launch of three new products. This increased the complexity of the business and the tracking of product KPIs, as various business units may not have had the time to stabilise their operations. Thus, despite its rapid growth, by the end of December 2018, Honestbee was making losses of USD 6.5 million.
03. Funding
Honestbee had issues in its spending, approach and priorities. Honestbee was great at starting new initiatives. However, it could not scale these initiatives into a sustainable business model. Instead, it seemed to prioritise resources based on the possibility of raising the next round of funds. As a result, despite having strong financial backing, Honestbee's funds began to drain as the company switched away from how it had successfully scaled up its business at the start and became less careful in its spending.
Shifting to the asset-heavy business model of retail and dining concept Habitat required more significant expenditure from Honestbee. According to the
Business Times
, Honestbee suffered an unaudited net loss of USD 98.7 million for 2018. It achieved USD 73.9 million in revenue for 2018. Still, it spent USD 84.3 million on goods and logistics, resulting in a gross loss of about USD 10.4 million. It had also spent USD 37.6 million on salaries in 2018 and USD 20.5 million in H1 2019, with around 600 staff in Singapore and another 200 in other countries excluding its freelance personnel before its layoffs. In October 2019, an exit
email
to staff by Joel Sng indicated that the company still had a spending rate of around USD 5 to 6 million per month, USD 3.5 million of which was to cover employee salaries.
Media reports
also highlighted the three following transactions in a lawsuit against former CEO Joel Sng, which, according to the company, was believed to have contributed to Honestbee's financial difficulties. A House in Niseko, Japan which amounted to approximately SGD 1.5 million (USD 1.1 million), the rent & expenses of a unit above Honestbee Habitat, which amounted to SGD 612,000 (approximately USD 448,000), and the purchase and subscription of PayNow* shares for SGD 7.4 million (approximately USD 5.4 million).
*PayNow was a company incorporated by Joel Sng, which was developing an e-wallet solution and not linked to the digital fund's transfer service provided by several banks in Singapore
04. People
We have noticed the constant changes in Isaac Tay position in the sequence of events. From 2015 – 2018, Isaac Tay updated his post yearly and was never appointed as a COO. Then, in 2018, Isaac Tay (VP of Special Projects) left the company.
The company's management was taken from Joel Sng in May 2019 by their investor Brian Koo from Formation8. You can find detailed information on Brian Koo's funding and his experience in the Funding Section.

Brian Koo replaced Joel Sng as interim CEO in May 2019. Within two months, Brian Koo has appointed Ong Lay Ann as CEO. According to Brian Koo, Ong Lay Ann was selected as an exceptional business leader with a track record of turning businesses around. Ong Lay Ann had leadership experience in IT, commodities, real estate, and infrastructure. For example, he had successfully turned Australian precast concrete manufacturer Perth Precast around to list on the Australian stock exchange. Shortly in September 2019, Brian Koo stepped down as Chairman of Honestbee.


By the end of July 2018, the last remaining founder Jonathan Low (CTO), resigned within the same month when Ong Lay Ann was appointed as CEO. Shortly after, Varian Lim was appointed as the Chief Operating Officer (COO). This is a position that no one in Honestbee previously held for four years.


Varian joined Honestbee in December 2015 as Vice President, Corporate Strategy. He co-led the project management and launch of Habitat by Honestbee, was Honestbee's Vice President, People from January 2017 to January 2018 and its Chief of Staff from May 2019 to October 2019.


The appointment of a COO earlier could have helped Honestbee consolidate its operations, keep track of its expenditure, set up processes, track critical data to review KPIs and targets, and inform decision-makers about the state of its funds. Besides playing an essential gatekeeping function, a COO could also align the reporting structure in the company, clarify the decision-making processes, establish financial controls, and provide the company and employees with direction in terms of who they should be reporting to and who should be making the key decisions. Therefore, a COO would have been crucial to Honestbee as its business operations grew.
In March 2020, Honestbee was
reported
to have taken legal action against Joel Sng and former director Jeffrey Wong, issuing them letters of demands for breach of fiduciary duties. In its statement, the company mentioned the three following transactions that it believed had contributed to its financial difficulties. Honestbee is reportedly continuing its internal investigation as of March 2020.
House in Niseko, Japan: approximately SGD 1.5 million (USD 1.1 million)
Rent & expenses of a unit above Honestbee Habitat: SGD 612,000 (approximately USD 448,000)
Purchase and subscription of PayNow* shares SGD 7.4 million (approximately USD 5.4 million)

*PayNow was a company incorporated by Joel Sng, developing an e-wallet solution and not linked to the digital fund's transfer service provided by several banks in Singapore.


Singapore courts awarded Mirae Asset Daewoo (a South Korean brokerage) USD 5.1 million after winning a
summary judgement
against Joel Sng in July 2021. Mirae Asset Daewoo was the trustee of an unnamed hedge fund that transferred USD 5.1 million Joel Sng to become a shareholder of Honestbee. Joel Sng allegedly received the amount but did not transfer the shares to the hedge fund. Mirae Asset Daewoo, the fund's trustee, took legal action against him and was awarded the summary judgement by the courts.
Startups Failure Checklist
What could Honestbee have done differently?


Honestbee has a lot to teach you, and we have put together some learning points for you:
The People
01. Appoint key personnel
The appointment of personnel to key positions in strategy, operations, and finance keeps the organisation on track, ensures resource planning and consolidation and sustainability of operations.
Appoint a Chief Operating Officer, Head of Finance, and/or Financial Controller

Consider if the current management team has the skillset and strengths to take on these key appointments or if an employee should be appointed to take on the role. Alternatively, consider gathering external advice or engaging business consultants to diversify the risks.


"The lack of key personnel making decisions is a prominent point in the Honestbee case. There are too many moving parts in the startup environment, and things are very fluid. Key personnel have to decide fast with minimal information on hand. If you are good at making decisions, you can take on that role and responsibility. Otherwise, you have to start considering whether you would like to pass on that responsibility to someone you trust or should you hire external parties to come in to assist on key decisions."
Explains
Jeslin Bay
, CEO of BlackStorm Consulting
02. Have a clear direction and communicate it clearly to the employees
It is important to periodically review if the company and its various business units are on track to meet targets and goals and address any issues early on.
Review of the company or employees is on track for success. If not, what are the reasons for not performing?

Identify the underlying reasons for employees' underperformance.
Validate if the employees understand the direction of the company and its priorities.


"In the first year, Honestbee was funded for a minimum of USD 15 million. With the funds coming in, Honestbee would have to expand quickly, and the first step is hiring. The ability to
hire slow and fire fast
is always tough to execute. The founders' team's mindset shift is critical when onboarding team members.
Delegate
,
Nurture
,
Track
and
Pivot
should be integrated in practice."
Explains
Shelby Tee
, COO of BlackStorm Consulting
The Process
01. Establish clear direction and priorities, and set up a system monitor and review product KPIs
A system should be implemented to track if the company meets the targets set for its products and services, and ensures that the business remains sustainable.
What are the current priorities of the company? Does the company have too many priorities?

Are there enough resources for the company to meet its priorities?


02. Understand requirements and mindset needed to shift the company's business model
When companies take on a new vertical or launch a new product, it may require a change in their business model, operations, and mindset.
Consider whether the company is ready to make the transition.

Will the business model of the company change?

What changes need to be made to transit the business in terms of operations and mindset?

Suppose the company is shifting from an asset-light to an asset-heavy model. Does the company have enough funds to transition to a heavy asset model?

What is the expected revenue, and what are the additional costs involved?

How much additional funding might be required?


03. Establish and review operational processes
Companies need to have better financial controls, to review their accounts and spending, especially when new products are launched.
If the company plans to launch a new product or service, consider what processes and resources would be needed to launch them and identify whether these processes can be consolidated across the different business units in the company.

The Product
01. Have product KPIs
Businesses should set reasonable targets for the products and services offered to remain profitable.
Ensure that targets set are measurable and achievable.

Consider if the company has the resources and skillsets to grow the product.


02. Discontinue products that are not sustainable
Due to various internal or external factors, a product or service may at times no longer be profitable to the business, or the company may have a new product line that turned out to be loss-making. Such scenarios may require the industry to discontinue the product line or pivot to other business opportunities.
Identify which products did not meet their target KPIs

Identify reasons why products did not meet the targets.
Consider if the product or service should be discontinued or if changes need to be made to the product or service.


03. Allow operations to stabilise before launching new products
While growing the business and expanding is important, it is also crucial to allow enough time for business operations to stabilise, especially after a new product launch or market entry.
Ensure that the business is ready for a new product launch or market entry.

Consider if the operations are stable enough for the company's expansion plans.


Disclaimers
*All information extracted from external sources was correct at the date the article was posted and the dates on the sources.
The information contained in this article represents the authors' views, and opinions that are based on public data available online and do not necessarily reflect the position of the organisations mentioned in the article.
Hyperlinks for the information obtained from external sources are provided in the article. Please click on the links for updates on the information provided in the respective articles.
Please email [email protected] for any enquiries or clarifications on information contained within the article.
Reviews

"We read your case study about Honestbee in Why Startups Fail, and we are all impressed on how it was well written and analyzed. We even got learnings from it as marketers ourselves."
- Obra Digital
"Love this newsletter! Learned a lot from the one about the fall of Honestbee. Good stuff"
- Chris Garin
"I read the analysis, and this is so insightful"
- Zaira Verunque
Get your 14-day trial today!
No debit/credit card is required.
After the free trial, you may:
Pay as low as 27 cents a day to access unlimited content

Watch events playback at your own pace and join the discussion

Unlimited access to ready-to-use templates

Access to exclusive events for premium members

Receive digital certifications upon completion of courses

Cancel the subscription any time
Choose Your Plan
Free
Free access to the complimentary content

Purchase additional individual premium content separately

Access to limited free events for a limited time
Monthly
Unlimited access to premium courses, podcasts, events and webinars


Unlimited access to business templates

Access to exclusive events for premium members
Annual
USD 99.90/yr USD 118.8
Unlimited access to premium courses, podcasts, events and webinars

Unlimited access to business templates

Access to exclusive events for premium members
Join our newsletter
Get weekly updates on live streams, news and more right in your mailbox.