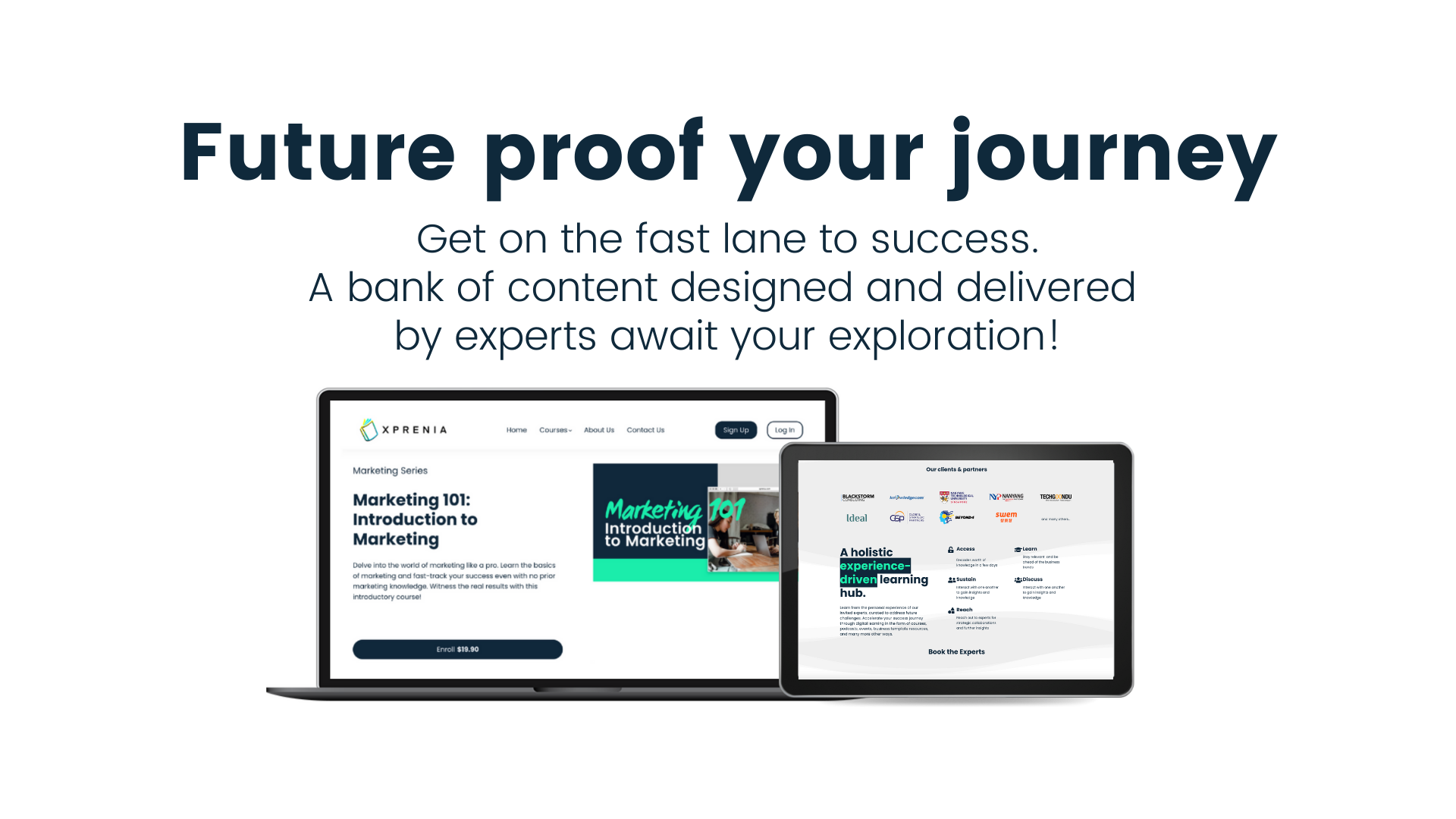 Introducing new look, new feel, and new future of Xprenia as we future proof your success journey in this holistic experience-driven hub.
We're thrilled to announce that we have undergone a fresh revamping of our website to reflect better who we are. We've grown so much in the past year, and we believe the time has come to change our look to a more current design that reflects our true purpose. After months of hard effort, let's welcome the newly updated website at xprenia.com!
We always aim to provide a better, faster, easier user experience to all of you. With this rebrand, we hope to capture our commitment to connecting people and experts while maintaining our educational content as updated and great as ever.
What's New?
We are putting everything we have into bringing e-learning closer to everyone! That is why we made a series out of multiple on-demand assets. Take a look at some of our newly expanded courses under the subscription plans:
Marketing 101:
Introduction to Marketing
Business 101:
The Basics of Business
Blockchain Explained: Become a Blockchain Master
Entrepreneurship 101: The Next Standing Entrepreneur
We've also improved our subscription tiers as part of the rebranding effort. Don't miss out on the 14-day trial offer!
Get your 14-day trial today!
After the free trial, you may:
Pay as low as 27 cents a day to access unlimited content

Watch events playback at your own pace and join the discussion

Unlimited access to ready-to-use templates

Access to exclusive events for premium members

Receive digital certifications upon completion of courses

Cancel the subscription any time
In celebration of our new launch, we are giving 30% off all subscription plans to our Xprenia users!
Upcoming Contents
We will publish a weekly update of listings handpicked by Xprenia in collaboration with other experts. Here's what's coming up soon:
2-Hour Crash Course: Introduction to NFTs

Leadership Toolbox
The What, Why and How: Interview Series
Mind Your Business: Business Talks and Trends
Looking ahead, we hope we've captured the excitement that people bring to the world every day. Our goal is for people to see Xprenia as their one-stop business solution for everything.


Thank you for the opportunity to serve you and we're inspired to see where this will take us. How do you feel about our transition? We hope you love and enjoy it as much as we do!


If you have any problems or inquiries, please get in touch with
[email protected]
, and we will respond within two business days.