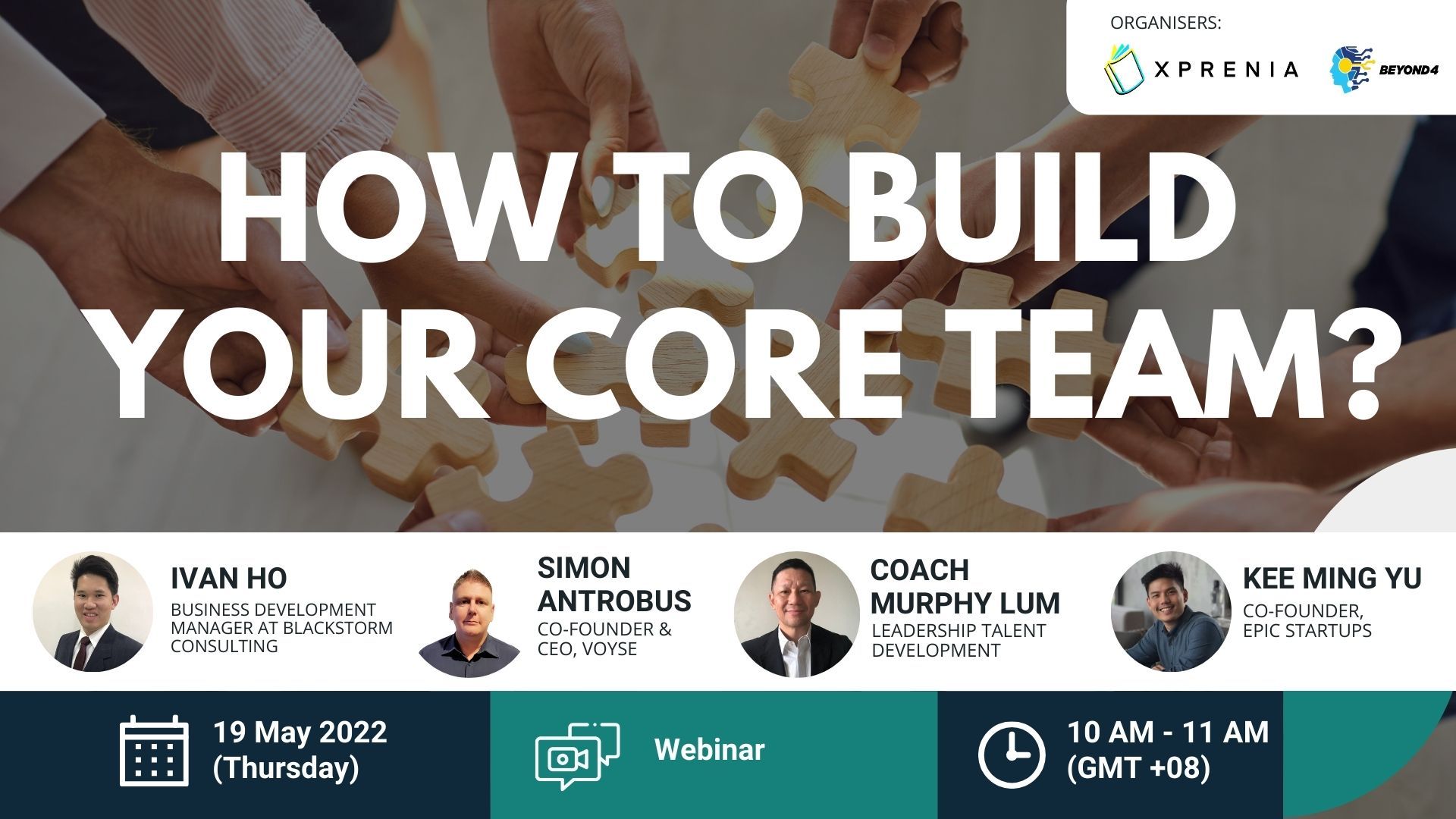 Main Event Takeaways
Xprenia and Beyond4 launched a webinar this week titled "How to Build Your Core Team."
Ivan Ho, Business Development Manager of BlackStorm Consulting, was invited to moderate the discussion for this week's event.
Among those on the panel were Simon Antrobus, CEO of VOYSE, Coach Murphy Lum of Leadership Talent Development, and Kee Ming Yu, Co-Founder of EPIC Startups.

May 19th, 2022

Ivan Ho, Business Development Manager of BlackStorm Consulting, was invited to moderate this week's discussion to share their insights on the day's topic—How to Build Your Core Team. The event was hosted by Xprenia, a Singapore-based e-learning platform that features industrial insights, and Beyond4, a Malaysian-based accelerator, tasked with helping entrepreneurs everywhere. The bi-weekly webinar features a different topic, discussing what entrepreneurs and business owners have on their minds.
This week's topic is vital to the long-term success and the fundamentals of a business. Learning and knowing the key characteristics you need from your core team will prevent crippling issues later in the business's lifespan.
If you have or don't have a team, I hope you can promise yourself the three commitments. I hope you are committed to continuous learning, committed to being a human first leader, and your organisation must be committed to a greater purpose.
Coach Murphy Lum
In a founding team, you should always have someone that complements your skillset, and you should actively try to improve your weaker aspect regardless.
Kee Ming Yu
Firstly, what is a core team in your business? Essentially, your core team would be the founding team of your business. These key figures are responsible for taking the company from the idea stage to the execution stage and into the market, where they can start generating profits. Each of their roles is critical to the business's survival in its early days.
#01 Ideal Core Team
The panel was asked who they would like to have on their core team. Ming Yu responded that your co-founders should complement each other in some way. He went on to say that having a team that complements each other allows them to compensate for each other's flaws. However, he did emphasize that each co-founder must eventually understand and develop their shortcomings by learning from one another to create a more efficient and self-sustaining business.
#02 Commitments
Coach Lum joined in with his three commitments that you should have as a core team member.
• Firstly, you must be committed to continuous learning.
• Secondly, to be committed to being a human-first leader.
• Lastly, to be committed to the greater purpose of your organisation and not just be profit-driven.


He explained that employees or your team members are committed to you because of the salary. Still, it is an insufficient reason to keep them solely based on this materialistic benefit. You must give them purpose and value to maintain an excellent core team.
What kind of talent should you have in your team?
#03 Identifying Talents
A follow-up question to the panel was how you find these talents to join your team. Coach Lum responded that you must first determine who on your team can help your organization achieve its goal and who shares your vision and is willing to collaborate with you to achieve it. He emphasized that the business-guiding concept is that a leader cannot do what is popular but must do what is best for the company.
When faced with a difficult decision, follow the business guiding principle. It would also help if you provided them with a reason to want to work with you to realize your vision. As an employer, Simon also stated that hiring with your head rather than your heart is better.
#04 Who should you hire?
Moving on to the next question, should you hire someone with grit but unrefined versus someone who is skilled but does not have the spirit or is willing to learn but is currently incompetent versus someone competent but not ready to work beyond office hours?
Simon answered that the hiring decision depends on the type of value you are seeking for your company. An employee from an MNC or an SME can provide structure and systemise your company for you. A person that has no prior experience can be more easily trained. He gave an example:
The CEO of Ringgit Plus was looking for a CFO about two years ago, and he specifically requested a person from a failed startup. He wanted that resilience from his CFO, someone who has felt the pain of failure and is still willing to try again.
Featured Event
How to Build Your Core Team
Check out this featured event! If you are working on a startup, one of the key things you will have to do is build your team. Read the recap article and watch the recorded session to relive the great time you had for free.
What is the best way to recruiting
Wrap Up
This is simply a snapshot of the exciting and fruitful discussion in the "How to Build Your Core Team" webinar. Remember, your core team is like the pillars of your business. It will undoubtedly crumble without sturdy posts, no matter how flashy or robust your business is. Do not miss this value-packed webinar and the insights offered by some of the industry's very best. If you missed the live event or want to watch the replay, we have a recording ready for you to access anytime!

Get your 14-day trial today!
No debit/credit card is required.
After the free trial, you may:
Pay as low as 27 cents a day to access unlimited content

Watch events playback at your own pace and join the discussion

Unlimited access to ready-to-use templates

Access to exclusive events for premium members

Receive digital certifications upon completion of courses

Cancel the subscription any time
Choose Your Plan
Free
Free access to the complimentary content

Purchase additional individual premium content separately

Access to limited free events for a limited time
Monthly
Unlimited access to premium courses, podcasts, events and webinars


Unlimited access to business templates

Access to exclusive events for premium members
Annual
USD 99.90/mo USD 118.8
Unlimited access to premium courses, podcasts, events and webinars

Unlimited access to business templates

Access to exclusive events for premium members
Stay updated with us
Get weekly updates on live events, news, new release of courses and more right in your mailbox.